Oakland A's Should Extend Third Base Competition After Scott Sizemore Injury
February 28, 2012

Rick Yeatts/Getty Images
A quick glance at the A's depth chart will tell you all you need to know about the impact Scott Sizemore's season ending ACL injury will have on this season.
The A's were hoping Sizemore would build on the promising work he put in learning the position, after the A's acquired him in a trade last season and converted him from a second baseman. They were so high on him, in fact, that they did not pursue any available third basemen this offseason, a position they have spent the last few off seasons chasing top talent.
What is the result of the decision not to bring in any competition for Sizemore this spring? We now get to watch a battle for the position between converted catcher Josh Donaldson, utility men Adam Rosales and Eric Sogard, and non-roster invitee Wes Timmons.
Forgive me if I'm not enthralled and jumping up and down over that cast auditioning for the role.
Donaldson is the most intriguing, and seemingly by all reports the most likely player to win the spot of the group. His willingness to learn the position over the final month of last season and during winter ball is encouraging.
Not in the mix is, apparently, former first round pick Grant Green, converted last season from shortstop to center field. Oakland is committed to developing Green into a center fielder despite some scouting projections in college that he may one day become a third baseman.
With Yoenis Cespedes signed for four years and Michael Choice demolishing minor league pitching last season, the question is why?
Billy Beane and company have probably forgotten more baseball than I'll ever know, but it would seem to make sense, especially this early in spring training, to give Green a look at third and see what he can do. If he struggles, send him back to the outfield. He's not going to make the opening day squad in the outfield anyway, so he'll have another full season to develop in Sacramento.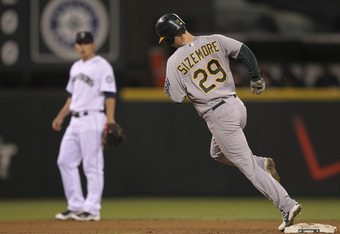 Otto Greule Jr/Getty Images
I expect Stephen Parker to get some looks, but he's likely headed for an extended stay with Sacramento to get some more minor league at bats before making his big league debut.
The only good thing about this injury is that it happened so early in camp that it gives the A's time to address the positional need before any games of actual importance are played.
Pretending I sit in Beane's chair for a minute, go out and sign Miguel Tejada to a non-guaranteed minor league deal. If nothing else, it will give A's fans a bit of nostalgia and create some buzz. If he plays his way onto the roster, great, he becomes a spot holder until Sizemore returns or Parker proves he's ready for big league action. If not, cut him, no real loss.
Look for prospects blocked by their current organization. Local boy Tommy Mendonca from Fresno State would be an intriguing story. He grew up idolizing Eric Chavez, has a solid glove and good power. He strikes out a ton, but maybe the player development coaches can get him to take a few pitches here and there. He's currently blocked by both Adrian Beltre and Mike Olt in the Rangers system, so he shouldn't be too expensive to acquire.
With roughly a month until the regular season kicks off in Japan, there is plenty of time to kick the tires on a few players and give them a look to determine the best option. That "best option" may wind up being Josh Donaldson, it may not.
There's too much time left to not give a look outside the organization to address the lack of depth that the Sizemore injury exposed, though.