Daytona 500 2012: TV Schedule, Info & Live Stream
February 27, 2012

Todd Warshaw/Getty Images
Drivers, now you can start your engines.
Finally.
After the first postponement in its 54-year history, the Daytona 500 is scheduled to take place this evening, giving fans some racing action under the lights.
The Daytona 500 now scheduled for a planned start at 7P ET.Everyone get ready for some primetime racing. #NASCAR #RainRainGoAway

— NASCARESPN (@NASCARESPN) February 27, 2012
Originally slated to start at noon today, the race had to be pushed back again due to weather. But it is a blessing in disguise for all involved—racing fans who would have otherwise been at work can actually watch the race, and FOX will get far better ratings than they would have this afternoon.
Where: Daytona International Speedway, Daytona, Florida
When: Monday, February 27nd at 7:00 p.m. (EST)

Watch: FOX (National)
Live Stream: N/A
What They're Saying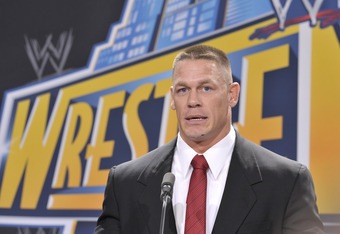 Michael N. Todaro/Getty Images
John Cena was scheduled to wave the green flag. But will he still be able to make it?
Well NASCAR i tried. But if you're gonna run your race on Monday night..i've got other plans. Leaving #raintona going to #RAW

— John Cena (@JohnCena) February 27, 2012
If #raintona starts on tues, ill be there. But they have to understand. Dwaynes at raw. This is big. He doesn't show up....ever.

— John Cena (@JohnCena) February 27, 2012
It truly is a sad day for America—mankind, really.
Factor to Watch: The Weather
Jerry Markland/Getty Images
Before the race begins, all eyes will be on the weather. As of 11:08 a.m., showers are expected through to 5 p.m. this evening, making it possible the race could be pushed back even further than the seven p.m. start.
Stay tuned.
Racers to Watch: Carl Edwards and Tony Stewart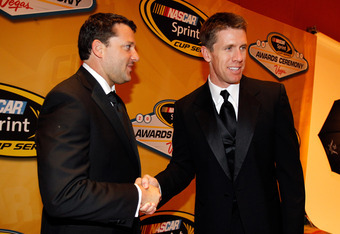 Todd Warshaw/Getty Images
All eyes will be tuned to the biggest stories from last year, eager to see if pole-sitter Carl Edwards can nab a huge race early in 2012 after his disappointing finish to 2011. 
Edwards, of course, lost the Sprint Cup championship to Tony Stewart last year in painful fashion, finishing second both in the season's final race and subsequently the championship standings (on a tie-breaker) to Stewart.
But last year's champ also brings some intrigue to this race—Stewart has never won the Daytona 500 in 13 attempts. Can he break the winless streak tonight?
Prediction: Dale Earnhardt, Jr.
Call me crazy, but I have a hunch Earnhardt is going to snag a victory here. He seems due to me. I know that isn't exactly scientific reasoning, but it's my hunch and I'm sticking to it.

Hit me up on Twitter—my tweets are more entertaining than the Slam Dunk Contest.