Rags to Riches: Keep an Eye on West Virginia's Bruce Irvin at the Combine
February 26, 2012

Every year at the NFL scouting combine, a couple prospects see their stock rise significantly. Whether it be a string of impressive interviews or a blazing 40 yard dash, a player can go from having a third-round grade to being a potential first-round selection.
An example of a guy who could "blow up" the combine is the ultra-athletic West Virginia OLB, Bruce Irvin. Irvin traveled a very different route to get to the position he's in today.
After dropping out of high school and getting into some trouble as a result, Irvin's future—both on the field and off—was in serious question. Following a three week stay in jail in 2007, Irvin was kicked out of his house and for a couple months relied on friends for a place to stay.
To say the least, the future wasn't looking very bright for Irvin.
About half a year removed from dropping out of high school, things began to turn around for him. He decided to take his GED test and try to revive his football career by walking on at Butler Community College in El Dorado, Kan.
Ultimately, Irvin was unhappy with the opportunities Butler provided for its walk-ons; he decided against playing football at Butler but stayed enrolled at the school to take classes. Irvin eventually moved on from Butler CC, and he transferred to Mt. San Antonio College in Walnut, Calif.
Since Mt. San Antonio didn't provide athletic scholarships, Irvin's family was forced to find a way to pay out-of-state-tuition. After originally playing defensive back and special teams, the coaches tried Irvin with his hand on the ground as a pass rusher.
The rest is history.
Racking up 16 sacks and 72 tackles in his second season at Mt. San Antonio, Irvin had caught the attention of several high-profile Division I programs.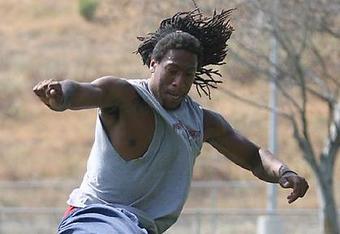 Originally committed to Tennessee after his first season at the school, Irvin switched his commitment to Arizona State, but he still had another school on his mind. Prior to transferring to Mt. San Antonio, Irvin met the wide receivers coach at West Virginia while working out at an Atlanta high school. The coach, Lonnie Galloway, kept Irvin on his radar.
Irvin decided to attend West Virginia to continue his career, and he immediately made an impact for the Mountaineers. He racked up 14 sacks in his first year at the Division I level, good enough for second in the country. Irvin followed up his inaugural season in Morgantown with another impressive season, recording 8.5 sacks as a senior.
Fast forward to the present, and Irvin is in the midst of the biggest job interview of his life: the NFL scouting combine. Having been clocked at 4.37 in the 40-yard dash following his first season at Mt. San Antonio, Irvin's athleticism is clearly not in question.
Not only is Irvin expected to test well when running the 40 on Monday, his first step appears to be every bit as quick as any of the 3-4 outside linebacker prospects in the 2012 draft class.
Much like Vernon Davis at the 2006 combine, there are always a couple of players that put up ridiculous measurables and catch the attention of the naked eye. As a 6'3", 250-pound tight end, Vernon Davis bench pressed 225 pounds 33 times, ran a 4.38 40 and recorded a 42-inch vertical jump. In large part due to his incredible combine performance, Davis was selected fifth overall by the San Francisco 49ers.
It remains to be seen whether or not Irvin will see a similar jump in his draft stock, but at 6'3" and 245 pounds with the type of athleticism he has, Irvin could make himself some money on Monday. It appears as if Melvin Ingram and Courtney Upshaw have separated themselves among players at outside linebacker, but it's wide open after the top two at the position.
With teams like Green Bay and New England picking late in the first round, it wouldn't surprise me at all if Irvin played his way into the first round with an impressive showing at the combine on Monday.
Keep an eye on Bruce Irvin.