Yankees Lineup Projections, Part 9 of 9: Ibanez Enhances an Already Solid Lineup
February 22, 2012

Len Redkoles/Getty Images
Designated hitter Raul Ibanez was scooped up out of the free agent pool shortly after the trade that sent A.J. Burnett off to Pittsburgh.
Rumored to be in the works for over a week, a deal between Ibanez and the Yankees was ultimately finalized today. The one-year deal will pay Ibanez $1.1 million, with an additional $2.9 million available should he reach certain checkpoints.
Ibanez will serve as the primary designated hitter against right-handed pitching, as well as an emergency left fielder should he be needed.
Many Yankees fans may be upset over the move, instead hoping that the Yankees would have signed either Johnny Damon or Hideki Matsui. The decision ultimately came down to the fact that Ibanez can still play the field if needed, as Damon and Matsui are viewed as unplayable in the field.
The 39-year-old Ibanez is coming off of his worst season as a full-time player. He hit .245/.289/.419 with 20 home runs and 84 RBIs as the everyday left fielder for the Phillies.
His best season came in 2006 as a member of the Mariners. In 159 games, Ibanez hit .289/.353/.516 with 33 home runs and 123 RBI. He also scored 103 runs, the only time in his career he has eclipsed the 100-run mark.
Over his 16-year career, Ibanez sports a very respectable line of .280/.342/.471 with 252 home runs and 1,054 RBI.
Although he was added to be the regular DH, Ibanez must know that he will be a part of a rotation of aging veterans that will include Derek Jeter, Alex Rodriguez and occasionally even Mark Teixeira. This will be done in an effort to keep everyone healthy over the long haul.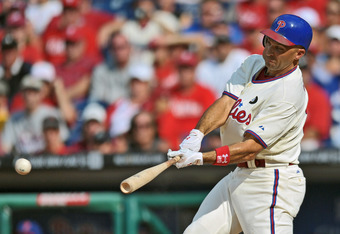 Drew Hallowell/Getty Images
Against left-handed pitching, Ibanez struggled in 2011. He hit .211/.232/.353 with just 28 hits. Ten of those hits went for extra bases (five doubles, one triple, four home runs).
Kevin Long will surely be able to improve those numbers (see Curtis Granderson's former struggles against lefties), but Andruw Jones will most likely serve as the primary DH against lefties, as he hit pretty well against them in 2011 (.286/.384/.540).
It's not out of the question to see Ibanez play in 125 games this season, but it's more likely that his games played total will hover around the 110 mark. Expect a batting average around .260 from him in 2012, with 15 to 20 home runs and close to 70 RBIs.
He'll be batting near the bottom of the Yankees lineup, and the addition of his bat will only help to improve one of the most potent offenses in the American League.