Napoli 3-1 Chelsea UEFA Champions League: 7 Lessons Learned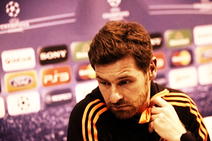 Another loss for André Villas-Boas, but was it a surprise?
Of course not, because I predicted it and it was obvious that Chelsea were going to lose.
Villas-Boas better be thankful that fate allowed Ashley Cole to come on for José Bosingwa, as the Englishman made a crucial clearance off the line.
If Edinson Cavani and Ezequiel Lavezzi hadn't wasted gilt-edged opportunities, it could have resulted in an even worse scoreline.
If you're an optimistic type of guy, at least it wasn't 7-1.
Here are seven lessons learned from the match.
Begin Slideshow

»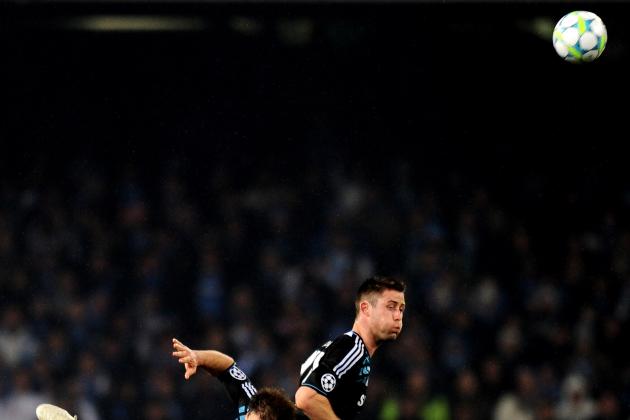 Mike Hewitt/Getty Images

Gary Cahill, who led Bolton Wanderers to the joint worst defence in the league, was never going to play well against Napoli's triumvirate.
Nine minutes into the game, he had his arm up in the air waving for the flag to be raised whilst Edinson Cavani raced on goal—thank goodness for Petr Čech.
Cahill had no answers to Ezequiel Lavezzi, except trying to injure him with an awful challenge.
What was Cahill doing when Lavezzi scored his opener? Lavezzi could have scored early in the first-half when he got in front of the Chelsea defender.
Cavani should have been marked tighter by Cahill, as he just sauntered into Chelsea's penalty box time after time.
David Luiz? Well, there's no hope for him.
How on earth can a centre-back be worth £21 million when his positional awareness is nonexistent?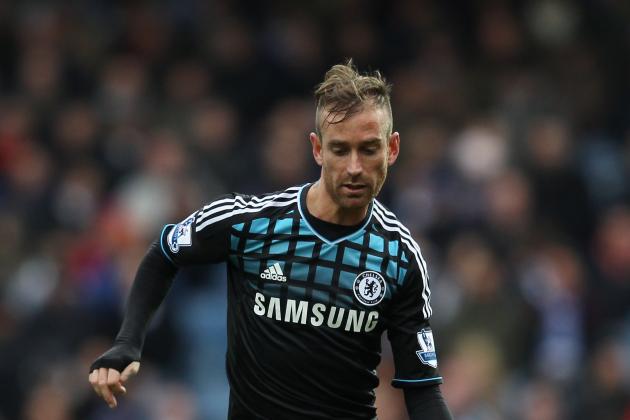 Clive Mason/Getty Images

You talk about Chelsea's defence being chaotic, but what did Raul Meireles do today?
He gave away possession, hardly offered any creativity, and was dribbled by Ezequiel Lavezzi several times.
How does Meireles start over Frank Lampard?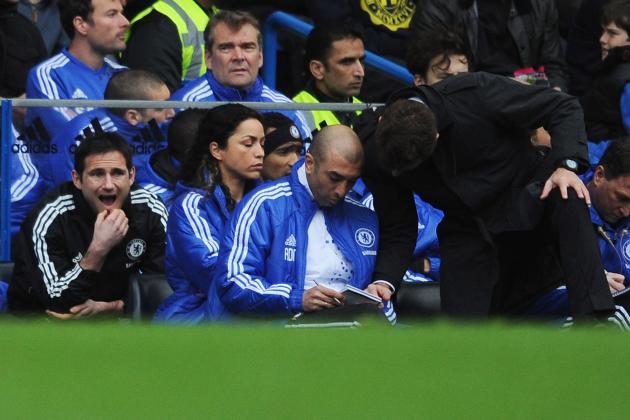 Christopher Lee/Getty Images

Today's Chelsea bench revealed the players who have been dissenting against André Villas-Boas.
The guilty parties are: Ashley Cole, John Obi Mikel, Michael Essien, Frank Lampard, Salomon Kalou and Fernando Torres.
There's no doubt that Cole, Essien and Lampard are against Villas-Boas because they should be starting.
It makes no sense for Cole to be benched for José "missing in action" Bosingwa.
Fortunately for Chelsea supporters, Bosingwa pulled a hamstring 12 minutes into the game and when Villas-Boas was talking to Cole, the left-back was hardly making eye-contact.
Clearly Villas-Boas was listening to Frank Sinatra's 'My Way' when he chose his first 11 today:
"Regrets, I've had a few. But then again, too few to mention. I did what I had to do and saw it through without exemption. I planned each charted course, each careful step along the byway. And more, much more than this, I did it my way."
If Villas-Boas is going to go down, he's going to go down his way.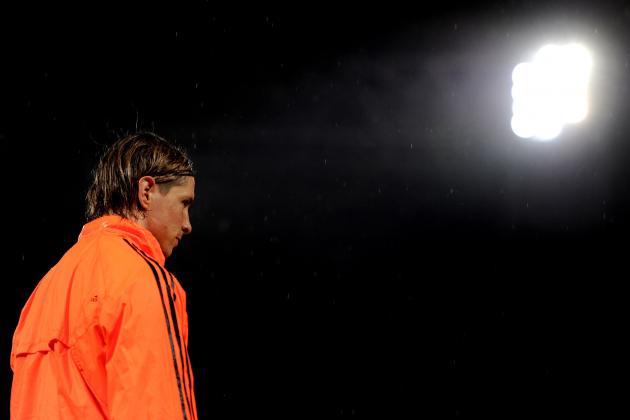 Mike Hewitt/Getty Images

Napoli's defence was shaky, Paolo Cannavaro was off his game, and an extra away goal could have been pivotal.
Still, André Villas-Boas didn't gamble by throwing on Fernando Torres.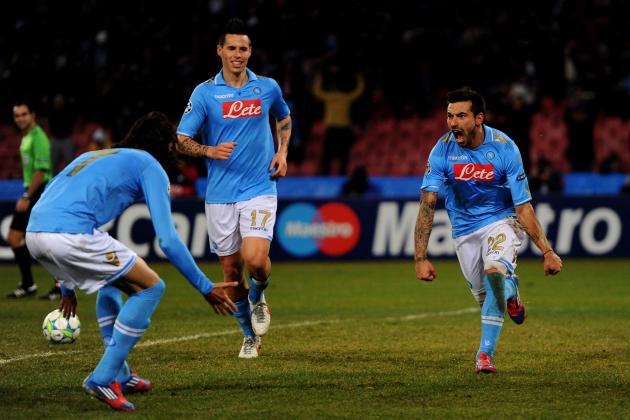 Mike Hewitt/Getty Images

Hopefully, Fernando Torres took note of Edinson Cavani's world class performance and seemingly telepathic relationship with Ezequiel Lavezzi and Marek Hamšík.
When you think about it, Alessandro Nesta and Thiago Silva were humiliated by Cavani, so David Luiz and Gary Cahill stood no chance.
If you watched how Cavani scored his goal, he blindsided Branislav Ivanović and made Chelsea pay.
Cavani could have scored a hat-trick—not to mention a hat-trick of assists—but he only ended up with a goal and two assists.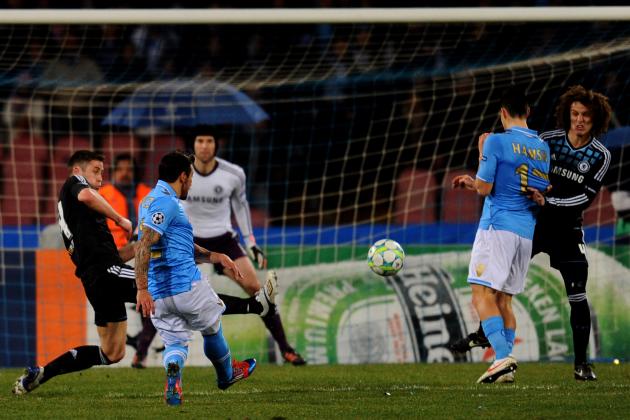 Mike Hewitt/Getty Images

Ezequiel Lavezzi is the type of footballer Chelsea need, because without him, Napoli wouldn't have won.
The Argentine's mazy dribbling was a nightmare for Chelsea and Raul Meireles, who was continually bamboozled.
An expert finish from Lavezzi and a well-poached goal after schoolboy like defending from Chelsea.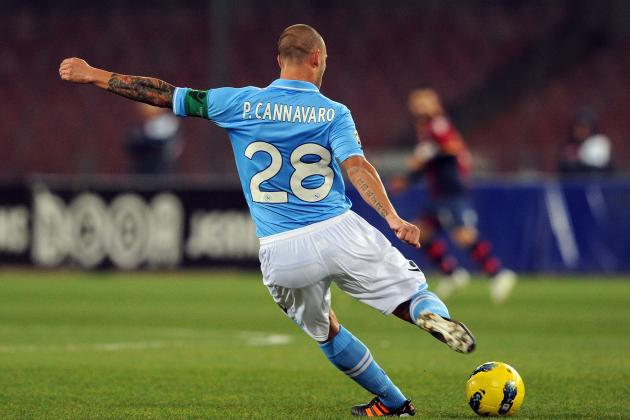 Giuseppe Bellini/Getty Images

Paolo Cannavaro has had to live in the shadow of his brother, Fabio, a FIFA World Cup winning captain and the only defender to be named FIFA World Player of the Year.
Cannavaro was relatively solid for Napoli during the 2010-11 season but has been a liability this season.
He conceded a penalty against Bayern Munich (though Mario Gómez failed to convert) and looked like Bambi on ice that game.
In a 3-2 loss to Genoa, Cannavaro was consistently caught out of position, which was exploited by Alberto Gilardino and Rodrigo Palacio.
Against Chelsea, Cannavaro was awful as he gifted them the first goal with an air-swing.
He was tentative in the tackle as Branislav Ivanović and Ramires charged on goal.
Ramires should have made it 2-0 when he went past a stagnant Cannavaro.
Please read Best Premier League U-23 Footballers Right Now.
Follow me @ http://twitter.com/allanjiangLIVE.