English Premier League: Best U-23 Footballers Right Now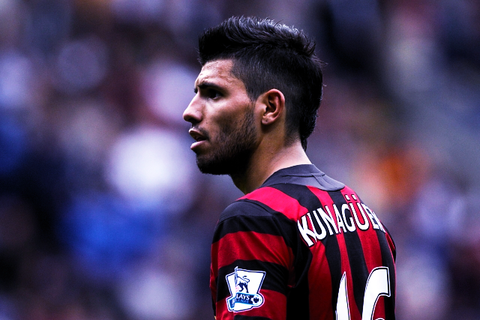 The 1990s version of Fergie's Fledglings vindicated Sir Alex Ferguson's belief that you could win with kids—Alan Hansen isn't going disagree.
The German Bundesliga is the best European league in terms of producing and giving youngsters a chance.
Let's take a look at Borussia Dortmund, who have six established starters age 23 or under (Mario Götze, Shinji Kagawa, Robert Lewandowski, Mats Hummels, Kevin Großkreutz, Sven Bender).
Oh, and the Bundesliga's best player right now in Marco Reus is joining Dortmund in the summer. They also have this kid called Moritz Leitner, who oozes of class.
If a Premier League club has a youngster who is the crème de la crème or a wunderkind, then the club must give him a chance.
The players must be 23 years or younger and they've been ranked by their form, not reputation.
Begin Slideshow

»
Age: 21
You do realise that David de Gea is the third-most expensive goalkeeper in football history, right?
Manchester United supporters should expect world class performances week in, week out.
He was world class against Chelsea and I could not believe he managed to save Juan Mata's seemingly perfect free kick.
There's no denying de Gea is a brilliant shot stopper, but he needs to be more consistent.
He's not even the best under 23 goalkeeper in the Premier League let alone in the world.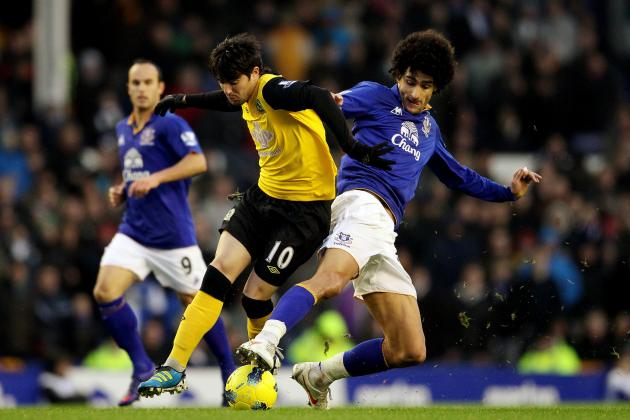 Scott Heavey/Getty Images

Age: 23
Mauro Formica is a great fit for the Premier League because he loves to tackle and he distributes in an efficient fashion.
He's a class act for Blackburn Rovers and should end up at a mid-table La Liga or Serie A club in the near future.
Age: 22
A groin injury, a broken toe and a bout of tonsillitis has disrupted what could have been an excellent season for Chris Smalling.
Ideally he should start at centre-back and Phil Jones should start at right-back.
Age: 20
Oriol Romeu is a more mobile and more defensively sound defensive midfielder than John Obi Mikel.
You couldn't even call Mikel a defensive midfielder because there was hardly any defence.
Romeu's contract situation is still murky with André Villas-Boas claiming the club have the right to refuse to sell if Barcelona want him back.
Why would Barcelona insert a buy-back clause when they can't directly buy-back Romeu?
Then you have Romeu's agent stating his client could return to Barça in 2013.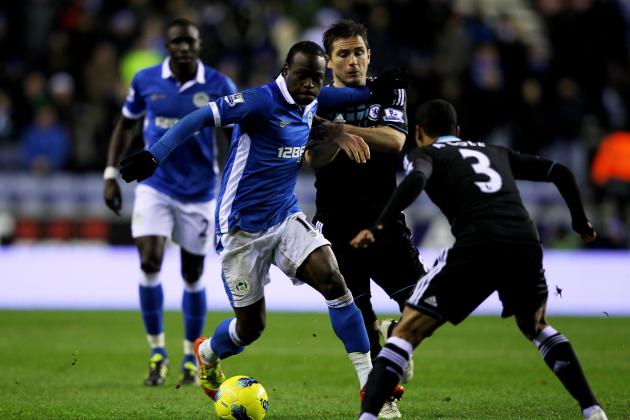 Alex Livesey/Getty Images

Age: 21
Victor Moses is the second-most fouled player in the Premier League and that's because he's completed the most successful dribbles in the league.
With the exception of Junior Hoilett, if Moses is one-on-one with a full-back, you'd put your money on the soon-to-be Nigerian international to come out on top.
Moses needs to be more efficient because two goals from 69 shots is woeful.
Age: 18
He'd be higher on this list if he had played more games.
Alex Oxlade-Chamberlain's £12 million transfer fee raised some eyebrows but he has erased any doubts over his ability to succeed in the Premier League.
When a teenager can come into the league and just dominate seasoned professionals, you know you have a future world class footballer.
If there is anyone that can rescue Arsenal from its improbable UEFA Champions League situation, it's Chamberlain.
Unleash the Ox!
Michael Steele/Getty Images

Age: 22
Operating on the left flank, Scott Sinclair cuts in and shoots. That has been his main mode of operation throughout his 68 shots.
He's nimble-footed and can beat a full-back if given space.
Age: 21
Averaging three successful dribbles per game, Junior Hoilett is the most lethal dribbler in the Premier League.
When full-backs jockey him, he takes advantage by threading a through ball.
With his contract expiring at season's end, he'd be a fool to sign a contract extension because he's too good for Blackburn Rovers.
Age: 21
If you didn't watch the video, it's Ruud van Nistelrooy giving some sound advice to a very young Danny Welbeck after he had just messed up a roulette:
... things can go wrong because you're not going to be perfect the whole game, you're going to make mistakes ... the moment you make a mistake, it's over and you go for the next one. You never stop doing it.
With his size and pace, Welbeck causes centre-backs endless problems.
However like at Real Madrid with Gonzalo Higuaín and Karim Benzema, Sir Alex Ferguson can choose between Welbeck and Chicharito.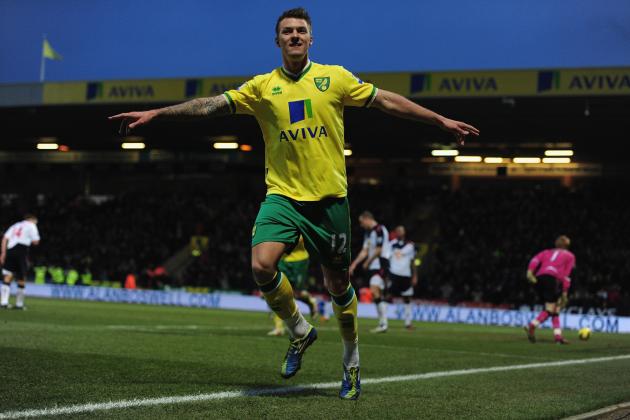 Jamie McDonald/Getty Images

Age: 23
Anthony Pilkington can shoot and cross with both feet.
His performances this season seem to indicate that he is Premier League standard.
Given his ambidexterity and provided that he keeps scoring goals, he could move to a bigger club in the summer.
He has lived up to his own advice:
Always practise with your left foot if it's weaker, I always have, because then you can mix it up: you can go down the line and cross, come inside to shoot or play one-twos with the strikers.

The first couple of times you get the ball, test the full-back to see what he's got. If he shows you down the line, you can feint to go that way and he might fall for it—then you can come inside.


Age: 21
From fourth-choice to first-choice goalkeeper, as long as Wojciech Szczęsny watches archival footage of David Seaman in his pomp instead of Manuel Almunia, Szczęsny should be Arsenal's No. 1 for the foreseeable future.
Age: 21
Kyle Walker is a prototypical right-back, good going forward and relatively dependable at the back.
Against Arsenal, he neutralised Gervinho, whilst scoring the winning goal.
Age: 23
Chicharito's eight goals from 29 shots is an outstanding conversion rate when you compare it to Fernando Torres' two goals from 43 shots.
Like Ole Gunnar Solskjær, Chicharito's uncanny knack of being at the right place at the right time is so invaluable.
Age: 22
There are two reasons why Theo Walcott does not want to play out wide.
The first being he wants to play as a forward and the second being he doesn't touch the ball enough. Against AC Milan, Wojciech Szczęsny made more passes than the winger.
Nonetheless, Walcott has scored three goals and provided seven assists in 24 games which is great for a wide player.
Age: 23
Tim Krul has had a fantastic season for Newcastle United and hopefully for him, the 5-0 hammering by Tottenham Hotspur won't become a trend.
At one point in the season, Newcastle had one of the best defences and that was largely down to Krul's shot-stopping.
Age: 22
Daniel Sturridge's nine goals playing out wide is an impressive feat but keep in mind he's shot the ball 59 times.
He's the only player at Chelsea that averages three shots per game, and remember, he's supposed to be providing for the centre forward.
Sturridge's relationship with Fernando Torres is non-existent given both of them vent at each other.
Generally it's Torres screaming at Sturridge for the ball but the Englishman will only shoot.
André Villas-Boas can solve this problem by playing two forwards because Sturridge is shooting like a mad man so he can prove to the boss that he should play centrally.
Age: 21
I do not understand the hatred for Mario Balotelli.
This is a guy that impulsively shouted out £1,000 at a pub, handed out £200 to a collecting tray at a church and gave a homeless guy £1,000.
He's become more of a goal poacher which is a bit of a short cut because he can beat players off the dribble.
When he first arrived on the scene with Inter Milan, he used his pace and skill to humiliate defenders.
Nowadays he's contempt with scoring tap-ins which is fine because his strike rate is impressive.
Keep in mind, if you take away the eight sub appearances, he would have nine goals in seven starts.
Age: 21
If Joe Allen was playing for Manchester United, they'd be proclaiming him as the new Paul Scholes. Mind you, Allen can tackle whereas Scholes can't.
Allen is a high IQ footballer who can play on both sides of the field. Before the arrival of Gylfi Sigurðsson, Allen played further up and was a creative outlet. Now that Sigurðsson is filling that creative role, Allen has dropped back and continues to play excellently.
He averages 56 passes per game, completes 90 percent of his passes, has made 57 tackles and intercepted the ball 45 times.
He's criminally underrated because he's not English and he doesn't play for a big-name club.
If you ever have some free time and Swansea City is on, watch them because they play good, free-flowing possession football.
Age: 19
When the £16.5 million transfer fee was announced, it seemed the wrong move on Phil Jones' part because he would warm the benches and play in the reserves.
It would have been more beneficial for him to play Premier League football with Blackburn Rovers.
Maybe Sir Alex Ferguson envisioned a probable injury crisis that would enable Jones to come into first-team action.
Jones has taken his chance and established himself as a centre-back option and the first choice right-back option.
He's a much better right-back than Chris Smalling but Smalling is a better centre-back.
Jones' performances have tailed off a bit in recent weeks, as Newcastle United and Blackburn Rovers profited, but he's still a kid.
A price of £16.5 million for a teenager would indicate that Manchester United believe he can make the transition into a world class defender.
Age: 23
If not for Juan Mata, André Villas-Boas would have been fired ages ago.
Mata holds the key to Villas-Boas' future and Fernando Torres' future. Villas-Boas can ensure his future is safe if he plays Mata behind Torres thus ensuring No. 9 will finally score goals.
Mata is a genius and he's easily the club's best player because he's the only player that consistently provides incisive passes.
How many shots has Mata created for his teammates?
At 74, he is tied with David Silva, but Mata averages 3.2 shots created whereas Silva only averages three.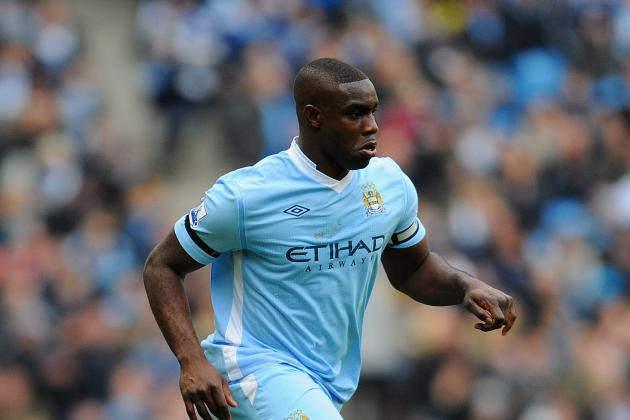 Michael Regan/Getty Images

Age: 23
I find it slightly amusing that Micah Richards has now forged his identity as a right-back when he was so desperate to play as a centre-back—as desperate as Theo Walcott wanting to play as a forward.
The only player that can rival Richards as the best right-back in the Premier League is Phil Jones, but he needs to play there more before we can compare the two.
Richards is pound-for-pound one of the strongest in the league, he's quick enough to deal with pacey wingers, he takes advantage of wingers who don't defend by getting to the byline and providing an assist—as he has done five times this season (the most for a right-back).
Age: 22
It never gets old watching Gareth Bale utterly destroy Maicon, who at the time was the best right-back in the world.
The combination of granite-like brawn, jet-like pace and what seems like three lungs are the reasons why Bale is the most dangerous winger in the world.
Stopping Bale is like trying to stop a quicker version of Yaya Touré.
Age: 23
Sergio Agüero can create his own shot whereas Fernando Torres cannot.
It's sad watching Agüero because he could have been a Chelsea player and he even thought he would be calling Stamford Bridge home:
London would be a really amazing city to live in as well, myself and my wife could be really happy there. Carlos Tévez is doing really well at Manchester City but, for me, it is about joining a club who are ready to challenge for honours. City are not ready yet.
It took Agüero eight minutes to score his first goal for Manchester City, whilst Torres toiled away for 732 minutes before finally scoring his debut goal against West Ham United (who were later relegated).
Atlético Madrid replaced Agüero with a clone in Falcao, who can't stop scoring.
Chelsea should sign the Colombian in the summer even if it costs another £40-50 million. At least he'll be more successful than Torres.
Julian Finney/Getty Images

1. Gylfi Sigurðsson (Swansea City): He's a class above most footballers whenever he takes to the field.
The only reason why he lost his position at Hoffenheim was because of future world class footballer Roberto Firmino.
2. James McClean (Sunderland): Efficient and smart winger with a promising future.
3. Rubén Rochina (Blackburn Rovers): Puts in the hard graft plus his technique should be enough to sustain a career in top-flight football.
4. Simon Mignolet (Sunderland): Part of the Belgian Golden Generation. Good, young shot-stopper.
5. James McCarthy (Wigan Athletic): Hard-working midfielder who is safe when distributing.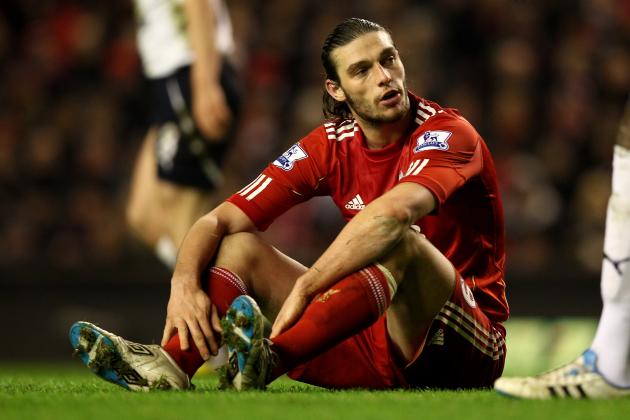 Clive Brunskill/Getty Images

Aaron Ramsey (Arsenal): Has been wasteful this season as an attacking midfielder. Would be better suited playing Mikel Arteta's role.
Adel Taarabt (Queens Park Rangers): Show pony with no end product.
Anderson (Manchester United): Indifferent performances before his knee gave way. Will probably never live up to his transfer fee.
Andy Carroll (Liverpool): Uncultured, unsophisticated, poor finisher, low IQ footballer—yet somehow worth £35 million.
Davide Santon (Newcastle United): New Paolo Maldini? Talk about overhyped.
Gabriel Obertan (Newcastle United): Mediocre.
Jack Wilshere (Arsenal): A future world class midfielder but his season has been debilitated by injury.
Jordan Henderson (Liverpool): Needs to be given a creative role. Right now, he's doing a job in midfield that any half-decent footballer could do.
Kieran Gibbs (Arsenal): Overrated. Suspect defender, consistently caught out of position.
Stefan Savić (Manchester City): A liability when he does start.
Tom Cleverley (Manchester United): Aside from a supporting role in the 8-2 win over Arsenal, he's been average when he has played. His season has been ruined by ruptured ligaments and an ankle injury.
Please read Most Forgotten Superstars XI.
Follow me @ http://twitter.com/allanjiangLIVE.