Bud Shootout 2012: Kyle Busch's Intimidator Move Is Good for NASCAR's Future
February 19, 2012

Jared C. Tilton/Getty Images
NASCAR hasn't been the same since the sport lost one of the greatest drivers of all time in Dale Earnhardt Sr. during a terrible Daytona crash in 2001.
Saturday night's Bud Shootout may have seen the birth of the new Intimidator.
As much as many fans of the sport don't like "Rowdy" Kyle Busch, he is the kind of personality on and off the track that brings the casual fans to the sport. With wins like the one at Daytona this weekend, you can't help but love the way he drives.
The checkers or wreckers attitude has always been there for Rowdy, but an element of control has made him even more dangerous. This could be his year for a Sprint Cup Series title.
Busch told FOX Sports after his Shootout win about his last-lap pass and how he owed Tony Stewart:
Somebody was in front of me—the 39 (Ryan Newman) and somebody and then got hooked up and went and I'm like, 'Alright.' I was trying to stay with the 39 and I pulled low and got in behind (Tony) Stewart and just mowed right up through there. He had a fast car and took us by those guys around the outside and I'm like, 'It's a two-guy race right now and it's going to be either me or him coming to the start-finish line off of Turn 4.' I've seen the move done before, it was my turn to do it this time—Stewart had me the last time here in July a couple years ago. I'm glad it was the M&M's car and put me here in victory lane.
There was a time when both Tony Stewart and Kyle Busch would have turned that final lap into a 20-car pileup with their egos, but the true sign of their maturity is the way the race ended.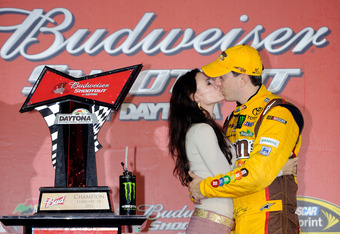 John Harrelson/Getty Images
With both men fighting as hard as they could, the photo finish was the perfect way for NASCAR to kick off the 2012 season and for Busch to begin his march to a series title. The young star showed the patience to wait for his time and the aggressiveness that Dale Earnhardt Sr. exemplified.
The hope from almost all NASCAR fans is that we get another driver brazen enough to try the moves that won the Intimidator seven titles, and it looks like Kyle Busch may be that man after all.
Let's see if he can keep it up.
Check back for more on NASCAR as it comes, and check out Bleacher Report's NASCAR Page to get your fill of all things motorsports.