NBA Rising Stars Challenge 2012 Mock Draft: Predicting Shaq and Chuck's Picks
February 15, 2012

Jeff Gross/Getty Images
The NBA All-Star Rising Stars event finally got a facelift this year. Instead of it being a Rookie vs. Sophomore battle, TNT personalities Shaquille O'Neal and Charles Barkley will be drafting and coaching teams comprised of the 18 first and second-year players.
This awesome twist will make for an intriguing and, quite possibly, hilarious contest.
Here's a mock draft for the game I made up with my colleague Wes O'Donnell picking as Shaq and myself making Charles' selection.
Team SHAQ
Pick 1: Blake Griffin (Los Angeles Clippers)
Wes went with the best player available here and someone who can absolutely dominate a game where defense is an afterthought.
Pick 3: Ricky Rubio (Minnesota Timberwolves)
With John Wall gone, Rubio is easily the best PG available and you always need someone who can throw great passes in an All-Star game.
Pick 5: Derrick Williams (Minnesota Timberwolves)
This pick is highly questionable, especially considering all of the talent left on the board. Williams is having a mediocre season at best in Minnesota and certainly hasn't lived up to his No. 2 draft pick status yet.
Pick 7: Kyrie Irving (Cleveland Cavaliers)
O'Donnell/Shaq is drafting like Timberwolves President David Kahn, stockpiling guards even though other needs have not yet been filled. Regardless, Irving is a great player and a value as we get towards the midway point of the draft.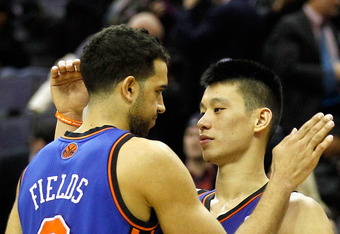 Rob Carr/Getty Images
Pick 9: Landry Fields (New York Knicks)
Fields might best be known now for letting Jeremy Lin crash on his couch, but he's having a pretty solid campaign for the Knickerbockers and will start on this squad at the two.
Pick 11: Gordon Hayward (Utah Jazz)
Hayward is having an extremely up-and-down sophomore season, but he's coming on as a defender and the Jazz haven't been afraid to throw him against the opposing team's best perimeter player.
Pick 13: Tiago Splitter (San Antonio Spurs)
Someone finally realized they needed size. Splitter has been playing effective ball off the bench for the Spurs and adds a presence in the middle with a 6'11", 240-pound frame.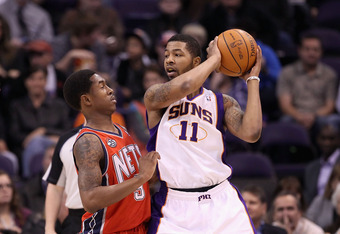 Christian Petersen/Getty Images
Pick 15: Markieff Morris (Phoenix Suns)
This may be the steal of the draft if Markieff can keep playing at a high level. Against the Nuggets on Tuesday, Morris dropped 21 points, grabbed six rebounds, had four steals and blocked two shots before fouling out.
Pick 17: Brandon Knight (Detroit Pistons)
Knight's been playing decent on a terrible Pistons team. He's a great pick in the last round.
Team CHUCK
Pick 2: John Wall (Washington Wizards)
Wall is the best point guard in this game and will be fun to watch considering he led the Rookies to a win with 22 assists last year and claimed the MVP award.
Pick 4: DeMarcus Cousins (Sacramento Kings)
This kid is another standout from this contest last year. Cousins went off for 33 points and 14 rebounds last year and absolutely dominated the competition.
Pick 6: Paul George (Indiana Pacers)
Did you know that Paul George grew from 6'8" to 6'10" during the offseason?
This incredibly long swingman is going to be a superstar in this league eventually and could easily break out in this game.
Pick 8: MarShon Brooks (New Jersey Nets)
Brooks is a born scorer and will be a perfect sixth man for Barkley's squad if they need some energy off the bench.
Pick 10: Greg Monroe (Detroit Pistons)
Monroe was a borderline All-Star this year, but he'll have to settle for the Rising Stars game since his actual team is so horrible.
He's putting up an efficient 16.4 points and 9.7 rebounds, which is why he's No. 11 in the league in PER rating with a 23.59.
Pick 12: Kemba Walker (Charlotte Bobcats)
Kemba might be the only bright spot on the 3-25 Bobcats. He can't be used to losing this much, especially after his epic Big East and NCAA Tournament run with the UConn Huskies last year. He'll be happy to be playing with decent teammates.
Pick 14: Evan Turner (Philadelphia 76ers)
Turner is a major contributor on a good team, but somehow fell this far in the mock draft.
He may not be a superstar in this league, but he's a valuable role player and that's what he brings to Team Chuck.
Pick 16: Kawhi Leonard (San Antonio Spurs)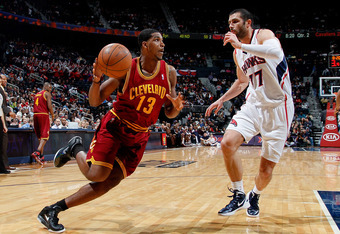 Kevin C. Cox/Getty Images
Now that the Spurs are getting healthy, Leonard is back to his reserve role off the bench. He's still effective and plays great defense, but he has a long way to go before becoming a great pro.
Pick 18: Tristan Thompson (Cleveland Cavaliers)
Thompson may be the biggest bust from the 2011 draft class. He's failed to make the strides expected of him as the fourth overall pick. He's Mr. Irrelevant of the Rising Stars event.