Jeremy Lin and the 25 Best Trash to Treasure Stories in Sports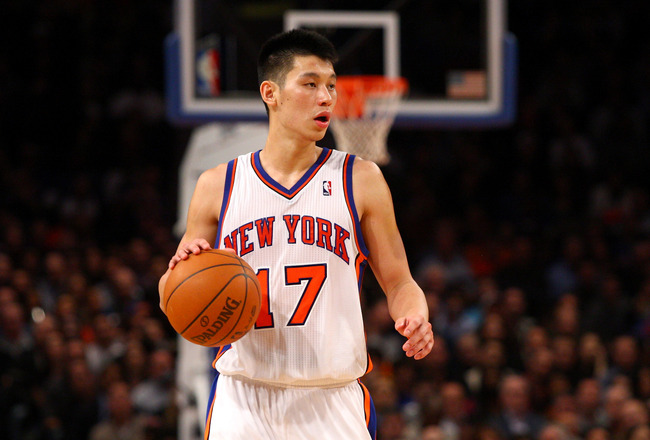 Chris Chambers/Getty Images
You've probably heard the saying, "One man's trash is another man's treasure," in reference to any number of things. The idea of finding value where others have not is pretty self-explanatory and very applicable to most professional sports.
How many times has a young or underachieving player been traded or cut, only to go on to have an all-star career with another lucky team? It happens all the time in the major sports leagues.
Here are 25 guys who went from zero to hero after being casted off early.
25. Danny Woodhead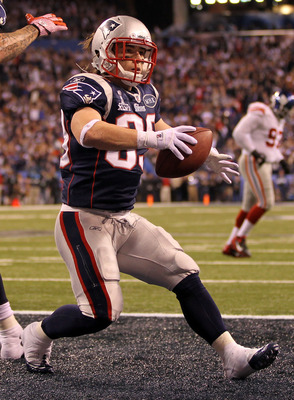 Jamie Squire/Getty Images
Running back Danny Woodhead has become a valuable role-player for the New England Patriots—not too bad for a guy who went undrafted out of Chadron State.
But Woodhead didn't get his start in New England—he was actually spent two seasons with the New York Jets. Woodhead spent 2008 on injured reserve and most of 2009 on the practice squad before being waived in September 2010.
24. Jhonny Peralta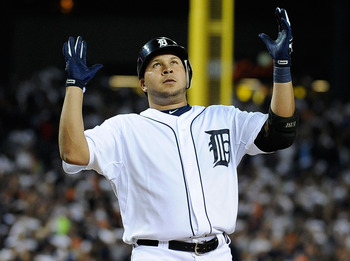 Kevork Djansezian/Getty Images
In 1999, Jhonny Peralta was signed by the Cleveland Indians as an amateur free agent and moved around in the minors before earning a permanent place in the lineup in 2005.
Peralta's success in the minors didn't carry over, and eventually he was traded to the Detroit Tigers for a minor league pitcher and some cash.
Peralta hit a home run in his first at-bat for the Tigers and was named to his first All-Star game just a season later. He finished the 2011 regular season with a career-high batting average, 21 home runs and 86 RBI.
23. Reggie Bush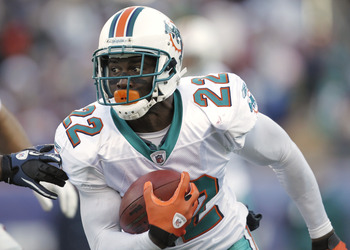 Winslow Townson/Getty Images
Running back Reggie Bush was one of the most over-hyped players in recent memory when he was drafted out of USC by the New Orleans Saints in 2006. After five underwhelming, injury-plagued seasons, the Saints traded Bush to the Miami Dolphins.
Just when everyone was ready to declare him a bust once and for all, Bush surprised with the best rushing season of his career—his best season by a mile. Bush racked up more than 1,000 yards rushing, nearly 300 receiving and scored seven touchdowns—most of which were in the last eight games of the season.
Maybe Bush will still prove a bust, but this is as promising as his NFL future has looked in years.
22. Markus Naslund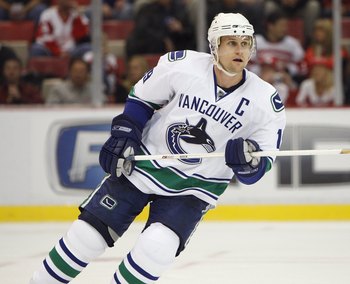 Gregory Shamus/Getty Images
Markus Näslund was drafted 16th overall by the Pittsburgh Penguins in the 1991 NHL Entry Draft.
Because of difficult contract negotiations, the NHL labor dispute and Naslund's underachieving, he didn't see all that much ice time with the Pens before being traded the Vancouver Canucks in 1996. Näslund came into his own quickly in Vancouver and, within a season, emerged as an offensive leader for the Canucks.
Näslund remained a key player for the Canucks for more than a decade before a brief stint with the New York Rangers preceded his retirement in 2010.
21. Laurent Robinson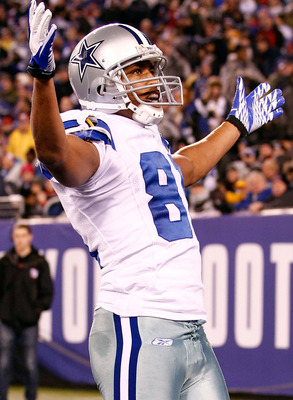 Jeff Zelevansky/Getty Images
Before Laurent Robinson was the leading wide receiver for the Dallas Cowboys, he actually spent four seasons working his way down the depth chart of three other teams.
Robinson was drafted by the Atlanta Falcons in the third round of the 2007 NFL Draft and had a serviceable rookie season. However, his play and production declined, and he was eventuality traded to the St. Louis Rams in 2009, where he spent two injured-plagued seasons before being cut.
The San Diego Chargers signed Robinson as a free agent in August 2011, but he failed to make the final roster. Robinson signed with the Cowboys within weeks, and he turned out to be one of the only bright spots in an otherwise disappointing season for Dallas.
20. Josh Hamilton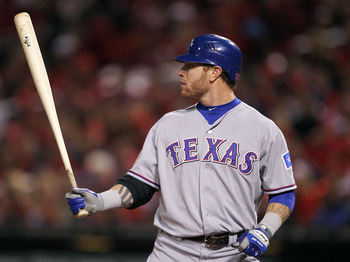 Ezra Shaw/Getty Images
The talented but troubled Josh Hamilton was drafted first overall by the Tampa Bay Rays in the 1999 MLB Draft. Injuries and various suspensions as a result of a well-publicized battle with drugs and alcohol defined Hamilton's first six years in baseball.
Thanks to the Rule 5 Draft, Hamilton never played a day in Tampa and eventually landed with the Cincinnati Reds in 2007. Hamilton cleaned up his act and had a promising run with the Reds before being traded to the Texas Rangers in the offseason.
Hamilton's career took off in Texas, and he was selected to four straight All-Star games before his headline-grabbing relapse with alcohol in February 2012.
19. Alex English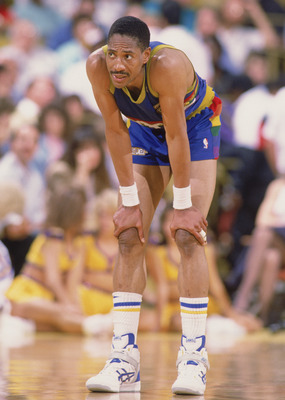 Mike Powell/Getty Images
Hall of Famer Alex English played most of his career with the Denver Nuggets; he was selected as an All-Star eight of his 10 seasons with the team.
English began his career with the Milwaukee Bucks, the team that drafted him, and spent two seasons riding the pine before being traded to the Indiana Pacers.
The Pacers shipped English off to the Nuggets midway through his first season with the team in what turned out to be one of the most one-sided trades in NBA history.
Well, it's obviously worked out for English.
18. Peyton Hillis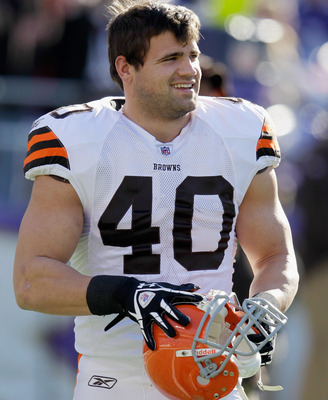 Rob Carr/Getty Images
Running back Peyton Hillis may very well turn out to be just a flash in the pan, but his success with the Cleveland Browns in 2010 earned him the cover of Madden 12, forever immortalizing his achievement.
Hillis was drafted by the Denver Broncos in the seventh round of the 2008 NFL Draft. He managed less than 400 rushing yards in 26 games with the Broncos and was traded to the Browns in early 2010.
In his first season with the Browns, Hills racked up more than 2,000 all-purpose yards, scored 13 touchdowns and beat out Ray Rice, Matt Ryan, Mike Vick and Super Bowl MVP Aaron Rodgers for the Madden cover.
17. David Freese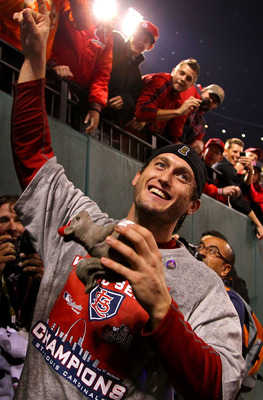 Dilip Vishwanat/Getty Images
Third baseman David Freese was drafted by the San Deigo Padres in the ninth round of the 2006 MLB Entry Draft. Freese bopped around the minors for a few seasons before the Padres decided they were all stocked up on third basemen and traded him to the St. Louis Cardinals.
Freese was injured for most of his first season with the Cardinals, but he had a breakout year in 2011. Freese went on to be named the World Series MVP and win the Babe Ruth Award as the postseason MVP.
Not too bad for a guy who was considered the third-best at his position on the Padres just two years before.
16. Cedric Benson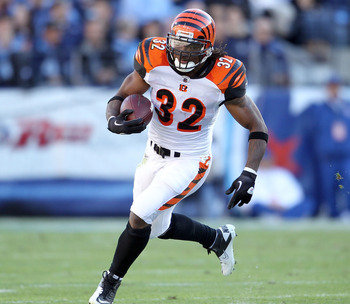 Andy Lyons/Getty Images
Running back Cedric Benson was a four-year starter at the University of Texas before being drafted fourth overall by the Chicago Bears in the 2005 NFL Draft. Benson held out through training camp his rookie season, which didn't make him many friends in the locker room.
Eventually a deal was worked out, and Benson rewarded the Bears with three lackluster seasons that were plagued by injures and legal woes. Eventually he was released by the Bears, and he signed with the Cincinnati Bengals.
Benson didn't exactly clean up his act in Cincinnati, but he managed to earn his paycheck on the field; he's rushed for more than 1,000 yards in each of the last three seasons.
15. Brett Hull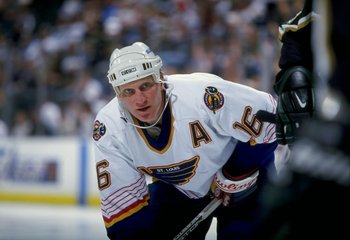 Stephen Dunn/Getty Images
The legendary Brett Hull was drafted by the Calgary Flames in the sixth round of the 1984 NHL Entry Draft. Hull and Flames coach Terry Crisp never developed a good relationship, and he spent two years in the minors before being shipped off to the St. Louis Blues.
It was in St. Louis that Hull spent the most impressive decade of his Hall of Fame career. In just two seasons, his production jumped from 50 points with the Flames in 1988 to 113 points with the Blues in 1990.
Think the Flames wish they would have dumped their head coach instead?
14. Mike Vrabel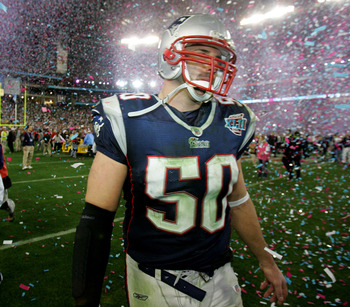 Streeter Lecka/Getty Images
Retired linebacker Mike Vrabel was drafted by the Pittsburgh Steelers in the third round of the 1997 NFL Draft. Vrabel had four unimpressive seasons with the Steelers before he was cut in 2000.
In 2001, Vrabel signed with the New England Patriots and was a starter with the team during their three Super Bowl seasons. Vrabel became known for his versatility and often logged double duty as a linebacker and a sometimes tight end for the Pats. He also became the first defensive player in more than a decade to score a Super Bowl touchdown.
Vrabel was selected to the Pro Bowl in 2007 and named to Sports Illustrated's All-Decade team (2000-2009).
13. Jason Schmidt
Jeff Gross/Getty Images
Retired MLB pitcher Jason Schmidt spent a season with the Atlanta Braves before landing with the Pittsburgh PIrates in 1996.
After an up-and-down five seasons with the club, the Pirates proved what an eye for talent they have by shipping Schmidt and John Vander Wal to San Francisco for Aramando Rio and Ryan Vogelsong—two no-name losers they could pay the bare minimum and eventually dump.
Schmidt immediately became a Cy Young candidate and appeared in a World Series with the Giants in 2002. Schmidt was voted as an All-Star in three of his seasons with the Giants and was selected as the 2004 NL TSN Pitcher of the Year.
12. Drew Brees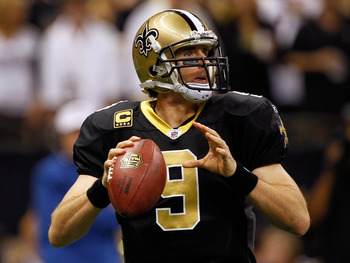 Chris Graythen/Getty Images
Despite four relatively impressive seasons with the San Diego Chargers, quarterback Drew Brees didn't get much love from the media nor his own team early in his career.
In 2004, the Chargers made a draft-day trade for Philip Rivers, proving they weren't sold on Brees, and when Brees injured his throwing shoulder in the last game of the 2005 season, San Diego didn't re-sign him. Nobody was sure what to expect from Brees when he signed with the New Orleans Saints in early 2006, but he went on to have the most successful season of his career to date.
In addition to leading the Saints to a Super Bowl victory, Brees' on-the-field performance has only improved, and he had the best season of his career in 2011—his 10th in the NFL.
11. James Harrison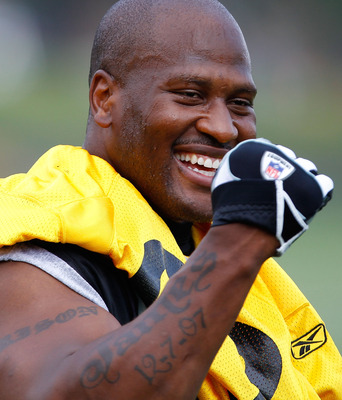 Jared Wickerham/Getty Images
Pittsburgh Steelers linebacker James Harrison is today known as one of the most feared and dominant defensive players in the game—but he wasn't always the five-time Pro Bowler we know today.
Harrison actually went undrafted in the 2002 NFL Draft. He spent two seasons on the Steelers' practice squad before being cut and signed by the Ravens, only to be cut again.
In 2004, the Steelers decided to take another look at Harrison—and the rest, as they say, is history.
10. Jermaine O'Neal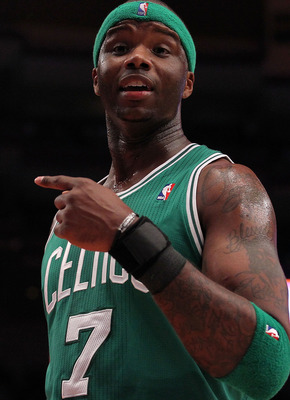 Nick Laham/Getty Images
Boston Celtics forward Jermaine O'Neal didn't have an All-Star start to his career in the NBA. O'Neal was drafted 17th overall by the Portland Trail Blazers in the 1996 NBA Draft, but he spent all of his four seasons with the team on the bench.
Frustrated by a lack of playing time, O'Neal announced he wanted to be traded and ultimately was shipped to the Indiana Pacers. In his second season with the Pacers, O'Neal was named the NBA's Most Improved Player in 2002. He was also selected as an NBA All-Star for the first time in 2002, the first of six consecutive All-Star appearances.
9. Kurt Warner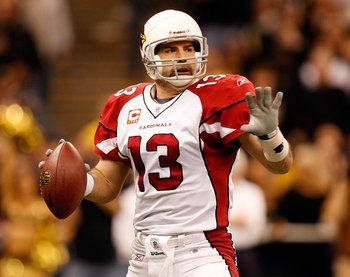 Ronald Martinez/Getty Images
Almost everyone knows Kurt Warner's amazing story by now. Warner went undrafted in the 1994 NFL Draft and found himself stocking grocery store shelves when no team was willing to take a chance on him.
Warner found work in the AFL in 1995, and his performance was so impressive that he eventually was signed by the St. Louis Rams in 1998. After being passed over by the Packers and the Bears, Warner went on to lead the Rams to two Super Bowl appearances and one victory.
In 2004, despite his success, Warner was released by the Rams and lasted just half a season with the Giants before landing in Arizona in 2005. In Warner's third season with the Cardinals, he led the team to their first Super Bowl appearance in franchise history.
Warner played one more season before calling it a career—an extremely fascinating career.
8. Wes Welker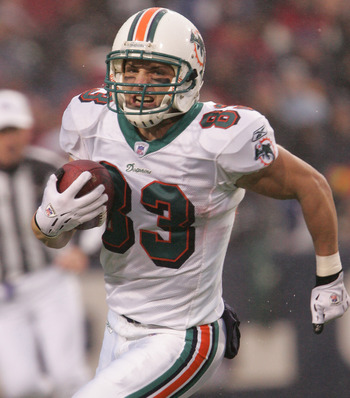 Robert Skeoch/Getty Images
Before the New England Patriots wide receiver became the most productive and dependable pass-catcher in the league, he was just another undrafted free agent trying to catch a break.
In 2004, Welker was signed by the San Diego Chargers, but he didn't even make it through training camp before being released and signing with the Miami Dolphins. After two unremarkable seasons in Miami, the Patriots acquired Welker from the Dolphins for two draft picks.
In his first season with the Pats, Welker racked up almost 1,200 receiving yards, and he never looked back.
7. Steve Nash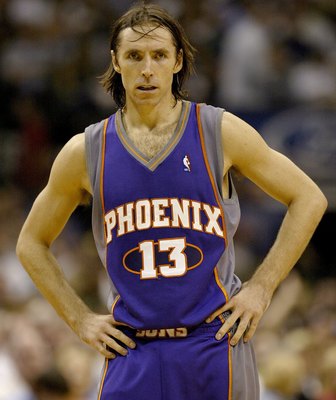 Ronald Martinez/Getty Images
When Steve Nash was drafted by the Phoenix Suns in the first round of the 1996 NBA Draft, fans booed in disapproval of the Canadian unknown. Nash's rookie season with the Suns wasn't great and, despite improving in his second season, he was traded to the Dallas Mavericks in 1998.
Nash came into his own in Dallas, improving in each of his first five seasons with the Mavs and making his first All-Star appearance in 2002.
When Nash became a free agent in 2004, the Suns were eager to bring him back to Phoenix.
6. Johnny Unitas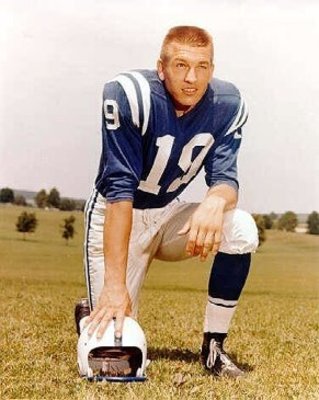 Pittsburgh native Johnny Unitas had an impressive college career at the University of Louisville before being drafted in the ninth round by his hometown Steelers in 1955.
The Steelers, who were absolute garbage at the time, couldn't find room for Unitas on their roster, and the quarterback was released without ever taking a snap in practice.
After working construction for a year to support his family, Unitas was signed by the Baltimore Colts in 1956. Unitas went on to have one of the most successful and storied careers in NFL history.
5. Dominik Hašek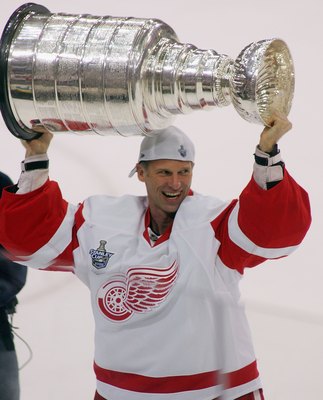 Jim McIsaac/Getty Images
Retired goalie Dominik Hašek played most of his NHL career with the Buffalo Sabres (nine seasons) and the Detroit Red Wings (four seasons). He's expected to be inducted to the Hall of Fame in his first year of eligibility.
But it was playing backup to Ed Belfour in Chicago for the Blackhawks that Hašek's career actually began. Hašek played 25 games for the Hawks over two seasons, but despite showing immense potential, he was shipped off to Buffalo for another goalie and future considerations.
4. Jeremy Lin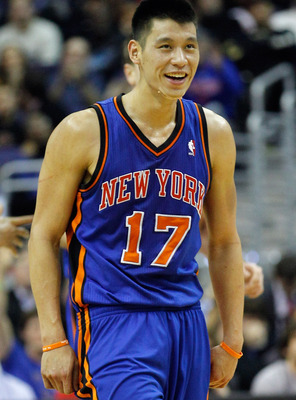 Rob Carr/Getty Images
Surely you recognize New York Knicks point guard Jeremy Lin, thanks to the "Linsanity" that has surrounded him.
Lin played college ball at Harvard and spent just one season with the Golden State Warriors before being waived in December 2011. Shortly after, Lin was claimed by the Houston Rockets and then was waived two weeks later.
Lin was then claimed by the Knicks and was nearly waived within weeks, but injuries to two starters gave him his chance to shine in the lineup.
And shine he did—thus far.
3. Bill Belichick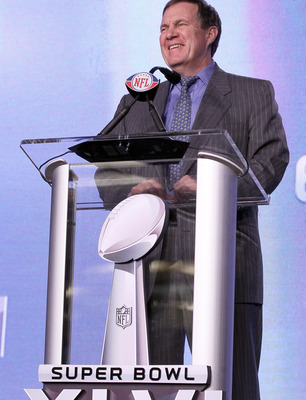 Elsa/Getty Images
Way before Bill Belichick was the mastermind super genius behind the Patriots' (almost) dynasty of the early 2000s, he was the unheralded head coach of the Cleveland Browns in the early 1990s.
Belichick spent more than a decade as an assistant with the New York Giants before being hired by the Browns in 1991. The team went 36-44 in Belichick's four seasons with Cleveland and only managed a winning season once.
In 1996, it was announced that the franchise was moving to Baltimore and that Belichick would not be joining them. The whole situation worked out well for ultimately everyone—except the Browns.
2. Cliff Lee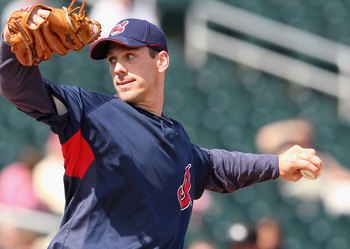 Christian Petersen/Getty Images
Over the last decade, Cliff Lee has been one of the most successful pitchers in MLB. Lee has played for the Indians, Phillies, Mariners and Rangers throughout his career—but it was the Montreal Expos that drafted him in 2000.
Lee impressed in the minors, but without ever giving him a shot, the Expos shipped him off to the Cleveland Indians as part of what can only be described as one of the single worst trades in the history of professional sports.
Lee was starting for the Indians by the end of the 2002 season and won at least 14 games in each of his first three full seasons.
1. Brett Favre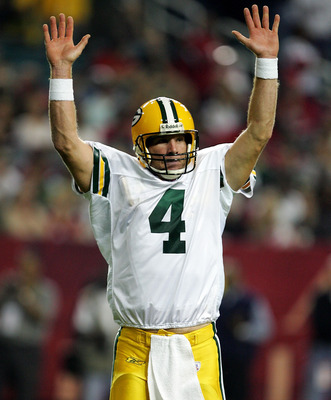 Streeter Lecka/Getty Images
Recently retired, future Hall of Fame quarterback Brett Favre is best-known as the Super Bowl-winning quarterback of the Packers; he played 15 of his 19 seasons in Green Bay.
But it was the Atlanta Falcons that drafted Favre 33rd overall in the 1991 NFL Draft. Favre signed a three-year deal with the Falcons, but was traded after just one season because then-coach Jerry Glanville straight-up could not coexist with Favre.
It would be a decade before the Falcons found another true franchise quarterback in Michael Vick.
Keep Reading