Detroit Red Wings: Why Consecutive-Home Winning Record Will Matter
February 13, 2012

Dave Sandford/Getty Images
On Sunday night in a game against the Philadelphia Flyers, the Detroit Red Wings were able to win their 20th-consecutive home game to tie with the 1929-1930 Boston Bruins and 1975-1976 Philadelphia Flyers for the longest streak ever.
This feat is a tremendous one in today's NHL. Sure some fans will excuse it because of shootout wins or whatnot, but a win is a win—and Detroit managed to reach 20 in a row.
So the real questions are: What bearing does it have on the rest of the season? What bearing does this streak have on the rest of the season and the playoffs?
For the regular season, it's certainly a good omen. Detroit, which is in a battle with the St. Louis Blues for the Central Division Championship and struggles heavily on the road, have 16 of their final 25 games at home in the Joe Louis Arena.
Of course, people will cite the Red Wings' road record as an obstacle in the playoffs, but when looking closely—it shouldn't prove to be a serious setback.
Of the eight teams currently in the playoff seeds on the West, only the Vancouver Canucks have a road record staggeringly better than the Red Wings.
Moreover, if the playoffs were to start today, the Red Wings would have home-ice advantage no matter what. With a 23-2-1 record at home, any playoff visitor will dread making the trip to Detroit.
Also, keep in mind that the Red Wings have played the last five games without superstar goaltender Jimmy Howard. After struggling in games with Ty Conklin, Joey MacDonald was elected as the interim starting netminder for Detroit. He has done a decent enough job at holding down the fort in Howard's absence.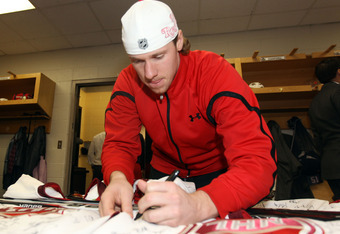 Christian Petersen/Getty Images
Howard is rumored to want to make his return on Friday in a home game against the Nashville Predators, and if the streak is still alive at that point—Detroit's chances of keeping it going will become even better.
Detroit will have a chance to become the sole owner of the consecutive-home wins record on Tuesday when they meet Dallas to attempt 21 wins.
Jordan Matthews writes for the NHL and for the Detroit Red Wings. You can read Jordan's recent articles here:
Seven Moves We Expect Ken Holland to Make
Detroit Red Wings Ten Most Vicious NHL Rivals
You can also follow Jordan on Twitter by clicking the link below.