Detroit Red Wings: 7 Moves We Expect Ken Holland to Make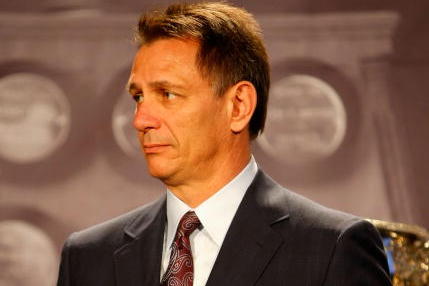 Dave Sandford/Getty Images

For nearly a decade now, Ken Holland has been considered one of the best General Managers not just in the NHL, but in all of sports.
Holland is among the best because of the fact that he has managed to keep the Detroit Red Wings in playoff contention for years, even after the salary cap era was established.
Although it wasn't all Holland's doing, as he took the GM position during the 1997 offeseason, he has made the trades, free-agent signings and draft consultations that have kept the Detroit Red Wings a well-oiled machine.
This year, Holland has left a lot of salary cap space open to answer a lot of questions on the Red Wings roster. With that, here are some things we expect Holland to take a closer look at in the future.
Begin Slideshow

»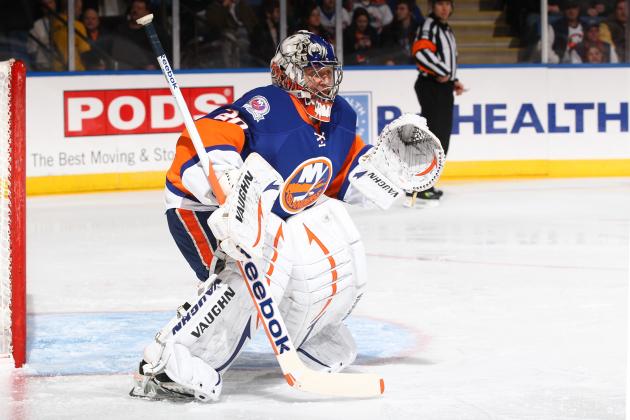 Al Bello/Getty Images

Inquiring minds want to know...How much would it take to snag Evgeni Nabokov from the New York Islanders?
Or pretty much any goalie, for that matter, who is better than Ty Conklin. Yes, your local 40-and-over beer league may include candidates who make those qualifications.
Conklin has visibly been awful this year for Detroit, letting in goals that clearly shouldn't have happened. Who knows what has happened to him, but he doesn't even look like he belongs in the AHL.
Joey MacDonald will certainly be looked at as a possible solution, but the question Holland has to ask is whether or not he thinks MacDonald could pull through in a clutch situation during a playoff game if need be.
Which is why Detroit really needs to target a different option for backup goaltenders. Nabokov is certainly the first name that comes to mind for teams in need of a backup, but it would be interesting to see who else is on the market.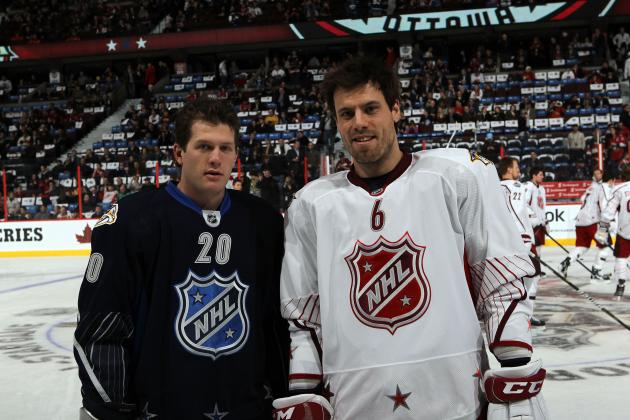 Bruce Bennett/Getty Images

While Nicklas Lidstrom may appear to have discovered the fountain of youth, it's no secret that his career is drawing to a close.
Whether it be this year, next year or the year after, Lidstrom wont be around the NHL for much longer, and Holland knows that.
Nobody can replace Lidstrom, but Holland can find players to keep Detroit's blue line corps amongst the best in the National Hockey League.
Obviously, names like Ryan Suter and Shea Weber come to mind. Both are upcoming free agents who have made it clear that they want to play for a cup contender.
While Suter is slated to become an unrestricted free agent in July, Weber will be restricted, and it's unlikely he goes anywhere without the team paying a hefty price.
With that said, Holland may be wise to throw a contract at Suter's agent and see what comes of it.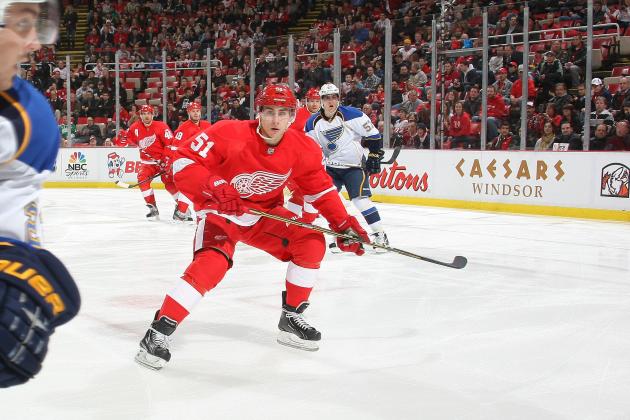 Dave Sandford/Getty Images

Many people were surprised at Valtteri Filppula's current performance this season, considering the fact that just 53 games in he has already surpassed his previous career season.
Should those people be surprised? Not really, but you can't blame anybody who mutters "It's about time" under their breath. This is the player Filppula was supposed to be, the player he was projected to be for years.
Finally, after six years in the NHL, Filppula is starting to show us what he can really do, and he's on pace for 65 points this season.
Let's just hope this new-found success doesn't go to Filppula's head. He's currently signed up until the 2013 offseason, when he'll become an unrestricted free agent.
John Grieshop/Getty Images

Darren Helm and Justin Abdelkader may not always play on the same line together, but they're both vital to the success of the Red Wings.
Helm is one of the fastest skaters in the NHL, and is a great two-way forward. Since his start in the NHL, he's been the face of the Red Wings' penalty kill, and would be a terrible asset to lose.
Abdelkader is also an asset. He's not the biggest guy, but he hits every player he sees, and he'll drop the gloves when he has to, even if he knows it's a fight he can't win.
Both players become restricted free agents this summer, and both would be awful role players to lose. Holland needs to sign deals with both Helm and Abdelkader ASAP.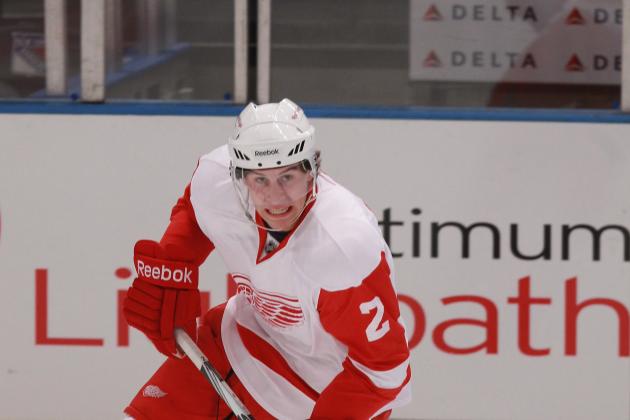 Bruce Bennett/Getty Images

The Detroit Red Wings have one of the deepest prospect pools in the NHL, and probably the most talented player development team as well.
It's a hard fact to argue when the five of the Red Wings' top six scorers (Pavel Datsyuk, Johan Franzen, Valtteri Filppula, Henrik Zetterberg and Nicklas Lidstrom) were all drafted in or after the third round of their respective draft years.
Now, the Red Wings' prospect pool is full of players who have the potentially to be future superstars. Names like Teemu Pulkkinen, Brendan Smith, Gustav Nyquist, Calle Jarnkrok and Tomas Jurco come to mind.
With older pieces of the team on their way out, and the free-agent market getting more and more scarce every year due to long contracts, it's about time for Holland to bring in the young players he's been hiding in the AHL and overseas.
Smith has arguably been NHL-ready since last season, and Nyquist looks NHL-ready this season. Both look to be top-line players in the future, and Detroit needs to toss them into the lineup to prepare for the future.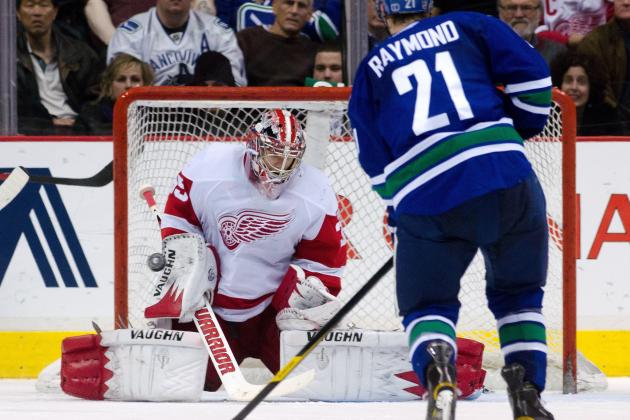 Rich Lam/Getty Images

This isn't an issue that Holland needs to solve immediately, but it needs to be solved nonetheless.
Jimmy Howard has solidified himself as one of the best goaltenders in the NHL, and a likely Vezina nominee for his outstanding performances this season.
His contract makes that fact even more outstanding, considering Howard only receives $2.25 million per year.
Hopefully Howard is a humble player who takes that "small" salary for the benefit of the team, but he is certainly deserving of more, and you can probably expect that to come up in the next year when he starts discussing an extension with Holland.
Howard's contract expires in the 2013 offseason, and Detroit desperately needs to lock him up as their permanent starter.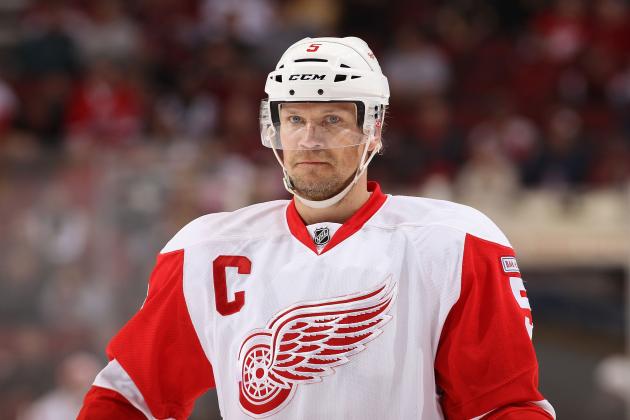 Christian Petersen/Getty Images

Nicklas Lidstrom may no longer be the by and far best defender in the league, as he was for many years, but he's still one of the better defenders in the league.
You wouldn't know it by how long it takes him to decide to come back. Lidstrom opted to rejoin the Red Wings in 2012 just one week before free agency opened.
This led to much speculation that this would be Lidstrom's last year, but Nick himself has said that he'd like to play for as long as his body can keep up. Right now, it appears his body is keeping up pretty well.
The stats reflect it as well, as Lidstrom has 28 points in 53 games, and is top five in the league in plus-minus.
Hopefully, Holland is able to convince Lidstrom to stay around for another year or seven.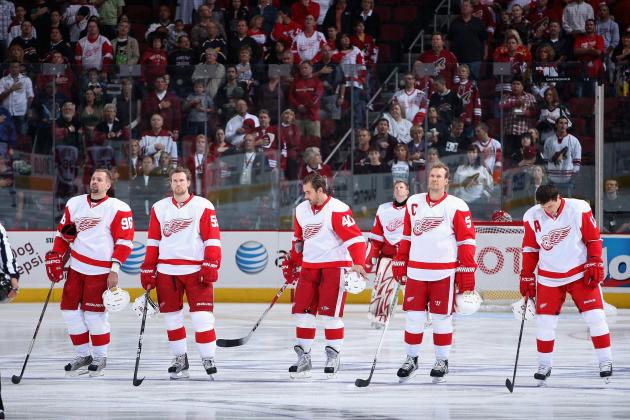 Christian Petersen/Getty Images