Detroit Red Wings: Does 2013 Winter Classic Mean Another Year for Lidstrom?
January 20, 2012

Abelimages/Getty Images
Nicklas Lidstrom is unquestionably one of the greatest defenders in the history of the National Hockey League. For the past 20 years, Lidstrom has been an absolute phenom at the blue line of the Detroit Red Wings.
Over the past few years, analysts and fans alike have speculated when Lidstrom's performance will finally decline when he will finally retire.
Lidstrom, at the age of 41, is still one of the best defenders in the NHL. He's once again in the discussions to win the Norris Trophy, which is awarded to the NHL's best defender.
Lidstrom isn't a stranger to Mr. Norris either—he's won seven of them. An eighth would tie him with the legendary Bobby Orr, and some fans have gone as far as to say that the Norris trophy should be renamed after Lidstrom upon his retirement.
Still, at some point age has to catch up to the future Hockey Hall of Famer. He's certainly not in as good of athletic shape as he was 10 years ago—even if he is one of the best in the NHL.
This led many people to speculate about Lidstrom's retirement. In the 2010 offseason, he briefly pondered retirement, and in 2011, he thought about the matter until late in June. The fact that he took so long last year has led many fans to believe that this season is his last. However, he has stated that he would like to play as long as he could compete at an NHL level (via Kuklas Korner).
That's an interesting thought, because that could still be a long time. Detroit fans know a lot about players playing into their 30s. Chris Chelios played with the organization until he was 46 years of age.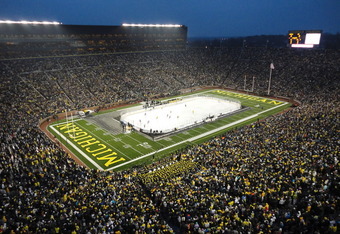 Of course, Chelios's quality of play was a far cry from what it was in his prime, but the fact that he was still able to compete in the NHL at that age was a testimony to his immense talent.
Coming back to the idea that this is Lidstrom's last season, it's certainly the elephant in the front of the Red Wings' front office.
But what if one game has already solidified Lidstrom's return for the 2012-2013 NHL season?
As was speculated for nearly two months, the Detroit Red Wings are now a lock for the 2013 NHL Winter Classic, according to MLive.com. The game will feature the Red Wings facing off against their historic rival, the Toronto Maple Leafs in the Big House in Ann Arbor, Michigan.
Why would Lidstrom want to return for this? Honestly, why wouldn't he? The Winter Classic is the biggest game in the NHL regular season. In addition, this particular Winter Classic will almost certainly set an attendance record—Michigan Stadium holds over 110,000 fans.
At that rate, the game could potentially smash the previous record of 71,000-plus by 40,000.
Obviously Lidstrom would want to be a part of that game. He'd still want to be a part of the Wings' team too, as next year might be their best chance at a Stanley Cup since they won in 2008.
Excluding any cap raises, the Red Wings will have $24.6 million in cap space, with Lidstrom, Brad Stuart, Jiri Hudler, Todd Bertuzzi, Darren Helm, Tomas Holmstrom, Justin Abdelkader and Ty Conklin hitting free agency.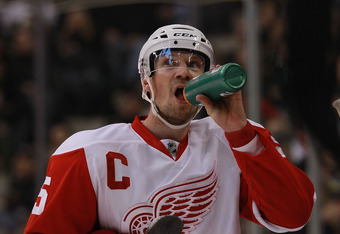 Ronald Martinez/Getty Images
Stuart and Conklin will almost certainly walk. Helm and Abdelkader will probably be re-signed at a combined $3 million cap hit. That leaves $21.6 million to sign three defenders, two forwards and a backup goaltender.
Forward prospect Gustav Nyquist and defensive prospect Brendan Smith will almost certainly be called up for permanent stays in Detroit, leaving roughly $20 million to sign a forward, two defenders and a backup.
That's a lot of space, and with the free agent list including names like Ryan Suter on defense and Zach Parise on offense, Detroit would have a lot of weight (and cash) to throw around.
That great chance at a Cup run along with the prestige of the Winter Classic being in Detroit should be enough to bring Lidstrom back for another season.
Let's just hope that on January 1st, 2013, Lidstrom is playing in the NHL game, rather than the Alumni Game.
Jordan Matthews writes for the NHL and for the Detroit Red Wings. You can read his recent articles here:
Ten Wingers Detroit Could Potentially Pursue
Midseason Grades for Every Red Wings' Player
You can also follow Jordan on Twitter by clicking the link below.