Oakland Raiders: Would Bush Getting Tagged Be the End of McFadden in Oakland?
February 9, 2012

Jamie Squire/Getty Images
The Oakland Raiders have a bit more free time to consider free agency than most NFL teams this year seeing as how they don't have a pick until the fifth round of this April's NFL draft, and one of the main decisions the new front office in Oakland will face is what to do about impending free-agent running back Michael Bush.
The fourth-year pro played well in relief of the injured Darren McFadden in 2011, gaining almost 1,400 total yards and scored eight touchdowns, and there have been rumors that Bush is a candidate for the franchise tag this offseason, including this tweet from Steve Corkran of the Contra Costa Times.
"@GlennRecon: @CorkOnTheNFL likely hood of Bush getting the tag?" -- Better than even money. Can't trust McFadden to make it through season.

— Steve Corkran (@CorkOnTheNFL) January 25, 2012
Should the Raiders indeed use the franchise tag on Bush, which will reportedly be in the $8 million range for running backs in 2012, that means that Oakland will have nearly $14 million invested in Bush and McFadden next season, which has led to speculation that the Raiders may put one or both backs on the trading block.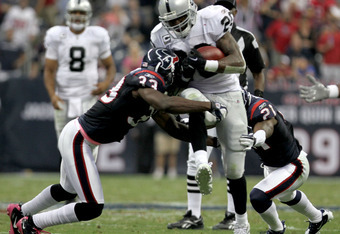 Thomas B. Shea/Getty Images
McFadden looked to be ready to pick up right where he left off last year after a breakout 2010 campaign, leading the National Football League in rushing through six games.
However, McFadden then suffered a foot injury that lingered for the rest of the season, reigniting questions as to the fourth-year pro's durability, as the former Arkansas star has yet to play in more than 13 games in a season in the NFL.
This leads us to the question of which back the Raiders "trust" more to make it through the season, and to this point in their respective NFL careers Bush has been the much more reliable option, missing only three games total.
Also, new Oakland offensive coordinator Greg Knapp is expected to turn to a zone-blocking scheme, which suits Bush's one-cut-and-run style much more than the shifty McFadden, and as John Clayton of ESPN tweeted, this could also factor in to the Raiders' decision regarding the two tailbacks.
Once the Raiders go back to a zone blocking scheme, they have to decide whether to re-sign Michael Bush or trade Darren McFadden.

— John Clayton (@ClaytonESPN) February 2, 2012
McFadden's contract wouldn't be too big a stumbling block to overcome, with the 24-year-old signed through 2013 at around $6 million a season, so if McFadden is placed on the market there should be more than few suitors given his age, reasonable contract and electric talent when healthy.
One potential fit could be the Cincinnati Bengals, who are in need of a running back and are the sort of contending team that might look past McFadden's injury history if they feel he could be the final piece of a playoff puzzle.
Plus, the Bengals just so happen to have a few extra draft picks laying around, as the team was able to sucker another NFL squad into ponying up a fortune for quarterback Carson Palmer earlier this season.
Wait...never mind.
It wouldn't be inconceivable for an NFL team to use its franchise tag on a backup running back (the San Diego Chargers did with Darren Sproles in 2009), and it may seem hard to fathom parting with a player of McFadden's talent.
However, the Raiders need draft picks, fashion themselves a playoff contender and are reportedly considering switching to a 3-4 defensive front, so rather than hold onto both backs, it may well be in the best interest of the Silver and Black to shop McFadden, pull the trigger on a good offer if it comes and use the infusion of young talent and money to continue their transition to a new "Commitment to Excellence."