Travis Pastrana's 5 Coolest Tricks Ever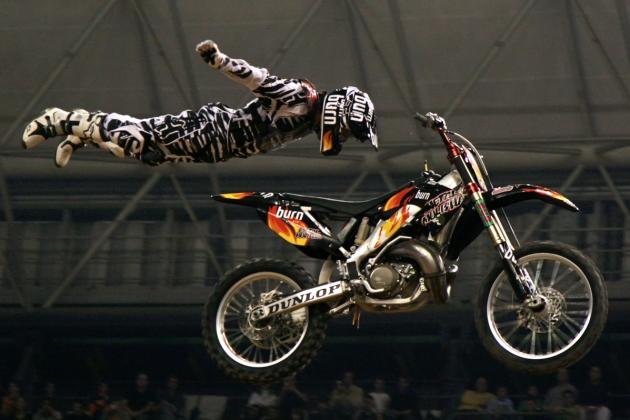 There's nothing better than extreme sports. The fearless nature of these riders proves inspirational and awe-inspiring after every insane trick.
But no one has headlined the world of lunatic athletes better than Travis Pastrana. Supercross, motocross, freestyle motocross, rally racing, he does it all.
The champion X-Games medalist continues to astound his audience with memorable attempts at immortality.
Let's take a look at his five best tricks ever.
Pop on some Rutten while you're at it.
Begin Slideshow

»
The first double back flip performed at the X Games, this trick set a trend for the competition.
We never doubted him for a second.
This victory at Red Bull X-Fighters had an abundance of stellar tricks, so let's not isolate one.
However, the Superman flip might be the most impressive.
Oh yeah, no big deal.
At least he catches on quickly.
269 feet in the air seems worthy of a top five spot.
The first to fly a car, Travis Pastrana is making memories one trick at a time.
Almost 10 million YouTube viewers care as much as we do.
That was definitely worth a broken ankle. Truly epic.
After failing to land the rodeo 720 at X Games 15 in the Moto X Best Trick Event, Pastrana tried again and again.
With the eventual landing being 20 degrees short of 720, Pastrana named it TP7.