MLB Rumors: Would Bringing Back Roy Oswalt Even Make Sense for Philadelphia?
February 6, 2012

Rich Schultz/Getty Images
The last Philadelphia (and baseball) saw of Roy Oswalt was the infamous "squirrel gate" game. Oswalt struggled against the St. Louis Cardinals, getting tagged for five runs in six innings in Game Four of the National League Division Series.
It was the end of a very strange, but disappointing season for Oswalt. He dealt with everything, from success to failure, from potential retirement to seeking security in a new deal, and from restoring tornado-affected land to pitching around sprinting squirrels.
What did it all lead to this offseason? Oswalt is still a free agent. He apparently was close to signing with St. Louis, but it appears a deal is now unlikely, as it has a full rotation and not so much money. It also seems to have not so much interest in him anymore.
On a quick side note, it is fitting that Oswalt had a deal with St. Louis apparently break down. He had a few notable starts against the World Champions in 2011, all of which being highs or lows on his roller-coaster season.
His first start against them, on May 17, he made his first start back from leaving the team for a few weeks to tend to his family's tornado-stuck property. Next, he made what reasonably could have been the last start of his career on June 23, leaving the game early with back issues. The ailment was so bad; he was seriously pondering whether it would prevent him from ever pitching again.
But then he came back, and had a pretty strong finish, minus a few hiccups. The highlight was his start on Sept. 17 which clinched the NL East against the Cardinals, tossing seven shutout innings. The NL East was wasted though as he broke down in Game 4 in the playoffs, being affected by the squirrel.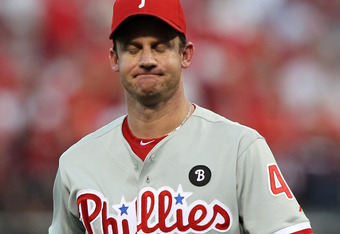 Jamie Squire/Getty Images
And those four starts represent how Oswalt's offseason has gone: Some early questioning of his future, disappointment, change of plans and demands, some hope, but then having it all thrown off by a break down. Maybe the squirrel ran by when he was signing the contract, threw his signature off, and he forgot the count of dollars and years afterwards.
Whatever happened, it was just another weird development in his offseason.
Why is this all important? FOX Sports' Jon Morosi reported recently that the Phillies remain an option to sign the right-hander Oswalt. The 34-year-old remains without a team after becoming a free agent nearly three months ago. The Phillies are being described as "open" to the idea of bringing Oswalt back.
Before we go any further as far as negotiations and dollar figures, would bringing Oswalt back at a normal price make sense for the Phillies?
No, it's hard to say that it would.
First, they have a full rotation already. If you consider Joe Blanton the No. 5 starter, the team has a fifth starter making $8.5 million this season—good luck moving that contract. If you consider Vance Worley the No. 5 starter, he posted a .786 winning percentage in 21 starts.
They have plenty of depth, as well. Kyle Kendrick is as solid of a sixth starter as you are going to find. Joel Pineiro could realistically be a fourth starter on most big league teams. He could even be a candidate to start on opening day if he were a Met. Pat Misch, David Purcey and company are solid emergency-type guys anyway.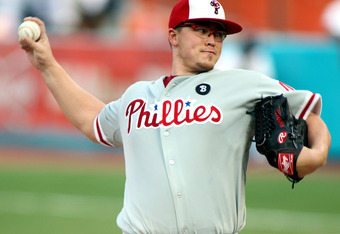 Marc Serota/Getty Images
"You can never have too much pitching" is the famous line, often used by Amaro himself. You can have too much pitching if it's costing you too much money. Allocating a few million dollars to a pitcher just for depth purposes is a waste.
The money, and overcrowding the pitchers' depth chart is just the start of it. What about the questions about whether Oswalt's heart was in it all season? It's hard to at least not question it. He did take off a pretty long time just to clean off a property from a tornado. He also was not even sure if he wanted to play this year. It wasn't until he gave up six runs in a late September game against the Nationals that prompted his agent to speak for him and say he is not retiring.
This is just speculation, reading body language and putting some translation into actions, but that was for a team that was expected to win the World Series, in which he struggled to invest his heart. What if this team has unexpected struggles, then where is his heart?
More importantly, the biggest reason it would not make sense to pay him more than a few million? They do not need him. At all, really. That's not just because of their depth.
Oswalt won only nine games last season and had a sub-.500 record. The Phillies aren't missing much if they lose that from a team that won 102 games and got better in the offseason.
It is very reasonable to think Vance Worley can win 11 games again this year, if not top that. Joe Blanton seems like a near lock to top his one win, if not multiply it by a dozen or so. Kyle Kendrick can probably get close to eight wins and a .571 winning percentage if there's an injury and he needs to fill in for someone. 
On top of all of this, we have no idea how Oswalt's back will hold up throughout the season.
Now, fortunately we have seen Amaro actually do this quite a few times over the past few offseasons. He remains in contact with a player who remains unsigned for quite some time during free agency, but most of the time he resists overpaying. He did it this offseason already with Lidge, keeping in touch with the reliever. Chad Durbin is another example, as the team did not bite on him as he remained without a team late. Chan Ho Park, too, if you wanted another example.
You have to hope that is exactly what this is. They just do not have any reason to get on this roller coaster. That could seriously damage backs, too—for both of them. For the Phillies, their backs can only stretch so much before they bang their head on that luxury tax.