Super Bowl 2012: James Harrison Takes a Shot at Patriots and Shows No Class
February 6, 2012
Jared Wickerham/Getty Images
If you already couldn't hate James Harrison even more, he gave you some more ammunition following the outcome of Super Bowl XLVI.
As the New York Giants were crowned champions of the NFL with their 21-17 victory over the New England Patriots, Harrison sent out a tweet taking a major shot at the Patriots.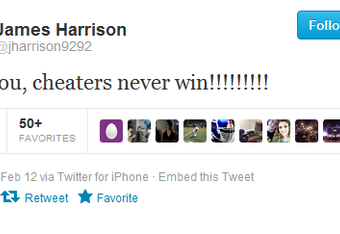 Really? You're going to play that card, James?
If "cheating" really affected the Patriots, how come they have the most regular-season wins since getting caught in early 2007? How come they have gone to two Super Bowls in that time period? 
The way I look at it is that cheaters may lose but losers always lose—and Harrison is a classless loser. 
The funny thing about Harrison is that he's so oblivious about his own actions. Does he not realize that his Pittsburgh Steelers team choked in the playoffs against Tim Tebow and the Denver Broncos, a team that finished 8-8 and backed into the playoffs?
I mean, come on, you choked against Tebow and the Broncos but you still run your mouth? That's pathetic.
All in all, Harrison is a disgrace to the NFL, and if I were his teammate, I'd be ashamed to be associated with him.
Be sure to check out Tony Santorsa's blog: PatriotsPlus