Kansas City Chiefs: Will Shields' Time to Be Inducted into the HOF Will Come
February 6, 2012

Brian Bahr/Getty Images
We go through this when the Hall of Fame class is announced every year. Fans will express their thoughts on who got snubbed and who got cheated in the selection process.
By no one's surprise, fans will always be biased towards players who played for their favorite team, thinking they should get in because of the fact they saw them play for their favorite team. Many fans will even go as far as praising their favorite players by stating that they should be a first-ballot Hall of Famer.
Former Chiefs offensive guard Will Shields did not get inducted into the Pro Football Hall of Fame. Shields spent 14 seasons with the Chiefs and has accomplished a lot in his career.
While Shields has never missed he game in his career, he has been voted to 12 Pro Bowls and has received nine All-Pro honors. Shields played a big part in paving the way for Marcus Allen, Priest Holmes and Larry Johnson.
Shields was also one of the most reliable offensive linemen for any quarterback who played under center for the Chiefs.
If Shields has succeeded so many things in his career and is highly regarded as one of the best guards to play the game, why is he not in the Hall of Fame right now?
I don't have the answer to that. I do agree that Shields should have gone in by now. Many fans are disappointed in the selection process, thinking that Shields did not receive fair consideration for the Hall of Fame.
I understand Chiefs fans, like myself, are very passionate about their team. But fans need to realize that this is not an easy process for the people who are part of the selection team. Members have to internally debate on who should go in and who has to miss out.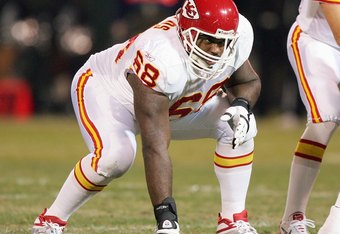 Jed Jacobsohn/Getty Images
Every player, coach and figure who was eligible to be inducted are all very deserving of this prestigious honor. Not everyone can receive an invitation.
Is it possible that Shields misses out next year on getting inducted into the Hall of Fame? Perhaps it is possible. It took Derrick Thomas time to get his name into Canton, Ohio. Many football fans today are saying that Cris Carter was robbed this year and should have gone in.
While fans do have a valid case, everyone needs to remember one thing. All of these eligible players, coaches and figures are worthy of getting inducted, and one day, all of them will eventually get in. It might be next year or in five years.
Being a first-ballot Hall of Famer is not easy to achieve. But Chiefs fans will see the day that Shields will go into the Hall of Fame, and that is all that will matter.