Super Bowl 2012: Giants' Website Accidentally Proclaims New York World Champions
February 4, 2012

A new world champion of football will be crowned on Sunday as the New York Giants and New England Patriots are set to meet in the Super Bowl. Don't tell that to a Giants' website staff member, though, because that person seems to think it's already a foregone conclusion.
According to Ralph Vacchiano of the New York Daily News, the Giants' official website briefly showed an ad declaring that the Giants had won the Super Bowl. Things like this inexplicably seem to happen a lot in sports, but this is almost inexcusable.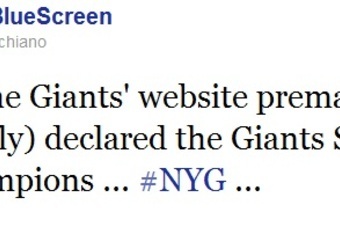 Although not much is known about the motivation behind this, one has to believe that the ad was pre-made so that it could be put on the site immediately should Big Blue win it all on Sunday. Planning ahead is great, but somebody clearly got a bit overzealous and wanted to see what it would look like.
Declaring that the Giants are Super Bowl Champions ahead of time is bad, but it isn't going to motivate the Patriots any more than they already are. Quarterback Tom Brady and head coach Bill Belichick obviously want revenge for losing to the G-Men four years ago and they want to cement their legacy, so that is the only motivation they need.
At the same time, though, these early proclamations can certainly produce some bad karma. It isn't as if the Giants' players and coaches themselves are saying that they are world champions, but this will only serve to fire up the Patriots' supporters.
In all likelihood this was a technical error, but for all the conspiracy theorists out there, what if a couple rogue Patriot fans hacked the Giants' website and put the ad up? That may seem like an awful lot to go through, but fans would be willing to do just about anything to help their team.
Major websites get hacked all the time nowadays, so it isn't exactly a stretch to suggest that something like that could have happened. If it was a Giants employee who made a mistake, though, there is probably nobody on this earth rooting harder for the G-Men.
Whether New York wins or loses on Sunday it will be decided on the field, but some fans like to blame other forces. If the Giants lose and it ever gets out who made the mistake on the website, there will probably be a legion of insane fans who want that person's head on a platter.
If the Giants win, however, perhaps that person can stake some claim to the victory by saying that the ad was an inspiration. Either way, this simply adds more fuel to the fire when it comes to the Giants vs. Patriots rivalry.
It isn't going to affect the game itself, but with so much rehashing being done during the two weeks leading up to the Super Bowl, it's fun to talk about something different for a change.