Josh Harvey-Clemons: Top LB Prospect Hasn't Signed With Georgia Just Yet
February 1, 2012

Josh Harvey-Clemons, the No. 1 outside linebacker in the 2012 class, is a physical specimen. He possesses the athleticism, length, height and mobility to be a scary speed pass-rusher off the edge.
UPDATE: Wednesday, Feb. 1, 3:35 p.m. ET by Donald Wood
And the drama just keeps on continuing in the Josh Harvey-Clemons camp this afternoon as now the talks of his grandfather Woodrow, who is the prospect's legal guardian, will not sign off on the paperwork necessary to commit to Georgia.
The Atlanta Journal-Constitution is reporting that Josh's uncle Roy Hart spoke to the paper on what's going in with the situation:
Did Woodrow want Josh to sign somewhere else than UGA? "Oh, I … (long pause) I don't know. I would be speculating."

Was the family surprised that Josh picked up the UGA hat? "I think a lot of us were surprised."

Where did the family think Josh was going? "I don't really know. Personally, I thought it would be down to Florida and Florida State. I thought it was coming down to those two. I'm saying that because of the drive and closeness to those two schools."

Do you think Josh will sign somewhere on Wednesday? "I don't know. I don't know where his grandfather is. He has kind of been missing in action, so to speak. I can't get him on the telephone.'
With another wild turn in this situation, keep it here for all the latest updates on when and if Harvey-Clemons will sign his letter of intent.
UPDATE: Wednesday, Feb. 1, 3:25 p.m. ET by Donald Wood
Conflicting reports have Harvey-Clemons going back on his word to sign his letter of intent with Georgia, but things have calmed down and reports now say that the paperwork will be in.
Examiner reporter Kevin McGuire is reporting on twitter: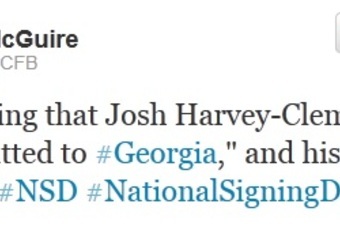 This is great news for Bulldogs fans that have been pulling their hair out since the news that his letter hadn't arrived on campus. Until the letter arrives, though, tensions will remain high.
UPDATE: Wednesday, Feb. 1, 3:10 p.m. ET by Donald Wood
While Josh Harvey-Clemons went on ESPN U early this morning and announced that he would be attending Georgia, there is word that the Bulldogs have yet to receive his letter of intent.
There is a feeling that there may be a struggle in the family that may be holding up his commitment. Clemons was considering several different schools before finally choosing Georgia.
ESPN Publicist Mark Hume is reporting: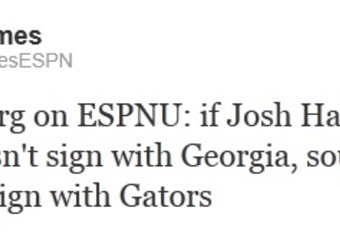 As if the chaos around the non-signing of the letter of intent wasn't enough, more proof of possible turmoil comes to us from ESPN college sports reporter Keri Potts: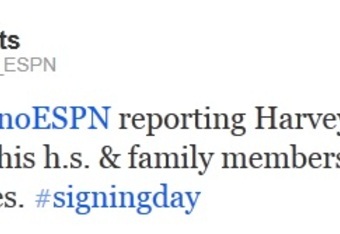 While it's everyone's right to take their time and choose the right school, it's embarrassing for the school and the athlete to pull a stunt like this. If there were questions about the press conference, they should have postponed it.
Harvey-Clemons has decided to sign with the in-state Georgia Bulldogs instead of the Florida State Seminoles or the Florida Gators. He made his decision at 9:15 a.m. ET on ESPN U in front of his school, friends and family. In cadence with what this day has become, Harvey-Clemons used his sister as a prop to show the world that he choose Georgia.
Georgia Bulldogs beat writer for the Athens Banner-Herald Marc Weiszer is reporting on Twitter as well: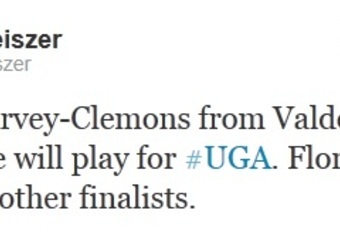 Harvey-Clemons has shown the ability to be explosive off the snap, although there are times he isn't consistent in this regard. As far as pass coverage, he's able to drop into space very quickly and he's likely to surprise plenty of opponents with his ball skills.
In terms of covering the run, Harvey-Clemons has true sideline-to-sideline ability and his range makes it hard to run on the outside.
There are still questions about Clemons' bulk and strength (he gets caught up inside often), but if he can bulk up and hold his own in the inside he'll be a dynamic linebacker for a lucky program. His ability to burst into ball-carriers would be even more substantial with added bulk.
For now, though, you have a physical, speedy recruit who can sneak up quickly in the backfield and make tackles for losses. Given his lack of size right now, he's very much a work in progress, but the potential is there for him to become a star in college ball.