Chicago Cubs: 5 Moves to Make by End of Spring Training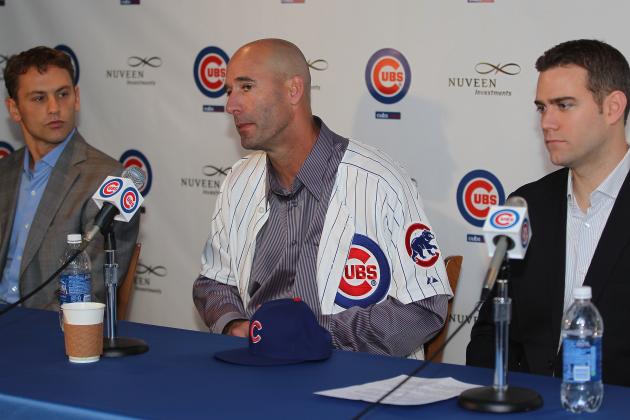 Jonathan Daniel/Getty Images

The Chicago Cubs have been very busy this offseason. After hiring a new President of Baseball Operations (Theo Epstein), General Manager (Jed Hoyer) and Manager (Dale Sveum), the Cubs began a complete rebuilding process, ridding the organization of the mess that Jim Hendry left.
Among the departed: Aramis Ramirez (signed with Brewers), Carlos Pena (signed with Rays), Carlos Zambrano (traded to Marlins), Sean Marshall (traded to Reds), Andrew Cashner (traded to Padres) and Tyler Colvin (traded to Rockies).
New arrivals include: Anthony Rizzo (trade with Padres), Ian Stewart (trade with Rockies), David DeJesus (free agent from Athletics), Travis Wood (trade with Reds), Chris Volstad (trade with Marlins) and Paul Maholm (free agent from Pirates).
Despite the roster revamp, Epstein and Hoyer have much work to do before the end of spring training.
Nick Kappel is enrolled in the B/R writing program. He is the founder/editor of FantasyBaseballInsiders.com. Follow him on Twitter: @NickKappel
Begin Slideshow

»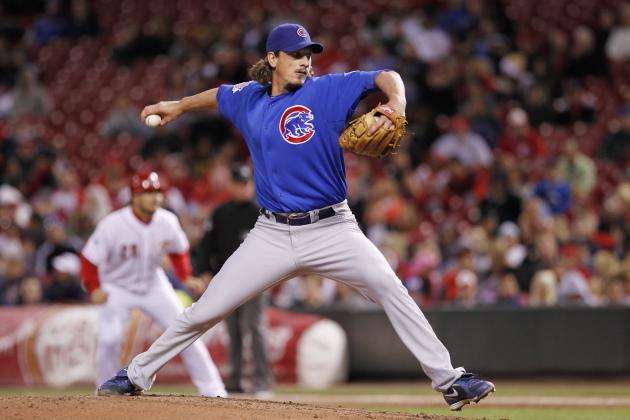 Joe Robbins/Getty Images

The Cubs declined Samardzija's $3 million salary for 2012 in October, and rightfully so. He's expected to re-sign for less money, however.
After posting a -0.8 WAR in a combined 54 innings in 2009 and 2010, Samardzija bounced back with a (seemingly) successful 2011 campaign.
He posted a career-best strikeout rate (8.90) following a dismal 5.0 K/9 in the two previous seasons.
Samardzija's velocity shot back up into the mid-90s (95.1 average fastball according to FanGraphs) after slipping into the low-90s in '09 and '10.
He even finished the season with a sub-3.00 ERA.
But most Cubs fans know the real Jeff Samardzija, and the 2011 version wasn't it.
Samardzija's FIP (3.66) was nearly three-fourths of a run higher than his ERA. His xFIP (4.27) suggests an even bigger regression in 2012.
Perhaps the most alarming number, however, is 50—the number of batters he walked in 88 innings last season (5.11 walk rate). To put that number into perspective, Roy Halladay issued a free pass to just 35 batters last season (15 less!) in 145 more innings.
Samardzija has a dirty fastball/slider/splitter repertoire, but if he can't learn to control it, he's going to get rocked. His 2011 success was thanks in large part to luck:
5.3 HR/FB rate (7.8 career)
.253 BABIP (.279 career)
75.0 LOB rate (68.7 career)
Sure, Samardzija is 27 and throws in the mid-90s consistently, but he'd cost the Cubs about $2.5 million in 2012. I find it hard to believe that he's in the Cubs' long-term plans based solely on a fluke 2011 campaign. It'd be a mistake to bring him back.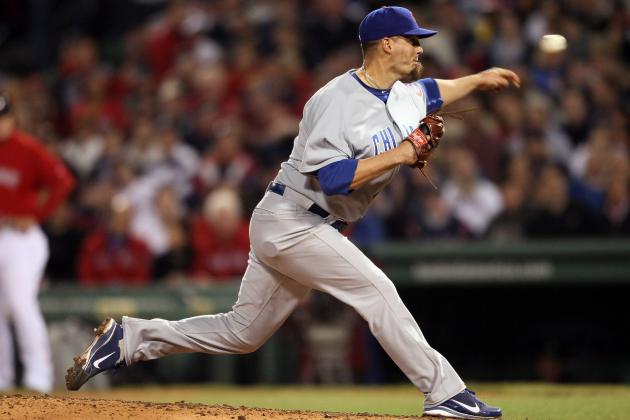 Elsa/Getty Images

The Cubs created a big hole in the bullpen when they traded left-hander Sean Marshall to the Reds. The move left them with three southpaw relievers on the 40-man roster: Scott Maine, John Gaub and Jeff Beliveau.
Maine added velocity to his fastball and bite to his slider in 2010, earning a late-season call-up. His low-90s heater and improved slider helped him post a 2.08 ERA in 13 innings with the Cubs.
Maine received his second taste of the big leagues last May, but spent most of 2011 in Triple-A Iowa, where he posted a 12.6 K/9 and 3.68 ERA in 51.1 innings.
Gaub came to the Cubs in the Mark DeRosa trade following the 2008 season. He ranked as the organizations's No. 14 prospect according to Baseball America prior to 2010, but has failed to crack the publication's top 30 list in each of the last two seasons. His fastball sits in the low-90s, but his mid-80s slider is his go-to pitch. In three seasons with Triple-A Iowa, Gaub has posted a 3.73 ERA and a whopping 11.9 strikeout rate. His bug-a-boo? An unsightly 6.3 walk rate.
Beliveau is the most promising in-house option. After posting a career 4.8 walk rate in the lower levels of the minors, Beliveau finally reached Double-A as a 24-year-old last year, showing improved control (2.1 BB/9). His 10.9 K/9, 1.89 ERA and 0.87 WHIP led to him being named the organization's minor league pitcher of the year.
According to Baseball America, Beliveau didn't allow a single free pass to a left-hander in 100 plate appearances last season. He throws an 88-91 mph fastball which generates swings and misses "because it looks like it's coming out of his sleeve." The former 18th-round pick also features a deceptive change and mixes in a curveball with recently-added depth.
If the Cubs don't feel comfortable starting the season with Maine, Gaub or Beliveau as their primary left-handed reliever, they'll have to seek a trade or sign a free-agent. The top available lefty relievers include: Mike Gonzalez, Hong-Chih Kuo, Damaso Marte, Arthur Rhodes and Brian Tallet.
There's also a possibility that Paul Maholm or Travis Wood (both lefties) could wind up in the bullpen. Assuming the Cubs don't trade Matt Garza before opening day, Randy Wells, Chris Volstad, Maholm and Wood will battle for the last three spots in the rotation (Ryan Dempster is the No. 2 starter).
As long as Beliveau doesn't implode in spring training, my guess is he'll get a shot to serve as the Cubs' primary left-handed reliever.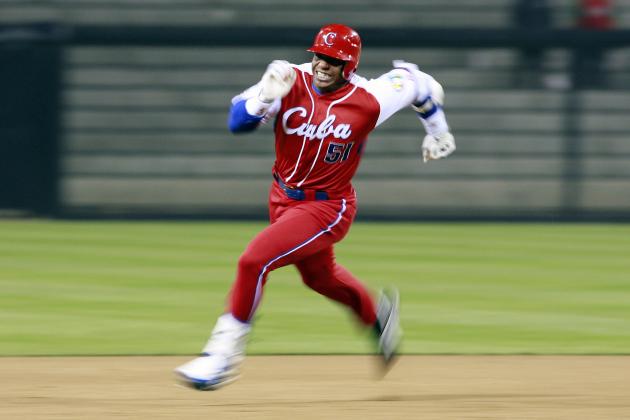 Jeff Bottari/Getty Images

The Cubs already have an outfield logjam (more on that to come), but signing Cuban defector Yoenis Cespedes might be a good move. FanGraphs' Bradley Woodrum explores a Cubs/Cespedes fit here, and he makes a decent argument for it.
Woodrum describes Cespedes as a "league average to slice above league average hitting talent with decent speed and a potentially good glove."
Baseball America has a much more optimistic take on the 26-year-old outfielder:
"Cespedes' premium bat speed and strength generate tremendous raw power that grades as a 70 on the 20-80 scouting scale, and scouts consider his swing balanced and repeatable. He'll have to adjust to big league pitching but scouts expect him to hit. Cespedes has turned in 6.5-second 60-yard dash times and he should be able to handle center field unless his body (5-foot-10, 215) goes south after he signs. He has an above-average arm that should allow him to play right field if he can't handle center. Cespedes is the best Cuban hitting prospect to defect at least since Kendrys Morales...Cespedes will be expected to start in the major leagues immediately."
Baseball America's Jim Callis recently wrote this about Cespedes:
"Cespedes is a center fielder with well above-average power and speed ... I'd put a 70/Medium on Cespedes (overall grade on 20-80 scouting scale/risk of realistically reaching ceiling), which would put him in the 7-15 range on our Top 100 Prospects list."
So there you go. Believe what you will. If the Cubs can get Cespedes to agree to a five-year deal in the $35-$40 million range (such as Woodrum suggests), I think he'll be worth it.
Where will he fit into the Cubs' outfield? Continue reading to find out.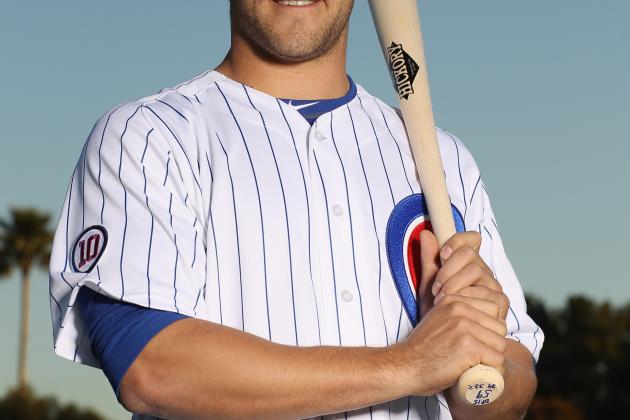 Ezra Shaw/Getty Images

The Cubs' first-round pick in the 2009 MLB draft, Brett Jackson has earned in-season promotions in each of his three years as a pro. In 512 plate appearances between Double-A and Triple-A in 2011, Jackson posted a .274/.379/.490 slash with 20 home runs and 21 stolen bases.
His only shortcoming? Strikeouts. Jackson has struck out 320 times in 296 minor league games, and posted a career-high 30 percent whiff rate in Triple-A last season.
Despite this, Baseball America claims Jackson has "become more selective at the plate than he was in college, waiting for pitches he can punish and taking walks when pitchers don't challenge him." He has "solid to plus tools across the board ... (and) is a potential all-star."
Baseball America's most telling words about Jackson are sure to excite Cubs fans:
"He has the upside of Jim Edmonds at the plate, if not the same Gold Glove ability in center field."
That may be a bit optimistic if you ask me. Edmonds-like or not, Jackson is a big piece of the Cubs' future. The team might decide to start him at Triple-A Iowa this season, but he'll most likely earn a mid-season call-up.
Given a good showing this spring, I would love to see Jackson on the opening day roster. His presence, however, in addition to signing Yoenis Cespedes (which I suggested in the previous slide), would create a five-man rotation in the outfield. Not good.
Fortunately, there's a solution...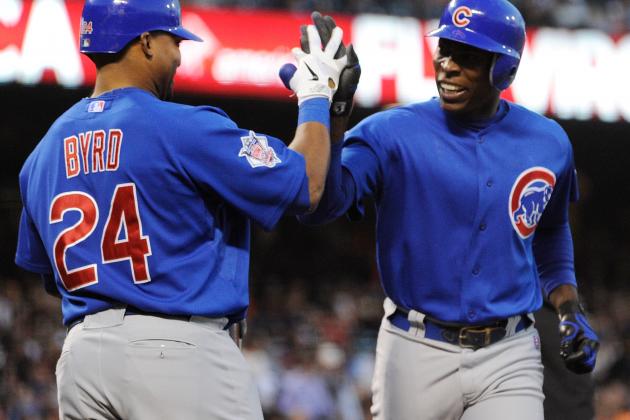 Thearon W. Henderson/Getty Images

Where will Jackson and Cespedes fit, you ask? Easy. Well, not really. But they'd play in center and right field, respectively, following the trades of Marlon Byrd and Alfonso Soriano.
Trading the 34-year-old Byrd should be easy. He's due a reasonable $6.5 million salary in 2012, and dropped 40 pounds over the winter. He'd be an attractive piece to any contender in need of an outfielder. The Cubs would miss his presence in the clubhouse, but he's not in their long-term plans.
Moving Soriano, however, will be a colossal headache. The 36-year-old is due $18 million in each of the next three seasons, a total of $54 million. Soriano, of course, is worth nowhere near that. His diminishing offensive ability and non-existing defensive skill set will likely limit the Cubs' trade partners to the American League.
This is just pure speculation, but for the Cubs to have a realistic shot at trading Soriano, they'd have to eat at least half of his salary. Probably more. The Cubs' new management showed their willingness to do just that by trading Carlos Zambrano to the Marlins a few weeks ago—thus paying him $15 million to play for someone else.
While it's exciting to think of a Soriano-less opening day lineup, it's more likely that—if the Cubs do trade Soriano and/or Byrd—it'll happen mid-season. Epstein and Hoyer understand the importance of value. Waiting until one of Soriano's red-hot streaks will help the Cubs maximize the possibility of trading him. Byrd's value goes up after a contending team loses their center fielder to an injury. The Cubs are in rebuilding mode; patience is key.
If, however, Epstein and Hoyer could finally rid the team of it's worst contract in franchise history, it would change the entire structure of their lineup and defensive alignment. With Soriano and Byrd off the roster, the Cubs could (hypothetically speaking, of course), start David DeJesus, Brett Jackson and Yoenis Cespedes in the outfield (from left to right).
This scenario would give the Cubs' lineup an average age of just under 27. And more importantly, hope. With two aging (one rotting) players off the roster, Cubs fans would have much to look forward to in 2012 and beyond.
We can only hope.