Super Bowl 2012: A Look at Some of the 350-Plus Bets Available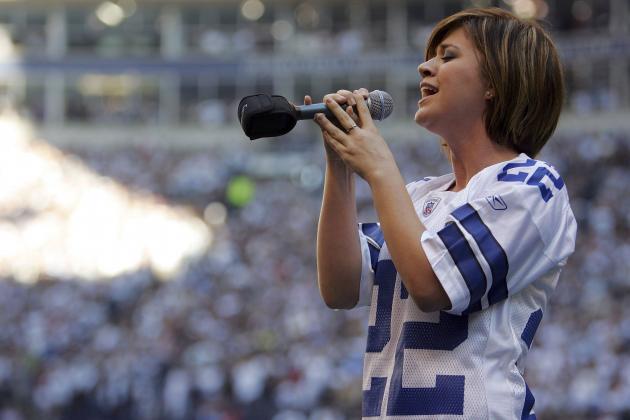 Ronald Martinez/Getty Images
Kelly Clarkson will sing the National Anthem and is a part of the betting spectrum.
The Super Bowl is one of the biggest one-day sports-betting events year in and year out. Billions of dollars are spent wagering on the NFL championship game.
One of the biggest reasons for this is the astronomical amount of bets that are available compared to other games. There are currently over 350 different Super Bowl bets available on one site alone.
The broad spectrum of available bets ranges from the length of Kelly Clarkson's rendition of the national anthem, to the longest punt in the game, to whether the Winnipeg Jets will have more shots on goal on Sunday than Tom Brady has completions.
Any bet you can think of is available to wager money on.
Aside from Las Vegas, there are numerous websites, such as Sportsbook.ag and Bovada.lv (formerly Bodog.com), that makes it simple and easy to wager.
Although the gambling sites are established overseas, the United States still generates $60 billion in revenue from online gambling every year. It is clear that Americans love to gamble from their living rooms.
Here are a few interesting bets that are available online less than one week away from the big game.
Begin Slideshow

»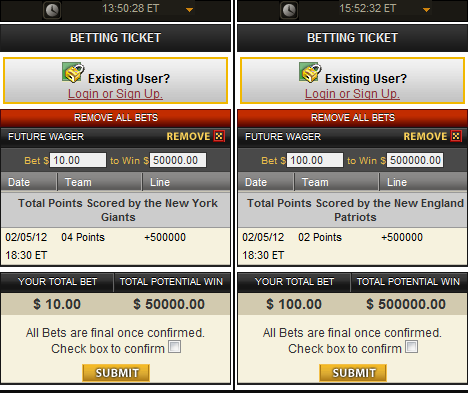 Potential wagers via Sportsbook.ag
Let's start with the highest-paying bet I have seen so far.

If one of the teams scores two or four points in the game, the payout is plus-500000. This would mean that a $10 bet pays $50,000 and a $100 bet pays $500,000.
The bet has a ridiculous payout for obvious reasons, but there will be people out there who take the risk.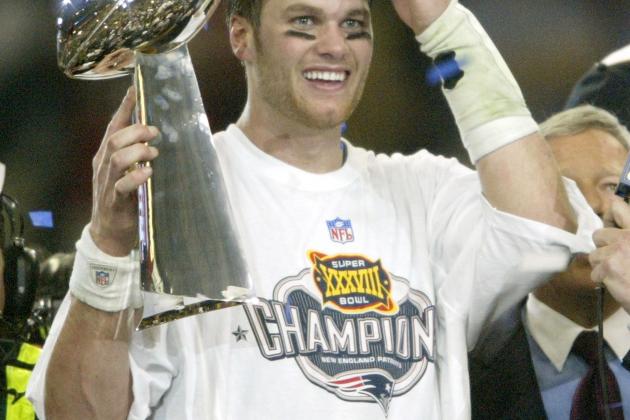 Elsa/Getty Images
Tom Brady won the Super Bowl MVP at Super Bowl's XXXVIII and XXXVI.
According to Bovada.lv, the most likely player to win the Super Bowl MVP is Tom Brady with 7:5 odds, followed by Eli Manning at 9:4.
The least likely players to win MVP?
All four 75:1 payouts are defensive players: Antrel Rolle, Justin Tuck, Osi Umenyiora and Vince Wilfork.
What about the 100:1 shot-in-the-dark players?
There are seven of them, including both kickers and Chad Ochocinco.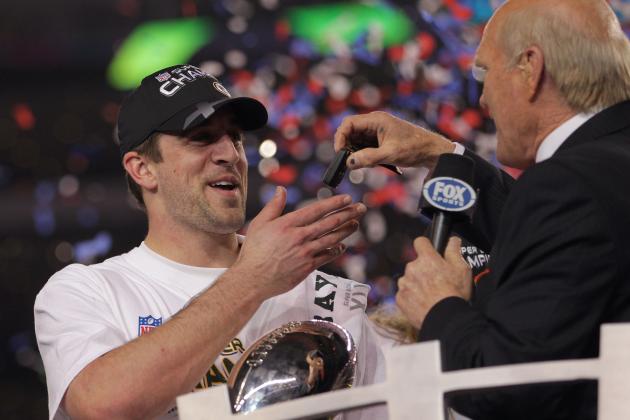 Doug Pensinger/Getty Images
Aaron Rodgers won the MVP in last year's Super Bowl.
Here is an oddity—a complete gamble for betters.
Who will the Super Bowl MVP thank first?
God is the favorite here at plus-125, followed by teammates (plus-200), no one (plus-250), coaches/owners (plus-400), and the least likely is family (plus-500).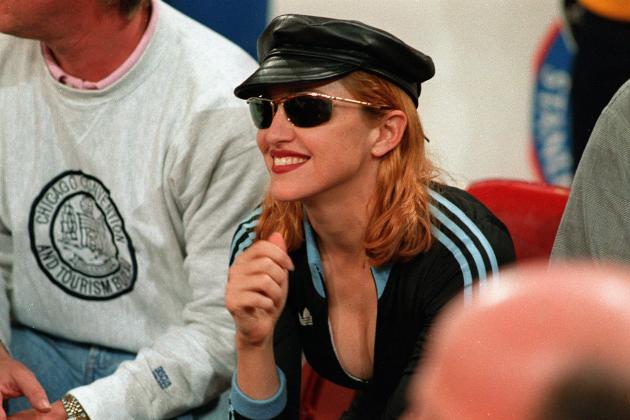 Jonathan Daniel/Getty Images

Madonna gets in on the action as well. There are a few bets you can take if you are interested in the halftime show.
Bets are available on the color of her hair, whether she will be wearing fishnet stockings at any point and if she will wear an NFL jersey during the show.
Good luck with those.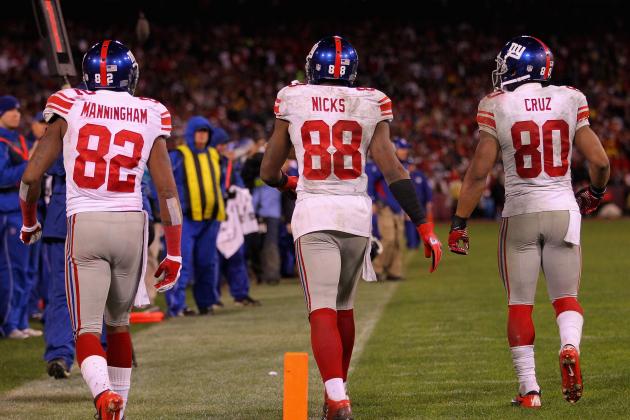 Doug Pensinger/Getty Images

There are eight alternate lines available on multiple sites. Alternate lines currently range from 3.5 to 17.5 points.
Although taking the Giants at 17.5 points is available, the line is minus-1100. This means that a $10 bet would win you 91 cents.
Even with the high-powered offense of New York and their three above-average receivers, I am not sure too many people would take that bet.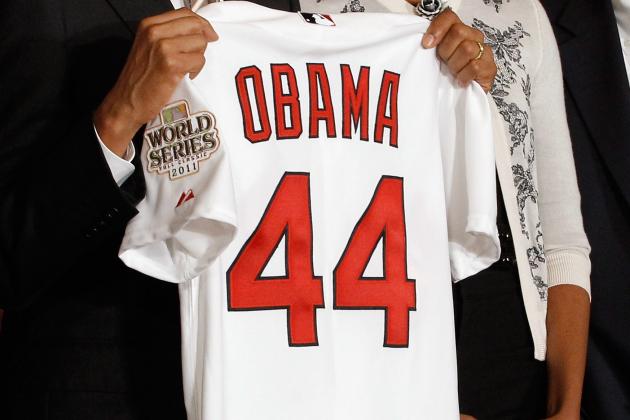 Chip Somodevilla/Getty Images

It's true. There is even a wager for who President Obama will pick to win the Super Bowl.
In 2008, he picked the New England Patriots, but this year, he is saying he will not pick. If he doesn't pick, then there is no action on the bet.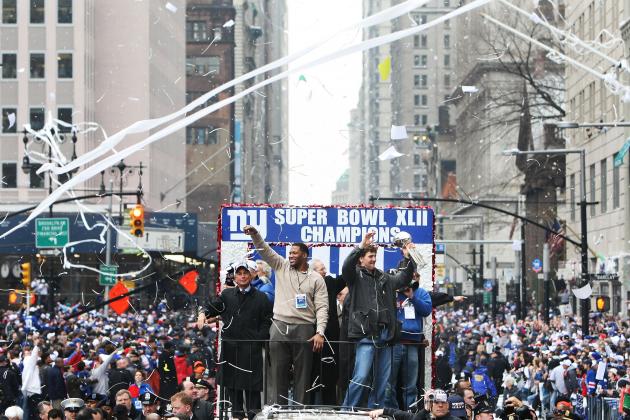 Al Bello/Getty Images

The payouts and absurdity of bets vary from site to site, but there is no question that there are enough out there to satisfy the world's need to bet on the Super Bowl.
Whether someone is betting on the game, watching as a fan or watching for the entertainment, the Super Bowl is the biggest television event of the year.
When considering betting, however, keep one thing in mind.
The house always wins.