LeBron James Channels His Inner Child by Biking to AA Arena
January 29, 2012

Mike Ehrmann/Getty Images
Today is a busy day in Miami. The ING Miami Marathon started early in the morning, several hours before the Eastern Conference showdown between the Chicago Bulls and Miami Heat was scheduled to tip off.
Unfortunately for LeBron James, the marathon festivities were right in the middle of his route to the arena.
So what's a man to do in that situation?
Only one thing: Mount up.
Miami Herald reporter (and Radiohead hater) Joseph Goodman had the scoop: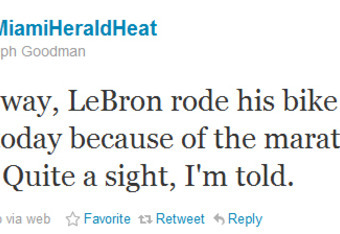 Altogether now: He wants to ride his bicycle, he wants to ride his bike! He wants to ride his bicycle, he wants to ride it where he likes!
Yup, a little Queen for the King. 
I know what you're thinking: In the entire city of Miami, somebody had to be on the scene to get a picture.
Good news—somebody did. Please direct your Twitter thank yous to @jackNruth: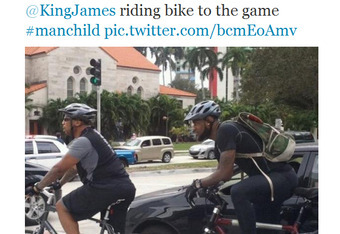 I have to be honest, this picture caught me more than a little off-guard. When I heard that King James had ridden his bike to the arena, it never crossed my mind that he would go all-out. Lo and behold, he did; dude takes his bicycling seriously.
And that's awesome.
Hate on King James all you want, but you can't hate on this. This is too funny, and I count it as a semi-rare glimpse into LeBron's real life.
He may be the most famous athlete in America, but he's not above going for a good, old-fashioned bike ride—you know, like we all used to do when we were kids. (Before we got old enough to drive and then old enough to engage in activities that kids can't engage in—like, you know, renting cars.)
I'm not going to lie, now I feel like riding my bike to work. All I need is a bike and a job that isn't confined to my home office.
I wonder if the NBA is hiring...