Miami Heat: Is LeBron James Playing the Best Basketball of His Career?
January 27, 2012

Mike Ehrmann/Getty Images
We're only a quarter of the way through the regular season, but LeBron James has already staked his claim as the best basketball player in the world.
The Miami Heat, despite injuries to Dwyane Wade, have compiled a 13-5 record and are currently sitting second in the Eastern Conference. 
As I mentioned in a recent article, a lot of this success must be accredited to Chris Bosh, who has silenced his critics by stepping up in the absence of Wade.
However, the star of the show is James, who just might be playing the best basketball of his career.
In terms of numbers, LeBron is playing at a historically high level. His Player Efficiency Rating (PER) tops the NBA at a whopping 33.5. For those of you who may be unfamiliar with PER, a rating of over 30 is phenomenally high. In fact, the single season record for PER is 31.84, set by Wilt Chamberlain in 1963.
Not convinced? LeBron's Win Shares per 48 minutes currently sits at .330. If the season ended today, that would rank as the second highest mark in league history (behind Kareem Abdul-Jabbar in '72).
Advanced statistics aside, what has impressed me most about LeBron's start to the year is his shot selection.
James' decision to spend the extended off-season working with Hakeem Olajuwon has clearly paid off. LeBron isn't necessarily a better shooter, but the shots that he is taking are smarter.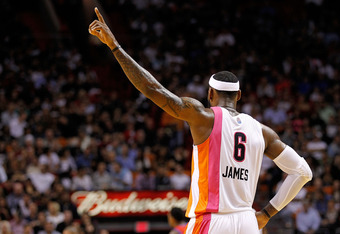 Mike Ehrmann/Getty Images
He is currently fifth in the NBA in field goal percentage as he is making 54.5 percent of his shots. This can be attributed to the fact that he is averaging only 1.6 three point attempts per game this year. By comparison, his career average is 4.1 attempts per game.
James has also gotten to the free throw line at a better rate compared to last year (9.8 FTA this year compared to 8.4 FTA in 2011). LeBron has finally realized that he is at his best when he attacks the basket and draws fouls.
For the record, he ranks second in scoring, 13th in assists and 27th in rebounds.
Although 17 games is a pretty small sample size, Heat fans should be optimistic, as I believe that James can continue this level of production throughout the season. It's not like he had a few good games to pad his stats, LeBron has been consistently dominant this year. His new mentality, combined with his improved post game, will be the difference this season.
King James is in the midst of his best season yet. And although he has been mightily impressive so far, he shouldn't be focused on what's in the past. Even if he makes history this year, his season will be judged on whether he takes home his first championship ring. 
There are bigger things in store for the Miami Heat and the regular season is just the beginning. Come playoff time, James will have to prove to us that he can perform in big situations.
There is more than just an NBA championship on the line. LeBron's entire legacy is at stake.