Rob Carr/Getty Images
January 23, 2012
If a fast-food hamburger chain suddenly decided that it wanted to switch to fried chicken, significant changes would have to be made for it to be successful—this should go without saying.
The fryers would be in place, but they would probably be too small since they would be frying more than just string potatoes. The head of purchasing might have to be switched and so forth.
You can draw the same comparison to the Dallas Cowboys when they decided after 45 years of existence to scrap the 4-3 defense in favor of a completely new venture, the 3-4 alignment.
While the head of purchasing was there in former Head Coach Bill Parcells, among the best 3-4 minds the NFL has ever seen, all of the equipment necessary to get the ball rolling or the chickens frying didn't exactly make it to Valley Ranch.
Parcells used to say: "You are what you are."
In this case, I think the Cowboys are that hamburger joint that just didn't need to make this change.
Under the circumstances it seemed like the right move, especially with Parcells calling the shots. But has it really translated for America's Team?
Has it ever come close to reaching the lofty heights that it did during the championship runs of the 1990's or "Doomsday" of the 1970's?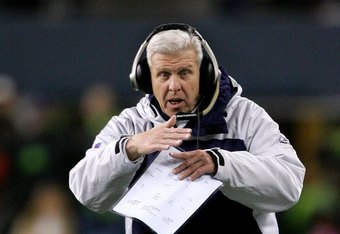 Bill Parcells in final game with Dallas Cowboys.
Jed Jacobsohn/Getty Images
And how excited would Owner/General Manager Jerry Jones have been to make this change knowing that Parcells would only be around for another season after the switch? 
Not too sure about that, but I do know that Jones has been chasing chicken fryers for awhile now.
It's really getting old and dark.
Just after Thanksgiving of 2010, I wrote on these B/R pages that the Cowboys should go ahead and make the switch back to the 4-3 alignment—or go back to making some damn good hamburgers.
The arguments are numerous. According to the Fort Worth Star Telegram last week, Head Coach Jason Garrett has apparently thought about the possibility of moving back to the 4-3 defensive front. This, despite the fact he won't admit having discussed it within the franchise, he hasn't ruled it out. Like a bad politician who's owned by special interests, it really isn't up to him.
Maybe Garrett or Jones read my piece. Much more likely, maybe the aspiring football minds at Valley Ranch are finally looking at the historically bad defenses the Cowboys have put on the field the last couple of seasons. If this is true, they should have also caught on to the fact that the 3-4 defense has never been a contending weapon in Dallas.
Sure, outside linebacker DeMarcus Ware rushes off the edge like few can in the NFL—regardless of the scheme. But let's also remember that Ware was one of those "tweeners" coming out of college. As an undersized, but extremely athletic defensive end at Troy, Ware made a complete position switch as Dallas' first key element to its new 3-4 alignment in 2005.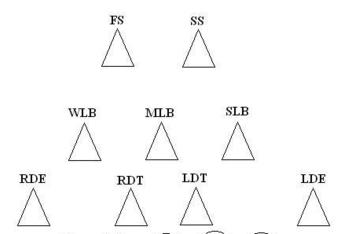 Base 4-3 defensive scheme used by former head coaches Tom Landry and Jimmy Johnson.
Anyone believe that Ware wouldn't be just as imposing and successful in the 4-3 scheme—again?
The Trojans ran the 4-3, so it's not like it would be some new experiment.
In fact, you can go up and down the Dallas roster and find few, if any, players on the defensive depth chart that did not play the 4-3 in college.
Sean Lee? Penn State.
Jay Ratliff? Auburn.
I'll stop there seeing as these are the only other two players I believe the Cowboys would consider irreplaceable moving forward—regardless of what scheme Dallas employs. But I believe everybody else has come from a 4-3 background prior to the pros.
The biggest issue with the Cowboys' version of the 3-4 is the complete absence and disregard for the nose guard position. It has always been this way—take away the presence of aging and still somewhat undersized Jason Ferguson, who was handpicked by Parcells in 2005 and played the nose through 2006.
When Ferguson went down for the year in the season opener of 2007 against the New York Giants at Texas Stadium, then Head Coach Wade Phillips made the emergency adjustment of moving Ratliff from defensive end to nose tackle. With that, the Cowboys essentially killed their second-best pass rusher and have had lousy defenses because of it.
Imagine Ratliff going to defensive end in the 4-3 opposite Ware. You realize that Ratliff, even at his slimmed down 285 lbs, is built how Hall of Fame pass rusher Reggie White was in his prime?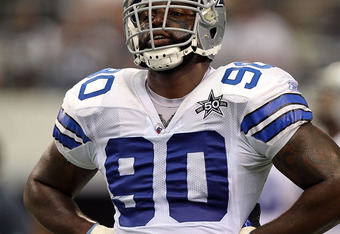 Jay Ratliff should move to DE regardless of scheme.
Ronald Martinez/Getty Images
Consider that the drafting of Bruce Carter in 2011 was another stupid decision by somebody in the Dallas organization. Carter's measurable isn't the stuff of a typical 3-4 inside linebacker, especially when your nose guard is well under 300 lbs.   
However, if Dallas goes back to their defensive roots—so to speak—then Carter could be a very welcomed addition at outside linebacker. This would allow the Cowboys to easily say farewell to Anthony Spencer.
Lee has all the ingredients to be a franchise middle linebacker. He could definitely lead the Dallas defense to new heights with his combination of physical ability and intelligence.
The Cowboys would still have to bring in some different pieces like smaller defensive tackles, perhaps, and more linebackers. But I have always felt that it is easier to find linemen who flourish in a 4-3 as opposed to the 3-4.
And what about that big, space-eating nose guard I've been crying for over the past six seasons?
The Cowboys can forget it.
Imagine the newly granted flexibility the Cowboys would have heading into the draft. With numerous pieces already in place for the "new" 4-3 scheme, drafting secondary first overall will not hurt nearly as bad as if they do the same with their undersized and ineffective line right now.
But a switch to the 4-3 before any offseason moves take place would automatically improve the pass rush for the Cowboys.
Fried chicken is just fine.
But it sure is hard to beat a great hamburger, right?
Like the new article format? Send us feedback!