What the Experts Got Wrong About Each Team in Super Bowl XLVI
January 23, 2012

Ezra Shaw/Getty Images
Millions of NFL fans tuned in to the NFC and AFC Conference Championship Games thinking they knew the teams involved. The New York Giants, with their unstoppable pass rush. The Baltimore Ravens and San Fransisco 49ers, who both own the offensive and ground games. The New England Patriots, who live and die by the pass.
Millions of fans were surprised to see Ray Rice bottled up, while oft-maligned quarterback Joe Flacco kept the Ravens in it to the very end. Millions of fans were surprised to see Tom Brady struggle mightily, while BenJarvus Green-Ellis and Danny Woodhead racked up 86 yards and a touchdown, at 4.1 yard-per-carry clip.
But as the old saw goes, there's a reason they play the games—and there's a reason fans don't get paid to predict what's going to happen in the NFL, either.
Sports pundits spend the months between the NFL Draft and the Hall of Fame Game predicting and prognosticating ad nauseum. Pigskin-starved fans devour it all and beg for more. But when two teams have climbed the craggy mountain that is the NFL, few think about all of those foggy predictions left back at the outset.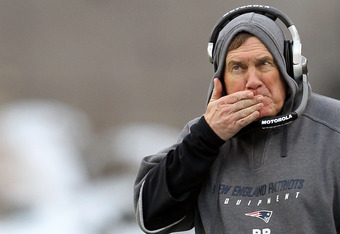 Jim Rogash/Getty Images
The New England Patriots didn't surprise anyone by making it to the mountaintop. Six of ESPN.com's 12 experts picked the Patriots to win the Super Bowl, and the  Patriots started ESPN.com's preseason power rankings at the #2 spot. But Bill Belichick's squad didn't run a straight line from Prediction A to Result B. National and Patriots media alike struggled to describe exactly how the Pats would win all those games.
The New York Times' Fifth Down Blog waxed eloquent about the Patriots defense before the season, saying "The system is outstanding. The talent stocking it is equally impressive." The traditionally-stiff Patriots defense finished second to the Packers, all right—second to last, with whopping 4,703 passing yards allowed. The Patriots surrendered over 21 points per game, a thoroughly mediocre performance that ranked their scoring defense 15th in the NFL.
Patriots blogger Steven Sheenan of Foxboro Blog made five big predictions for 2011—and got every single one of them wrong.
He predicted Tom Brady would not throw for more than 30 touchdowns; Brady threw for 39. He predicted Andre Carter, Albert Haynesworth, and Shaun Ellis would combine for 20 sacks; Carter had 10 before getting injured, but Haynesworth only managed one sack between them. He predicted Chad Ochocinco would finish fourth on the team in receptions; he finished 6th with 15. He predicted Aaron Hernandez would finish second in receptions; he was third to Welker and Gronkowski. Finally, he predicted the Patriots would finish in the Top 12 in third-down defense; they were 28th.
Though the Patriots defense struggled through their switch from 'amoeba' 3-4 front to a simpler 4-3, they were still considered one of the best teams in the NFL from wire to wire, and with good reason.  The 13-3 Patriots boasted the third-best scoring offense in the NFL, racking up 32.1 points per game to offset 21.1 the defense was allowing.
Clearly, the New York Giants have their work cut out for them in Super Bowl XLVI.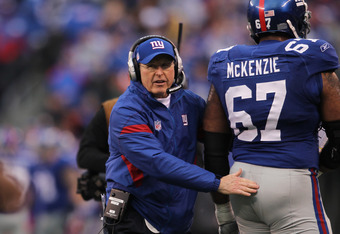 Nick Laham/Getty Images
While the Patriots aren't the two-way juggernaut the pundits thought they'd be, national media didn't even pay lip service to Big Blue. Of all the ESPN.com, SI.com, and USA Today experts, only ESPN.com's Pat Yasinskas even picked the Giants to make the playoffs!
ESPN did at least slot the Giants 11th in their preseason power rankings, though with a stern admonishment that missing the postseason "is not an option" for head coach Tom Coughlin. Coughlin started this season with his seat a little warm; now he'll be able to name his terms to retire in New York.
Eli Manning took plenty of undeserved abuse from the national scribes, too: FOXSports.com's Adam Schein put voice to all the nagging doubts about the Super Bowl-winning quarterback in his preseason predictions: "Giants offensive coordinator Kevin Gilbride should run the ball first and foremost. Eli Manning is too interception-prone."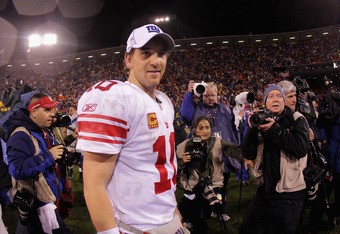 Doug Pensinger/Getty Images
Manning threw 16 interceptions on 589 attempts; that 2.7% interception rate is the second-lowest in his career. He also threw for a whopping 4,933 yards and 29 interceptions to go with his relatively low mistake rate. Only Matthew Stafford, Drew Brees, Tom Brady, Tony Romo, and Aaron Rodgers thew more touchdowns with a lower interception percentage. That's elite company.
Meanwhile, Ahmad Bradshaw and Brandon Jacobs combined to form the worst rushing attack in football. The Giants' team rushing total of 1,427 rushing yards was the worst in the NFL. The Giants' awful 3.5 yards-per-carry rate is also the worst in the NFL, meaning Gilbride was wise not to lean on their completely ineffective ground game.
The Giants put their season in Eli Manning's hands, and he took them as far as he could: Super Bowl XLVI.
It's tempting to connect the dots. The Patriots are struggling to defend the pass, and Eli's passing out of his mind, right? A + B = C? No way.
Remember, millions just saw Brady struggle while Flacco clutched up. Millions just saw Rice shut down while Green-Ellis got rolling. Millions just saw a 9-7 team upset 13-1 49ers team in Candlestick Park, a week after a 15-1 Packers squad at Lambeau Field.
Fans should be careful when predicting what's going to happen on any given NFL Sunday—the folks who do it for a living have a hard enough time getting it right.