Ravens vs Patriots: Why Joe Flacco Is Biggest Obstacle to Baltimore Title
January 23, 2012

Jim Rogash/Getty Images
Baltimore Ravens quarterback Joe Flacco looked better than expected in his team's 23-20 loss against the New England Patriots, and certainly provided his fair share of help in getting the Ravens very close to reaching the first Super Bowl with him under center.
Flacco completed 22 of 36 passes for 306 yards, two scores and one interception in the loss, marking just the fifth time that he's thrown for 300 or more yards this season. He was aided significantly by the Patriots secondary, which ranked 31st in the regular season and gave up an average of 293.9 passing yards per game.
However, if the Ravens are ever going to make it to the big game while Flacco is their quarterback, then he will need to perform at this high of a level on a more consistent basis.
Flacco has been inconsistent in the 2011 season, and all throughout his four-year career. Some of this is Flacco's fault—he has poor pocket awareness, a propensity to make poor decisions and a strong arm that often overthrows his receivers.
But other issues that are perceived to be Flacco's actually aren't his fault, like his receivers being inexperienced or the play-calling not properly utilizing his, and his offense's, strengths.
The latter may be resolved sooner than later, with Ravens offensive coordinator Cam Cameron's time in Baltimore nearly over, and the former should see improvement next season after a full offseason's worth of time to work together.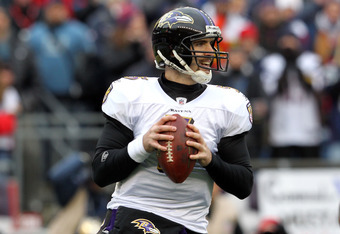 Jim Rogash/Getty Images
However, Flacco still has issues reading defenses. He was lucky to have faced a Patriots secondary that's been weak for the majority of the season, and it made things easier for him to be sure.
There's a reason why Flacco has managed to be a part of playoff wins for the Ravens, but has struggled to be a true leader and carry the team to the Super Bowl.
On defense and in the running game, the Ravens have been a top team year after year, but it's quarterback play that has been the team's biggest Achilles heel.
Flacco has all the tools and the skills to make the leap from liability to asset. However, his stat lines year after year hardly look much better than the New York Jets' Mark Sanchez.
A change at offensive coordinator might help him improve, but he will have to also do the necessary mental work to get his game on track.
It's good to see Flacco has the ability to have a game as big as he did this week and it's frustrating, to be certain, that the Ravens ended up losing despite his achievements.
However, the only way they can repeat the success they've had in the 2011 season is for Flacco to have more 300-yard games and for it not to seem like a mistake when he attempts more than 20 or 25 passes.
Once Flacco's game comes together and he can put up 250 to 300 passing yards on a near-weekly basis, then the Ravens should find themselves in a great position to not only reach, but win, a Super Bowl.