Kansas City Chiefs: Should They Go After Peyton Manning?
January 20, 2012

Rob Carr/Getty Images
Heading into the 2012 NFL offseason, the Kansas City Chiefs had just two quarterbacks under contract.
One is incumbent starter Matt Cassel and the other is former fifth-round pick Ricky Stanzi.
Cassel will be going into his fourth year as a part of this team, and he hasn't exactly earned his starting role with how he has played during that span.
After struggling in his first year with the Chiefs, the former USC backup put together a solid 2010 campaign, when he threw for 27 touchdowns and was named to his first ever Pro-Bowl team.
It seemed as if Tom Brady's former protege was finally starting to come around and he looked like the man that was ready to lead this offense into the future.
Then, the 2011 season came and Cassel showed why he is a liability at the QB position for this franchise.
In just nine starts, he threw for only 10 touchdowns, while getting picked off nine times in the process.
He continued to lock-in to certain receivers and displayed little pocket presence, which were two of the biggest knocks against him when he was selected in the seventh round of the 2005 NFL draft.
After two-plus seasons as the starting QB of this team, it's clear that Cassel just isn't cut out for this job, as he is too inconsistent and doesn't lack the necessary skills to be a starting quarterback in this league.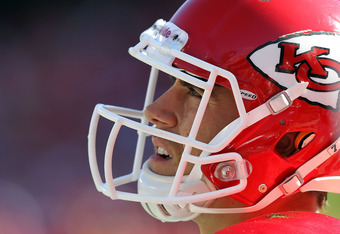 Jamie Squire/Getty Images
If anything, he projects to be a better backup than he does a starter in the future.
As for Ricky Stanzi, he's still a big mystery at this point. The Chiefs refused to put him in during the regular season last year, even after Cassel went down with a season-ending hand injury and struggling QB Tyler Palko was trotting out there for four straight weeks.
There's also Kyle Orton, who was signed last season to fill in for Cassel as part of a last ditch effort to save Kansas City's dying season. Orton played well in his three-game stint with the Chiefs, as he was able to go 2-1 during that time.
However, with Orton due to be a free agent soon, it's up in the air whether Chiefs GM Scott Pioli will go with him over Cassel, who was one of his biggest investments since joining the organization back in early 2009.
With all of the current problems at the QB position for KC, there may be a solution to this problem that could come from the Indianapolis Colts organization.
That's right, I'm talking about future Hall of Fame QB Peyton Manning.
With Indianapolis likely going with Andrew Luck as their first overall pick in the upcoming NFL draft, they might not have a need for him on their roster anymore.
Especially when you consider the fact that Manning is due $28 million by early March, per his contract.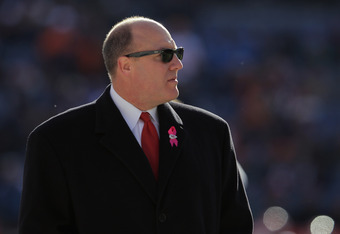 Doug Pensinger/Getty Images
This is something that Colts owner Jim Irsay might not want to fork out to a soon to be 36-year-old quarterback who is coming off of a year where he had two major neck surgeries.
If the Colts decide to release Manning during this offseason, will the Chiefs try to pick him up?
If Manning were released, it seems as if they should at least give it a shot.
If KC ends up signing him, the worst-case scenario would be that he can't stay healthy and the Chiefs pay him millions of dollars for nothing.
However, the best-case would be that he sticks around for a few years and leads this team to their first playoff win since another over the hill QB by the name of Joe Montana did it back in the 1993 season.
He could also start for a few seasons as the Chiefs draft and develop his eventual replacement during that time.
Like any other NFL quarterback, Manning has been longing to get back to the Super Bowl, which is a stage that he hasn't performed on since he won the Lombardi trophy back in 2007.
Fortunately for him, the Chiefs appear to be a QB and a couple of offensive linemen short of a championship-level team.
Can you imagine Peyton Manning in the shot-gun with WRs Dwayne Bowe and Jonathan Baldwin split wide and RB Jamaal Charles coming out of the backfield with sure-handed TE Tony Moeaki going across the middle?
That would be a dream situation for Kansas City, but it could end up being just that, a dream.
At this point, it's too hard to tell where Manning will end up next year, but Kansas City is not out of the question at this point.