Chicago Blackhawks: The Legend of Andrew Shaw Continues to Grow
January 20, 2012

Jonathan Daniel/Getty Images
What a way to start a career for rookie Andrew Shaw.
Just eight games into his young career he has scored five goals and is becoming a legend on the level of Jack Bauer and Chuck Norris. In those eight games he has totaled six points, 20 hits and seven blocked shots.
So far this fifth-round pick has proved to be a lot more then just a replacement for the injured Daniel Carcillo. It's hard to believe he was completely passed over in two drafts and lasted till the fifth round this past draft.
Well on Wednesday the legend grew and #Shawfacts took over Twitter and Shaw answered by having his first two-point game of the season against the Sabres.
You know the jokes, right?
Fear of spiders is arachnophobia, fear of tight spaces is claustrophobia, fear of Chuck Norris is called Logic.

Ordinary people have panic attacks. Chuck Norris has Jack Bauer's attacks.

Terrorists dread the day in October that Daylight Savings Time ends. Jack Bauer gets 25 hours in which to kill them.
Well that is what #Shawfacts are. From Adam Jahns of the Chicago Suntimes:
@adamjahns Last one: MLB has ruled that Andrew Shaw will decide the compensation the Red Sox receive from the Cubs for Theo. #ShawFacts

@A_Zordani: Andrew Shaw used Wikipedia today. #ShawFacts

@hockeenight: Andrew Shaw puts Peggy on hold. #ShawFacts

@jprutherford: Andrew Shaw has talked Oprah into coming back for a 26th season. #shawfacts

@chiguy8307: The Egg McMuffin is the Andrew Shaw of breakfast sandwiches. #ShawFacts

@JEldridge23: The Dos Equis man thinks Andrew Shaw is the most interesting man in the world. #ShawFacts

@jamiebreeze: Andrew Shaw knows where the Kane's puck from the Stanley Cup win is #shawfacts
Did you know that Shaw trails the rookie goal leader by only 8 goals?
He has played in 30 less games then Ryan Nugent-Hopkins.
At his current clip, he might be leading all rookies by the end of the month. In my awards piece I posted earlier this week I said Jimmy Hayes would be my rookie of the year for the team but I'm already second-guessing that choice.
Shaw and the Blackhawks next take on the Florida Hawks, sorry Panthers on Friday. Chicago fans will get a chance to welcome back members of the 2010 Stanley Cup team. Brian Campbell, Tomas Kopecky, Kris Versteeg were all members of the championship team and are now members of the Panthers.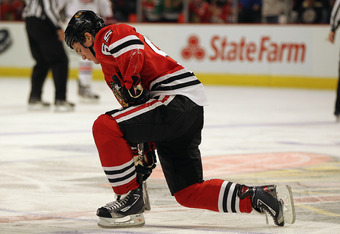 Jonathan Daniel/Getty Images
Also don't forget former Hawks general manager Dale Tallon holds the same position with Florida.
If you are looking for any more #Shawfacts just check here. I have a feeling we might be seeing a little bit about this on the next episode of Blackhawks TV.
Let's hope this isn't just a flash in the pan and Shaw has what it takes to stick with the big club. With every game he is making his case stronger to remain in Chicago once Patrick Sharp returns from injury.
Also let's hope he keeps that No. 65. He is only the fifth Blackhawk in history to wear a number in the 60s and I am a big fan.