Chicago Blackhawks 2011-2012 Midseason Awards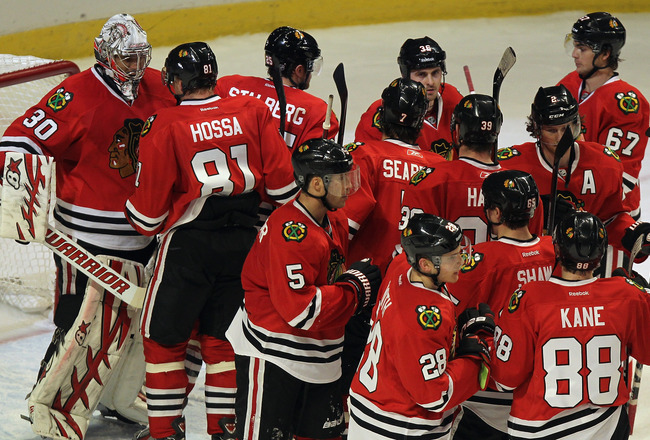 Jonathan Daniel/Getty Images
After 46 games, the Chicago Blackhawks find themselves with 60 points, which is good enough for third in the ultra-competitive Central Division. If the season ended today, they would be the fifth seed in the Western Conference.
Now, while it isn't a big surprise that they are trailing the Detroit Red Wings, it is pretty surprising that the St. Louis Blues have rebounded from their poor start. The Hawks trail the Wings by one point and are tied with the Blues, but have one more game played then St. Louis.
After the first 25 games of the season I did a full-team report card, but this time I decided to do something a little different.
I decided I would hand out a little hardware. So, with only four games left before the All-Star break, let's see who has an early lead for some team awards.
Most Disappointing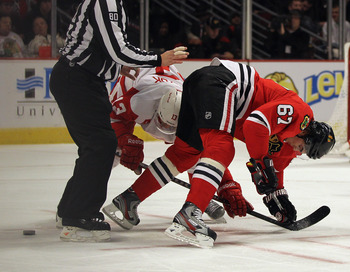 Jonathan Daniel/Getty Images
I probably could have included a lot of guys on this list, but I decided to stick with these three.
Michael Frolik
A lot was expected of Frolik this season, especially after he signed a three-year contract over the summer. During his first two seasons in the league, he scored 20 goals and had a pretty impressive playoff series last season.
However, since joining the Blackhawks, he has scored eight goals in 72 games. His five goals this season is good enough for eighth on the team.
Bryan Bickell
It appeared last season that a light went on for Bickell. He had a career year with 17 goals and 20 assists.
However, this season is a very different story. While he is third on the team in hits, he only has nine points and has been a healthy scratch six times.
Andrew Brunette
Maybe I just expected too much from Brunette.
Many expected him to replace Andrew Ladd, but instead of skating on the first or second line, he has found himself on the third and fourth lines.
While his 18 points aren't bad his minus-10 is, and at this point I doubt he reaches the 40-point mark like many thought he would.
Bryan Bickell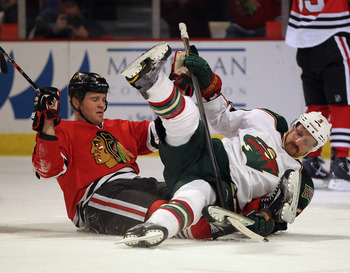 Jonathan Daniel/Getty Images
Bryan Bickell's roster spot is on the line.
When Patrick Sharp returns in a few weeks, someone is probably being sent down and the rookies are making a strong case for staying.
Jimmy Hayes is a big body and has brought the physical play many have expected from Bickell for years.
If Hayes and Andrew Shaw continue their stellar play, Bickell might find himself being sent down to the AHL or maybe out of town in a trade.
Also, don't forget the recently recalled Ben Smith who made a name for himself in the playoffs last season.
Most Improved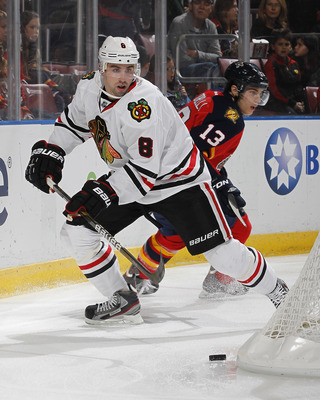 Joel Auerbach/Getty Images
This is really only a two-horse race.
Nick Leddy
Leddy had a very impressive start to the season. In my 25-game report card, he was one of only four players to receive an A.
His 22 points are good enough for second—he is behind only Duncan Keith among defensemen.
He has helped lessen the blow of trading Brian Campbell during the offseason with puck possession and on the power play.
Viktor Stalberg
What if Stalberg could play Columbus everyday?
His 28 points are good enough for fifth on the team, and he has already set career highs in goals and assists.
Unlike Frolik, Stalberg is proving it was a wise move to resign him over the summer.
Viktor Stalberg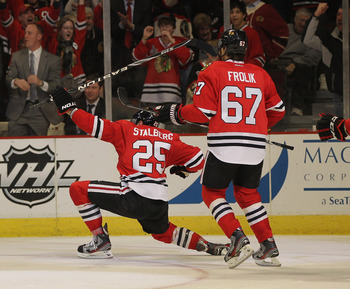 Jonathan Daniel/Getty Images
How could it not be Stalberg?
He might not be averaging a point a game like Marian Hossa and Jonathan Toews, but he has been one of the most consistent Hawks this season.
Coming into the season, he had 38 points in 117 games. This season he already had 28 in just 43 games. He also has five game-winners this year.
While he had a few scoreless stretches this season, they have been few and far between. He has had stretches of six, four and three, but besides those he hasn't gone more then a game or two without registering a point.
Also, he has come up big since Patrick Sharp got injured—totaling six points in four games.
Rookie of the Year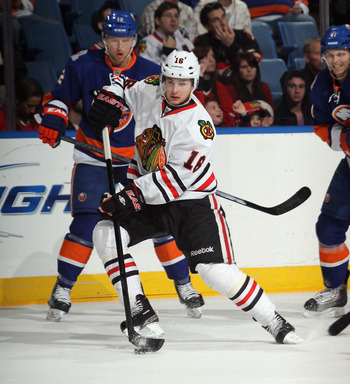 Bruce Bennett/Getty Images
This was an interesting one. Since so many rookies have been up this season, I decided to eliminate any who played less then five games.
Marcus Kruger
We have seen the most of Kruger this season. In 36 games he has three goals and eight assists.
Unfortunately for Kruger, he suffered a concussion before Christmas and missed nine games. He was centering the second line alongside Marian Hossa and had three points in the four games before the injury.
Jimmy Hayes
The big fella has made an impression. As I wrote in my article yesterday, there is a good chance Hayes is here to stay for the long haul.
In nine games, he already has three goals, two assists and 22 hits. He has also made his way onto the power play and on Sunday, he was skating with Kruger and Hossa on the second line.
Andrew Shaw
If you thought Hayes made a good impression, how about Shaw?
He nearly scored on his first shift. Then during his second shift, he dropped the gloves and later scored his first career goal—not bad for a guy who was passed over twice in the draft and was a fifth-round pick this past summer.
Since then he has added three more goals plus the game-winner on Sunday.
Ben Smith
If you asked me during training camp I would have said Ben Smith would have won this easy.
Coming off an amazing playoff run, scoring three goals again Vancouver, a lot was expected of him.
For Smith, much like Kruger, an injury struck at the wrong time. He suffered a concussion late in the preseason, which probably cost him a chance at making the team.
He has played in nine games this season and has many regular season goals—one last season and two this season as playoff goals. This isn't really what was expected heading into the season.
Jimmy Hayes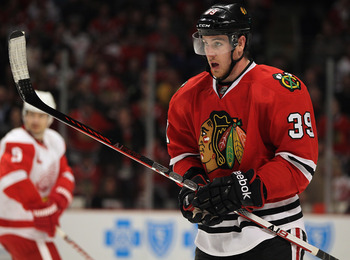 Jonathan Daniel/Getty Images
I'm not sure what it is, but I don't see what the coaching staff sees in Marcus Kruger.
Therefore, I had to give this to Jimmy Hayes. Even though it has been a short stint, he has impressed me far more then Marcus Kruger.
I kind of compare this to the NFL: This season Cam Newton was amazing and will probably win the rookie of the year award. However, Andy Dalton lead his team to the playoffs.
Kruger does a lot that doesn't show up on the stat sheet, but Hayes has done some of that as well.
At the rate Hayes is hitting people, he would be among the team leaders if he had been up and running the entire season. He has worked his way up from the fourth line and is being trusted on the power play.
Maybe he won't keep this level of play up, but I'm betting he will.
MVP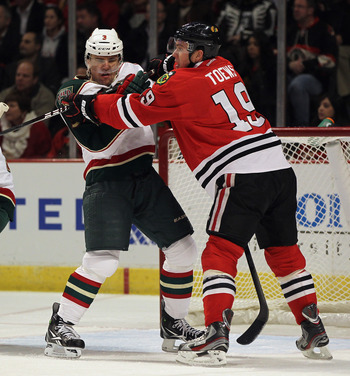 Jonathan Daniel/Getty Images
This might have been the toughest award to hand out. I decided to stick with three guys who almost never leave the ice.
Patrick Sharp
In 42 games he has 40 points—20 goals and 20 assists. That's not bad for a guy who recently turned 30 and welcomed his first child into the world.
However, Sharp he has had highs and lows this season. He missed most of training camp due to an emergency surgery and is currently out three to four weeks with an injury.
What he has shown so far is last season wasn't a fluke.
Jonathan Toews
It is hard to go against Captain Serious. Toews continues to improve and at 23 still has plenty of time to keep it up.
In 46 games he has 46 points. He leads the team in goals with 24 and is tied for fourth with 22 assists.
He is also one of the best defensive forwards in the league and wins his fair share of faceoffs.
Marian Hossa
Hawks fans are finally getting to see just how dangerous a healthy Hossa can be.
In 45 games, he leads the team with 48 points. He trails Toews and Sharp with 17 goals and he leads the team in assists with 31.
He is well on his way to having his first healthy season here in Chicago and easily his best.
Marian Hossa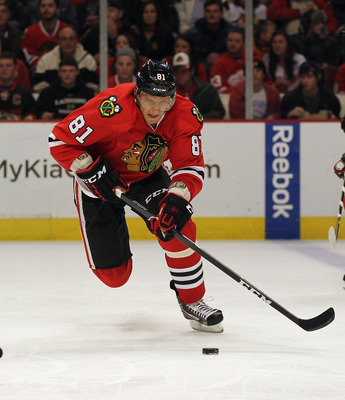 Jonathan Daniel/Getty Images
It might not be the popular choice, but there is no denying the impact he has made.
At the start of the year, Hossa was paired with Kane and they were on fire. Then he skated with Toews and he got hot while Kane cooled off. No matter whom he skates with, his presence helps them.
Hossa is so valuable on the power play and the penalty kill and he almost never gets out-muscled for the puck.
The biggest concern with Hossa is if he can stay healthy. The last time he played in all 82 games he scored 100 points.
I'm not saying he will do it again this season, but the way he is playing I wouldn't rule it out.
Has to Step Up in Second Half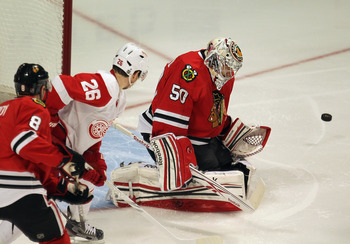 Jonathan Daniel/Getty Images
Three of these guys started the season red hot and have cooled off, while one guy might be proving last year was a fluke.
Corey Crawford
Looking at his numbers in October, there would have been no doubt that Crawford would easily surpass the 33 wins he had last season.
But now with only 36 games left, I wonder if he has another 16 wins in him just to equal last season.
His save percentage is down and his goals allowed are up. The Blackhawks need to see the goalie that helped get them into the playoffs and had a great series against Vancouver last season, and less of the guy who played in November and December this season.
Patrick Kane
What is wrong with Patrick Kane? Like I said before, he started the season on fire, playing center and skating with Hossa.
However, now he looks confused on the ice and has struggled since returning to the wing.
While his 29 assists are second on the team, his 10 goals rank sixth.
Nick Leddy
Like Kane and Crawford, Leddy started off the season great.
Many came into the season wondering if he hit a wall last year, but he proved to everyone he was up to the task.
Until about a month ago that is when he started to struggle.
I went into a lot of detail about a week ago about Leddy struggling, but the key to the Hawks power play may rest on the shoulders of the Hawks youngest player here.
Brent Seabrook
I have been told that I expect way too much out of Brent Seabrook.
I disagree.
Seabrook signed to a very nice five-year contract extension last season while he was having a career year.
He had a career high 48 points and he set a new high with 39 assists and tied his goal mark of nine. What a difference a year makes.
Seabrook currently has 15 points with three goals and 12 assists, and will be lucky to reach the 30-point mark.
While he continues to be part of the best defensive duo in the league, the Hawks need him to be more like the guy we saw last season on the other end of the ice.
Patrick Kane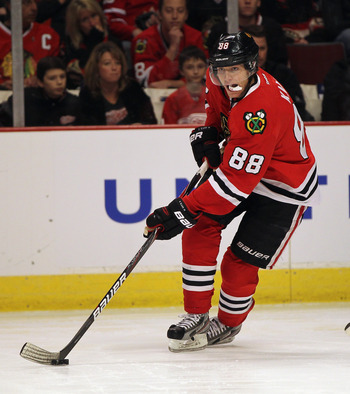 Jonathan Daniel/Getty Images
Hands down, it has to be Patrick Kane. Kane is on track for a career low in goals and is converting on a career low 6.8 percent of his shots.
He scored his seventh goal of the season on November 16 and has only scored three in two months.
While Toews and Stalberg seem to be doing fairly well on the top line with Kane, he is struggling. It leaves me wondering if maybe Kane really is better suited at center alongside Marian Hossa?
With Sharp out at least three more weeks, the Hawks need Kane to step up more then anyone else.
Keep Reading

Chicago Blackhawks: Like this team?