Miami Heat Use Second-Half Surge to Bury the San Antonio Spurs
January 18, 2012

Mike Ehrmann/Getty Images
No Dwyane Wade, no problem. The Miami Heat ended a three-game skid by beating the San Antonio Spurs 120-98 behind 16 three-pointers.
After a slow start in the first half, LeBron James coordinated a huge third-quarter rally to erase a 16-point halftime deficit with an outrageous 39-12 point differential.
This game was the first we have seen of Mike Miller after his return from a surgery that caused him to miss the opening portion of the season. He contributed six triples for the night while piling on 18 points.
Miami received a star-caliber game from Chris Bosh, who put together 30 points, eight rebounds and four steals. He struggled early, committing two first-quarter turnovers, but he eventually found ways to get to the rim past an aging Tim Duncan.
Mario Chalmers also put up a solid performance from the point guard position with 13 points and four assists.
However, the second-half eruption by James was the key to victory in this one, as he finished the game with 33 points and 10 assists. Many question just how good LeBron is with his back against a wall, but it looks like he put that talk aside for at least another day.
A few promising aspects came out of this much-needed win for the Heat, including some things that plagued them on the current road trip. Miami showed they could have success in a half-court set, but they also showed the ability to cut down turnovers and open up more opportunities on the offensive end.
Along with that, Miami put aside talks of fourth-quarter woes by sinking the Spurs and not allowing a comeback.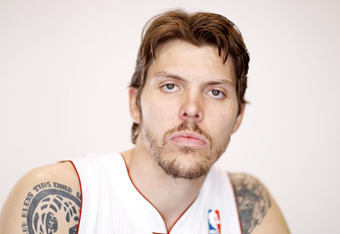 Mike Ehrmann/Getty Images
Wade missed his fourth game of the season due to two separate injuries, and he has no timetable for a return. With the showing the Heat had in the second half of Tuesday night's game, it has to be encouraging knowing Wade can sit out and not have to worry about his team picking up wins.
Miami will welcome the streaking Los Angeles Lakers into town Thursday night. They must be prepared to defend the Lakers' frontcourt consisting of Pau Gasol and Andrew Bynum, but this is also an ideal game to push the pace throughout. Kobe Bryant will provide many obvious problems, but the Heat must exploit the depth issue for LA.
The Heat were a streaky team last season, but it's possible that only one win is needed to set this team in the right direction.