USA vs. Venezuela: Complete Preview, Live Stream, Start Time and Schedule
January 17, 2012

Jeff Zelevansky/Getty Images
Rebuilding of the United States men's national team under manager Jurgen Klinsmann will continue with a friendly against Venezuela. Each game becomes increasingly important for the USA with World Cup qualifying just a couple months away.
Klinsmann decided to call up a pretty youthful group of players for the upcoming friendlies because most of the marquee names are away playing for club teams, including Tim Howard, Clint Dempsey and Landon Donovan among others.
That means these matches, starting with the clash against Venezuela, are a chance for the next generation of players to prove they have what it takes to survive at the international level. Gaining experience now will help ensure they are ready for pressure situations in the future.
Where: University of Phoenix Stadium in Glendale, Arizona
When: Saturday, Jan. 21 at 9 p.m. ET
Watch: ESPN3.com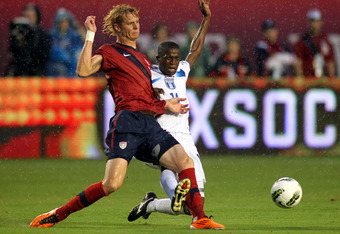 Marc Serota/Getty Images
Player to Watch for United States: Brek Shea
Shea hasn't scored in his first nine appearances for the national team, but that doesn't mean he hasn't been impressive. The 21-year-old Texas native is a tireless worker in the midfield and has been one of the most dangerous players on the attack during the Klinsmann era.
He has good size for a midfielder, which is something the USA has lacked in recent years, but getting him to use it more effectively is a task the coaching staff will need to work on. Friendlies like this one are a perfect opportunity for him to try some new techniques.
Player to Watch for Venezuela: Angel Chourio
Chourio has five goals for Venezuela, which is the most of anybody selected to the friendly roster. The attacking midfielder has really come into his own over the past few seasons and will be hoping to carry over that success to national team play.
Venezuela is facing a difficult schedule during the run up to qualifying, with games against the USA, Mexico and Spain. It's a perfect chance for fringe players like Chourio to illustrate that they deserve a spot on the squad during the 2014 World Cup cycle.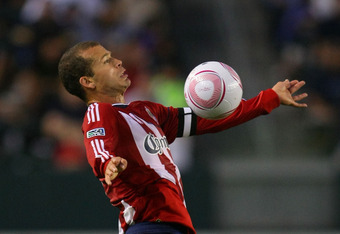 Victor Decolongon/Getty Images
Key Matchup: USA back line vs. Alejandro Moreno
Moreno, who plays for Chivas USA in Major League Soccer, is one of the few veterans on Venezuela's squad. He has three goals in 39 games for the Burgundy and should have a pretty good read on most of the defenders he'll be going up against on Saturday.
That's because Klinsmann opted for an MLS-heavy back-line group since the American league is currently in its offseason. It's been a problem area of the United States for several years now, so it will be interesting to see if any progress was made during training camp.
What They're Saying
Klinsmann had his usual optimistic outlook on the inexperienced players being brought in for the next couple matches, based on a report from ESPNsoccernet. It's also supplemented by the full 20-man roster.
"This is a very important opportunity for these players," Klinsmann said. "They are the next in line behind the established players, and this is a chance to prove themselves.

"We will spend the next few weeks introducing them to our ideas on how we want to play and what it means to be a part of the National Team. Ultimately, it will create more depth for us, which you need at this level. I'm very curious and excited to see this group."
The national team received a visit from Stuart Holden. The midfielder is currently injured, but is still expected to play a major role for the USA when he gets back to full strength.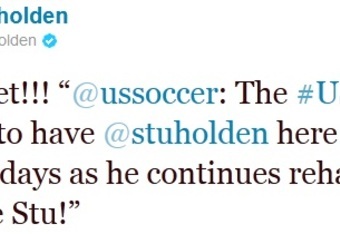 Prediction
USA 1, Venezuela 1