MarShon Brooks May Be New Jersey Nets' Next Star Player
January 18, 2012

Christian Petersen/Getty Images
The New Jersey Nets are a team that is rebuilding and finding the right pieces to fill each position.
They have a star point guard, Deron Williams, who they are trying desperately to convince to re-sign; a good, young center, Brook Lopez, who they can use in a blockbuster trade or hold onto; and a solid power forward, Kris Humphries, who continues to exceed expectations.
Unfortunately, Lopez has yet to appear in a game this season because of an injury, and the Nets have continued to consistently lose games. The Nets have been rebuilding for a few years now, and with all the negatives they have had during that time, there is at least one good thing to come out of it.
That is rookie shooting guard MarShon Brooks. Brooks has proven that he can play in the NBA.
He was the second-highest scorer in the NCAA last season. Brooks' solid senior year at Providence College sparked comparisons to Kobe Bryant.
His NBA career has been short so far, but he has had some significant success as he continues to gain more playing time. The Nets are trying to improve their team and compete for a playoff spot and eventually a spot at the top of the Eastern Conference.
One way they can help that is by making a trade to acquire a key player like Dwight Howard. The Nets should do all they can to avoid including Brooks in any deals.
With Williams at point guard and Brooks continuing to develop and becoming the starting shooting guard, the Nets are set in their backcourt. So far this season, Brooks is averaging 14.6 points, 4.2 rebounds per game and has a 47 percent field-goal percentage.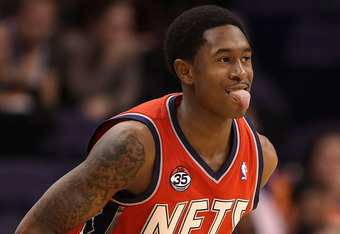 Christian Petersen/Getty Images
These statistics are very impressive for a rookie, and he ranks second among all rookies in scoring. He is also ranked 25th in the league in points per 48 minutes.
On January 9, Brooks recorded a double-double with 19 points and 10 rebounds in a Nets loss. He has scored at least 15 points in eight out of the 13 games he has appeared in this season. Brooks has been the Nets' most consistent scorer. He has been the playmaker who they have been missing since the departure of Vince Carter after the 2008-09 season.
If Brooks continues to play the way he is playing, he may become a demand to be thrown in any Howard deal by the Orlando Magic. The Nets cannot pass up on an opportunity to get the best center in the NBA, but they should try to keep Brooks as their shooting guard for years to come.