2012 Fantasy Baseball Rankings: Top 30 Starting Pitchers (Updated)
January 15, 2012

Harry How/Getty Images
1. Justin Verlander, Detroit Tigers
After the Cy Young-winning season he had in 2011, this is a pretty obvious choice. He has dominating stuff and has proved he is the best pitcher in baseball.
2. Roy Halladay, Philadelphia Phillies
Halladay had his usual Cy Young award-worthy season and is the most consistent pitcher in baseball. I wouldn't consider it crazy to take him with any pick in the first round.
3. Clayton Kershaw, Los Angeles Dodgers
The 23-year-old deservedly won the first Cy Young award of his career in 2011. An upper 90s fastball and a great curve can go a long way for a pitcher.  
4. Cliff Lee, Philadelphia Phillies
Lee struggled early on but started pitching like the Cliff Lee we all know and love as the season got going. He had the third most complete games in the MLB (six) and was third in strikeouts (238).
5. CC Sabathia, New York Yankees
Over 230 IP, 230 Ks, and the Yankees offense will make any pitcher a fantasy gem.
6. Jered Weaver, Los Angeles Angels
Weaver doesn't strike out a lot of batters, at least not last season, but that's really all he doesn't get a lot of. His ERA (2.41) and wins (18) were both top five in baseball.
7. Felix Hernandez, Seattle Mariners
He doesn't get a lot of run support but he still gets a lot of strikeouts (222) and manages a respectable ERA (3.47).  He could be a top three fantasy pitcher on a lot of other staffs.   
8. Tim Lincecum, San Francisco Giants
Since when does Tim Lincecum record more losses than wins? He went 13-14 in 2011 but still had the strikeouts he usually gets (220) and a great ERA (2.74). 
9. Dan Haren, Los Angeles Angels
Haren didn't get a lot of attention because of Weaver's success last season, but he actually had only two fewer wins (16) and more IP than Weaver.
10. Zack Greinke, Milwaukee Brewers
He missed some time due to injury, but Greinke still managed 16 wins in just 171 innings. His strikeouts per inning ratio was great too (1.18/1).
11. Cole Hamels, Philadelphia Phillies
It was easy to overlook Hamels in 2011 with the seasons Halladay and Lee had. Hamels doesn't mind flying under the radar, though. He'll just keep pleasing fantasy owners with numbers like 14 wins, 216 IP and a 2.79 ERA, sixth in the NL. 
12. Josh Johnson, Florida Marlins
2011 was a mulligan for Johnson.  Although in nine games he went 3-1 with a 1.64 ERA.  In 2010, he posted a 2.30 ERA and 185 Ks.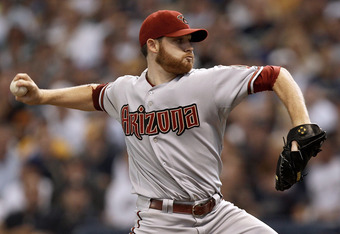 Jared Wickerham/Getty Images
13. David Price, Tampa Bay RaysFantasy owners were a little disappointed with Price's record (12-13) but he still averaged about one strikeout per IP (218/224).
14. Matt Cain, San Francisco Giants
Cain doesn't get the attention he deserves in a deep Giants pitching staff, but fantasy owners can appreciate 221.2 IP and a 2.88 ERA. His 1.083 WHIP was a career high.
15. C.J. Wilson, Los Angeles Angels
Wilson left a lot of money on the table to play for his hometown team. The change of scenery shouldn't produce a change in the stat line, though, at least not negatively. His 16 wins, 220-plus IP and 206 Ks are worthy of at least a fourth-round pick.
16. Ian Kennedy, Arizona Diamondbacks
Kennedy seemingly came out of nowhere to the tune of a  21-4 record.  He was a big part of Arizona's playoff season.
17. Yovani Gallardo, Milwaukee Brewers
Gallardo averaged one strikeout per inning en route to a 17-10 record in 2011. He's one of the most consistent pitchers in the NL.
18. Jon Lester, Boston Red Sox
Last season was the first time in three years that Lester didn't pitch at least 200 innings, but he still had great numbers with 15 wins, 3.47 ERA and 182 Ks.
19. James Shields, Tampa Bay Rays
Shields does one thing really well: eat up innings. He was second only to Verlander in IP (249) and led all of baseball in complete games (11).
20. Madison Bumgarner, San Francisco Giants
Not many people knew who Bumgarner was before the 2011 season, but his fantasy owners got to know him pretty well as the season went on. A 13-win season and a 3.21 ERA should get a lot more notice in this year's drafts.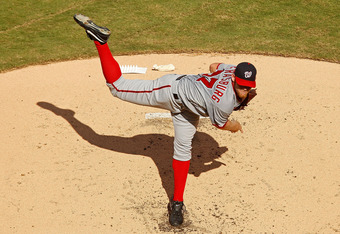 Mike Ehrmann/Getty Images
21. Daniel Hudson, Arizona Diamondbacks
Hudson was a very pleasant surprise for the Diamondbacks during their playoff season in 2011. He posted 16 wins in 222 IP and a 3.47 ERA. He doesn't get the notoriety he deserves, especially from a fantasy baseball perspective.
22. Tommy Hanson, Atlanta Braves
Hanson has double-digit wins in each of his three seasons so far in his career.  He missed some time because of injury last season but still earned 11 wins and 142 strikeouts in 130 IP.
23. Stephen Strasburg, Washington Nationals
Obviously, Strasburg didn't play a whole lot in 2011, but in his first start back from surgery last season he had 10 strikeouts, enough said.
24. Yu Darvish, Texas Rangers
He was a god in Japan.  We'll see if it carries over.
25. Michael Pineda, New York Yankees
He'll have A LOT more run support in NYC than he did in Seattle last season which should make him even more attractive.
26. Adam Wainwright, St. Louis Cardinals
At the top of his game Wainwright can be a top 10 pitcher, but, he missed a full season and had Tommy John surgery.
27. Josh Beckett, Boston Red Sox
The dude can still wield it, just not as well as he used to.  The run support really helps.
28. Ricky Romero, Toronto Blue Jays
Romero should be proud of himself. He pitches in the AL East, he's not on the Yankees, Red Sox or Rays, and he still posted an ERA under 3.00. That's pretty impressive, especially for pitching 225 innings.
29. Brandon Beachy, Atlanta Braves
Beachy was peachy for the Braves in 2011.  He only pitched 141 innings and went 7-3.
30. Mat Latos, San Diego Padres
Latos had a disappointing 2011 campaign but so did the whole team.  He's the best pitcher on the staff and has a career 3.37 ERA.