2012 Fantasy Baseball Rankings: Top 30 (and 1) Hitters (Updated)
January 6, 2012

Ronald Martinez/Getty Images
1. Albert Pujols, 1B, Los Angeles Angels
Pujols could hit 30 home runs anywhere. The change of scenery won't hinder his production.
2. Miguel Cabrera, 1B, Detroit Tigers
He is the most consistent player in baseball besides one Albert Pujols.
3. Matt Kemp, OF, Los Angeles Dodgers
He was in the top three in the NL in average, home runs, runs batted in, runs scored, hits, stolen bases and slugging percentage.
4. Adrian Gonzalez, 1B, Boston Red Sox
Gonzo didn't disappoint for fantasy owners in his first season in Boston. He was third in the AL in runs batted in in 2011 and I don't see that changing much with the Red Sox stacked lineup.
5. Troy Tulowitzki, SS, Colorado Rockies
Tulo has had some injury problems in past years but 2011 was probably one of his best seasons, both regarding health and production. He sat a lot late in the year when the Rockies were out of playoff contention but still hit .302 with 30 HR and 105 RBI.
6. Ryan Braun, OF, Milwaukee Brewers
Braun just won his appeal and is officially eligible for a full season of baseball.  He's one of the best hitters in the game with good speed too.
7. Joey Votto, 1B, Cincinnati Reds
He gets walked a lot, but Votto still hit 29 HR and 103 RBI while leading the NL in free passes.
8. Jose Bautista, OF, 3B, Toronto Blue Jays
Another 40+ HR season puts Bautista in the top 10 among fantasy hitters.
9. Prince Fielder, 1B, Detroit Tigers
Batting behind Cabrera can only benefit Fielder.  Similar or even better numbers are forthcoming.
10. Robinson Cano, 2B, New York Yankees
He's one of the most consistent hitters in the AL and is a pivotal part of New York's offensive firepower.
11. Justin Upton, OF, Arizona Diamondbacks
Upton finally played to his full potential last season while leading Arizona to the playoffs. He's another guy with power and speed that shouldn't be overlooked.
12. Carlos Gonzalez, OF, Colorado Rockies
CarGo missed some time in 2011 because of injuries, but when he plays a full season he's an MVP candidate capable of 30 HR, 100 RBI, and 30 SB.
13. Evan Longoria, 3B, Tampa Bay Rays
He had 483 ABs in 2011 and still hit 31 HR and 99 RBI.
14. Hanley Ramirez, SS, Miami Marlins
Ramirez is the epitome of a five tool player.
15. Curtis Granderson, OF, New York Yankees
Granderson had the best season of his career in 2011, garnering MVP consideration. When you're being considered for MVP and you're in the Yankees lineup, you've had a pretty good year.
16. Jacoby Ellsbury, OF, Boston Red Sox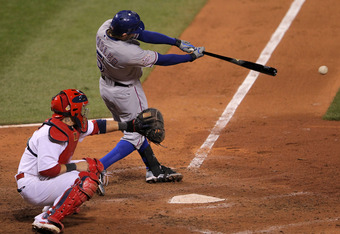 Doug Pensinger/Getty Images
There was a new-found power in Ellsbury's swing last season. His power combined with his speed makes him one of the most coveted fantasy hitters out there.
17. Jose Reyes, SS, Miami Marlins
Everyone knows what Reyes is capable of. He's arguably the Jacoby Ellsbury of the NL. A change of scenery and new manager will benefit the speedy NL batting champion.
18. Ian Kinsler, 2B, Texas Rangers
He's a powerful second baseman with good speed; worthy of the top 20.
19. Dustin Pedroia, 2B, Boston Red Sox
The former MVP had another good season despite Boston's disappointing campaign. If you want a consistent, safe player, get Pedroia.
20. Mark Teixeira, 1B, New York Yankees
He doesn't hit for an attractive average but the power numbers make up for it. Hitting in front of ARod really gives Tex a lot of opportunities at the plate.
21. Andrew McCutchen, OF, Pittsburgh Pirates
Hey, look, another powerful, speedy guy. McCutchen was the catalyst of Pittsburgh's semi-revival last season. If he's there late in the second round, I'll probably take him.
22. Carlos Santana, C, 1B, Cleveland Indians
Santana proved himself to be the go-to-guy in the Indians' lineup.  He also proved he could thrive at the catcher position after a nasty injury.
23. Mike Napoli, C, Texas Rangers
Napoli was a fairly big surprise in his first season in Texas. He had career highs in AVG (.320), HR (30) and RBI (75).
24. Michael Young, 3B, Texas Rangers
In my book Young is one of the more underrated players in baseball. He and Josh Hamilton are the keys to the back-to-back World Series appearances by the Rangers.
25. Mike Stanton, OF, Miami Marlins
Stanton should be a mainstay in the Home Run Derby for the rest of his career. He's very young and will only get better.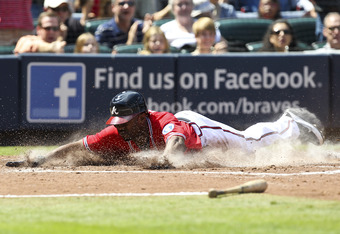 Daniel Shirey/Getty Images
26. Jay Bruce, OF, Cincinnati Reds
Bruce kind of came into his own last season with 32 HR and 97 RBI. He and Votto make one of the most powerful duos in the NL.
27. David Wright, 3B, New York Mets
If Wright can stay healthy he's one of the best offensive third baseman in baseball, and Citi Field is now more accomodating to hitters.
28. Josh Hamilton, OF, Texas Rangers
When Hamilton plays at least 120 games, he's good for 25+ HR, 90+ RBI, and around a .300 AVG.
29. Ryan Zimmerman, 3B, Washington Nationals
Zimmerman is a top five MLB third basemen when healthy.

30. Hunter Pence, OF, Philadelphia Philles
If Pence can succeed with the Astros then he'll thrive in a full season with the Phillies.
31. Michael Morse, 1B, OF, Washington Nationals
Morse was arguably the biggest surprise in all of baseball last season.  He has power and hits for average.