Dwight Howard Trade Rumors: Chicago Bulls Frontcourt Play Destroying D12 Trade
January 14, 2012

The Orlando Magic's Dwight Howard is the NBA's most desired commodity, and the Chicago Bulls were rumored to be interested in acquiring him via trade.
While the Bulls have depth for a trade, the recent poor performance of Joakim Noah and Carlos Boozer is playing Chicago right out of the Howard trade sweepstakes.
If the Bulls trade for D12, they would probably have to give the Magic both Boozer and Noah, first-round draft picks and maybe even Luol Deng to get the superstar center.
Orlando would want to rebuild, and getting three capable starters and first-round draft picks are an excellent way to begin that process.
Noah and Boozer, however, have both been under-performing the past two years and are declining in possible trade value.
The 30-year-old Boozer is averaging 13.3 points and 7.9 rebounds a game on 50 percent shooting. While those are respectable numbers, Boozer hasn't been a consistent scoring option to properly support Derrick Rose.
This comes after Boozer had a terribly inconsistent 2010-11. He did average 17.5 points and 9.6 rebounds, but he missed 23 games due to injury and scored a meager 12.6 points a night in the playoffs.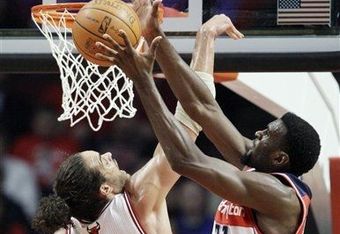 Noah, a 26-year-old veteran, hasn't been the same since a recent bout of injuries. The Florida product has been getting into foul trouble and not looking comfortable playing in the high post.
He has collected just 7.1 points and 7.5 rebounds a night while shooting a pathetic 39.7 percent from the field.
After beginning the 2010-11 season strong with All-Star-caliber numbers, Noah broke his left thumb and missed 30 games. He also had ankle injuries around last year's playoffs that he struggled with.
Right now, Bulls coach Tom Thibodeau doesn't have any confidence in either Boozer or Noah. During the Minnesota Timberwolves and Washington Wizards games, Thibodeau twice benched both big men the entire fourth quarter. 
Instead, Thibodeau has gone with tough backups Taj Gibson and Omer Asik to provide stifling defense.
This doesn't look good for the Bulls, Boozer and Noah. 
If the Bulls wanted to trade for Howard, they lost significant leverage due to Boozer and Noah's horrible play. The Bulls will not be able to defeat the Miami Heat in the playoffs either if their big men don't step up their games.
For Boozer and Noah, the cold play is disheartening after each tried improving his game in the summer to redeem themselves after sub-par, injury-plagued seasons.
Boozer lost over 20 pounds and worked on his conditioning so he would be a better post player. Meanwhile, Noah worked hard on his jump shot to up his scoring.
It's a shame Boozer and Noah can't get it done right now, as they have the talent to be elite big men.
The Bulls might have been interested in Howard, but the Magic will probably shy away from trade talks with Chicago as Boozer and Noah have performed poorly.
Bob Bajek is a Featured Columnist for the Chicago Bulls. He is also a freelance reporter, and can be followed on Patch.com and Twitter.