WWE's Special MC Report: Life After Attitude Era—New Era, New Divide Part II
January 11, 2012
2009
After the previous two years was filled with dismal feuds and negative media coverage, the year 2009 proved to be a rebound year for WWE.
One of the biggest names that comes to mind is Randy Orton. By this time, Randy Orton was entering the prime of his career. After being repackaged as The Viper, he made his evil presence felt among fans.
His new character personified edginess and brought more dimensions onto a WWE screen. His scowls and build up to his finishing RKO move told the audience a story. And he was building on his "One Man Legacy" with a "Legacy" of his own, creating his own stable.
The official version of Legacy formed early in 2009. It included fellow generational superstars Cody Rhodes and Ted Dibiase Jr. Since Orton got his own big chance working behind legend Triple H in Evolution, it was only fitting that Orton did the same to Rhodes and Dibiase Jr.
But the big story surrounding Orton would evolve in January of 2009. During this time on Raw, Stephanie McMahon ruled the brand as the general manager. But her father Vince was coming on the show to address her duties and how she was controlling the superstars.
When Orton heard rumors of him possibly being fired, he took to Stephanie personally. However, she sensed very well that the Viper was kissing up to her, knowing that her father would be on the show that night. Her slap in Orton's face made very clear that she was not one to be easily fooled.
Later on that night, Vince McMahon came out of the ring and surprisingly backed up Stephanie McMahon in her taking charge over the show. But when Orton confronted both father and daughter, things took a turn for the most shocking. Orton punk kicked the Chairman in the head, in the midst of shock and excitement from the audience.
The Orton and McMahon family saga has been one of the biggest angles that took place in a long time. It was a swerve from the normal Cena feud or a feud with two veteran superstars. Orton was an established talent who was just getting started in making his mark.
Orton's feud with the McMahon's would evolve into a battle with his former mentor and husband of Stephanie McMahon, Triple H. Triple H ended up acknowledging that Stephanie was his wife and that Orton crossed the line when Orton laid his hands on her and her family.
Their battle culminated into a showdown at Wrestlemania 25 for the WWE championship after the controversial Orton won the Royal Rumble. While Orton gave Triple H a ruthless battle, The Game prevailed to retain his title.
However, Orton would end up eventually winning the championship with his fellow Legacy members at Backlash.
While Orton and The Game headlined Wrestlemania 25, their match was overshadowed by a battle of icons.
During this year, legendary WWE superstar Shawn Michaels wanted his chance at the famous Undertaker and his undefeated record. The Showstopper himself was regarded as "Mr. Wrestlemania" for his legendary entrances and bouts with the likes of Stone Cold Steve Austin and Bret Hart.
Shawn Michaels and The Undertaker took center stage at Wrestlemania 25 and wrestled the match of a lifetime.
While Michaels was near the end of his career, he proved that he still had a lot left in the tank. From kicking out of tombstones to flying high, HBK was determined not to let Taker go 17-0 and to once and for all crown himself Mr. Wrestlemania.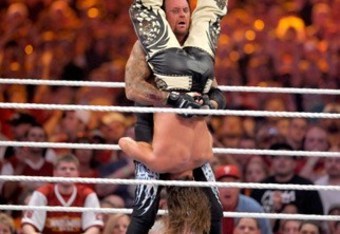 But the Undertaker again was not to be denied. He bounced back from two Sweet Chin Musics and hit a powerful chokeslam. Finally, he fulfilled his destiny when catching Michaels off of the top rope to perform another tombstone and retain his undefeated streak.
The crowd was electric during this legendary match. While both men had already solidified their destinies, it was clear that they were no short of passion and talent for their profession. It was clear that the fans were very much into them as they were ten years ago.
While this year rebounded in terms of feuds and star power, another departure covered the headlines.
Jeff Hardy's WWE tenure was marked with success as well as controversy and troubles. The Team Extreme superstar suffered heavily from his drug addiction as well as other personal issues.
While the last year had seen Hardy finally solidify himself into the main event scene and win the WWE title, there were still shadows and whispers of his issues. By the middle of 2009, it was rumored left and right that Jeff Hardy was leaving the company.
And the rumors proved to be true. After Summerslam, the WWE allowed Hardy to leave in order to heel numerous injuries. But his numerous injuries oddly enough would lead him to Total Nonstop Action in the beginning of the following year.
In all honesty, I found Hardy's sudden department suspicious. While Hardy may have been injured, it was no secret that Hardy had a propensity to screw up at the worst possible times in his career. His suspension for a Wellness Policy Violation in 2008 while he was Intercontinental Champion comes to mind.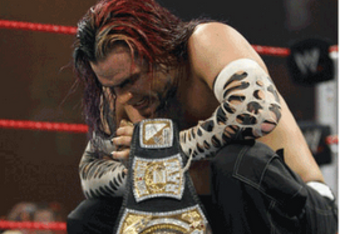 And immediately after Hardy left the WWE, he was arrested for drug trafficking in September of 2009.
Which always led me to believe that the real reason why Hardy left was to avoid gaining his third Wellness Policy violation which would've resulted in a firing from the company. So instead of being fired, he quit.
Even though Hardy's departure left a bad taste in fans' mouths, it didn't take away from 2009 being a much more memorable year. Randy Orton captivated us by bringing something new and vicious to the table,and Undertaker/Shawn Michaels proved that legends still can make dreams come true.
Thank you for reading!  Comment, like, retweet. Anything would be appreciated in order to spread the word on this article!
Follow me @ItsSocrates
WWE's Special MC Report: Life After Attitude Era- the Beginning Years Part I
WWE's Special MC Report: Life After Attitude Era- the Beginning Years Part II
WWE's Special MC Report: Life After Attitude Era- the New Generation Part I
WWE's Special MC Report: Life After Attitude Era: The New Generation Part II
WWE's Special MC Report: Life After Attitude Era, Tragedy and Struggle Part I
WWE's Special MC Report: Life After Attitude Era, Tragedy and Struggle Part II
WWE's Special MC Report: Life After Attitude Era, Tragedy and Struggle Part III
WWE's Special MC Report: Life After Attitude Era- New Era, New Divide Part I
Also check out my other articles in my profile! Stay tuned for the next part!