WWE's Special MC Report: Life After Attitude Era, Tragedy and Struggle Part II
January 2, 2012
2006
By 2006, John Cena was officially at the top of the WWE ladder. Trading in his Doctor of Thuganomics gimmick, he began to transform into a real-life super hero.
He even starred in his first feature film, The Marine, a story about a dangerous ex-Marine who seeks to reclaim his kidnapped wife. WWE wanted Cena to be their next crossover star.
When The Rock left for good, he took with him mainstream and older wrestling fans. Cena was WWE's answer to finding a new star that attracted new fans and bring Hollywood's attention again.
Unfortunately though, Cena's critics were growing louder and louder in their discontent.
During the year 2006, I believe it's very evident that a divide in the fan base was taking form. While Cena was adored in the minds and hearts of younger fans, the older fans begun to see Cena as the symbol of WWE's demise.
This line was drawn at ECW One Night Stand 2006, where John Cena faced ECW legend Rob Van Dam for the WWE title. The New York crowd showed no restraint towards the Chain Gang leader as they echoed the chants of "Cena sucks" and "F— You Cena."
The infamous "If Cena Wins We Riot" phrase was born on this night.
Perhaps another answer to the clean mainstream image of Cena took the form in another rising superstar.
Adam "Edge" Copeland was best known in the Attitude Era for being a part of Edge and Christian, one of the greatest tag teams of all time.
However, during this year, he made his mark as a singles wrestler and as a first-class heel.
He was the complete opposite of Cena.
His "Rated R" character did not care much for limitations or boundaries when it came to getting what he wanted, and he was not afraid to flaunt his infamous relationship with WWE Diva Lita in others' faces.
When Edge cashed in his Money in the Bank contract against Cena at the New Years Revolution's, he celebrated in the midst of cheers from the crowd. It would've been hard to tell from that night that Edge was actually the bad guy in the feud.
However, he earned the love and respect of older fans who clamored for the return of the glory Attitude Era days.
In my opinion, these events symbolized a tug-of-war during this period. No doubt there was a need for a new generation of characters and fans. However, the Attitude Era was a tough act to follow.
Older fans were beginning to tune out of the product, and a younger fan base yearned more for the Golden Era 80's days of black and white characters rather than the edginess of the Attitude Era.
The departure of big names played a huge role in this struggle. 
Kurt Angle in 2006 was another character who symbolized the older generation. He would go from being Cena's top nemesis, to reliving his ECW glory days by representing the brand at One Night Stand against Randy Orton.
However, his role in the revival of ECW would be his last.
Angle asked for a release from the company, and in August of 2006, his contract expired.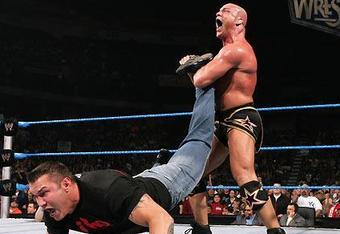 Angle's exit was a huge blow for a company that was just recovering from the loss of Brock Lesnar as well as the death of Eddie Guerrero. At the time, he was still a top guy and a key main eventer.
Other big exits soon followed.
The WWE Divas division was notable for their two top tier talents in Amy "Lita" Dumas and Trish Stratus.
For Stratus, the year 2006 marked a popular rivalry with newcomer Mickie James. Their feud received a tremendous build up that was topped by a match at Wrestlemania earlier that year.
However, Stratus set her sights on wanting to do other business ventures, such as starting her own Yoga fitness company. She wrestled her last match on Raw in September, and her final match at Unforgiven in her home town Toronto facing her equally legendary rival, Lita.
Lita's exit from the company would not be as smooth.
The last two years of Lita's WWE run was marred by her personal break up with Matt Hardy and her real-life relationship with Edge. The love triangle placed Lita in a bad favor to older wrestling fans after Hardy went on an online tangent against his former girlfriend.
Her real life drama was translated on screen as she became a valet for Edge. Even though Edge was experiencing his meteoric rise in the main event, Lita was experiencing her meteoric downfall.
By 2006, it was apparent that the former Team Extreme star was growing weary of her tumultuous relationship with the fans and the company.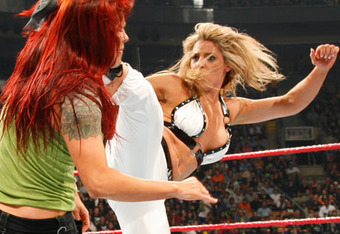 Lita's last match at Survivor Series pretty much summed up her position at the time. She was embarrassed in front of the Philadelphia crowd by Cryme Tyme and she would lose her match to a now-face Mickie James. 
The departures of Lita, Stratus, and Angle dealt a huge blow to the WWE. They were all major legendary talents who's acts were tough to follow. Their departures signaled an official changing of the guard.
Earlier in this series, I commented on how The Rock's leaving set a precedent for later WWE acts to follow. Indeed, 2005 and 2006 were the years where that precedent was beginning to take its form.
Chris Jericho's, for instance, left the year earlier to pursue a music career. Angle would leave for Total Nonstop Action, a small wrestling company attempting to make gains. Lita and Stratus both felt that their times were and were ready to move onto a new chapter in their lives.
Maybe the huge push of Cena was in response to counteract these moves and to assure fans that everything was going to be OK. But more superstars would be following in the wings, and more detractors would speak out against the changing WWE landscape.
And more tragedy would strike.
Thank you for reading!  Comment, like, retweet. Anything would be appreciated in order to spread the word on this article!
Follow me @ItsSocrates

WWE's Special MC Report: Life After Attitude Era- the Beginning Years Part I
WWE's Special MC Report: Life After Attitude Era- the Beginning Years Part II
WWE's Special MC Report: Life After Attitude Era- the New Generation Part I
WWE's Special MC Report: Life After Attitude Era: The New Generation Part II
WWE's Special MC Report: Life After Attitude Era, Tragedy and Struggle Part I
Also check out my other articles in my profile! Stay tuned for the next part!