Best of WWE: CM Punk's Funniest and Brightest Moments Part 2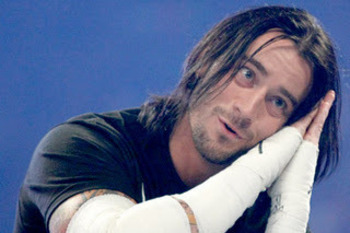 This is part 2 of the third edition of my "best of" series. Here is part 1.
If you'd like to relive the previous installments, you can do so here and here.
CM Punk has been on the wrestling scene for more than a decade.
He has made it his mission to become the very best wrestler in each promotion he's ever worked for, and he'd done just that.
Aside from being a phenomenal worker, he is also very gifted when it comes to cutting promos and conducting interviews. His carefree attitude and genuine love for the business has made him one the most "must-see" wrestlers in a long time.
Let the video-slideshow begin!
Cashing in for the First Time
I remember watching this live on Raw and having a "WTF" moment on my face. In hindsight, this was a great moment in his history and one I now appreciate.
This Fan Has a Nice Fohawk
It really doesn't matter what promotion or country CM Punk is in, he always seems to have a way of working the crowd and getting into "arguments."
This is no exception, the only bad thing that came out of this was that certain organizations flipped out because of a certain word Punk used.
So much for freedom of speech, huh?
He Can Spot TNA Fans!
As always, Punk mingles with the crowd and he once again one-ups them!
CM Hardy!
This was just sheer brilliance on the creative staff's part. Got to give them credit when they deserve it!
It's a Bird...It's a Plane....It's CM Punk!
The caption really says it all.
CM Punk vs. Samoa Joe (Ring of Honor)
CM Punk vs. Samoa Joe in Ring of Honor was a phenomenal feud from what I have been told.
Their matches were 5-star caliber (literally) and every time they stepped into the ring together, they tore the house down.
CM Punk Is a People Person First, Wrestler Second
Imagine how amazing WWE would be if they didn't have the language limitations and allowed CM Punk to be like this!
A New Dawn Is Coming
This promo proves why he ruled the independent circuit.
The Winner of This Match....The World Title?
This cash in/match started CM Punk's phenomenal 2009 heel run.
The straight edge superstar taking the championship away from the recovering drug addict, kind of ironic.
Also, if you don't understand the headline, pay attention to Justin Roberts and Jim Ross during the title-change announcement.
I Shall Call Him....Mini Me!
Punk's facial expressions make this clip amazing.
Cool! Totally, Gnarly! Rad! Dude!
This is hands-down one of the funniest videos WWE has ever produced.
CM Punk Has Epic Mic Skills!
Breaking the Fourth Wall Again!
Unlike most people, I actually enjoyed Triple H and CM Punk's feud. This segment between them before Night of Champions 2011 had a few jaw-dropping moments.
Watch if you haven't!
Some People Just Shouldn't Say "LOL"
Listen and you'll understand.
The conversation starts at 1:20.
Punk Wins His Second WWE Title
His celebration with the fans brought back a little prestige to the WWE Championship.
Hope I Didn't Put You to Sleep!
Thanks for making it all the way to the end!
Unfortunately there's dozens and dozens of CM Punk moments so I wasn't able to choose them all. However, I hope you enjoyed the ones I did select.
My next entree into the "Best of" series should be available sometime in the next day or two!
Keep Reading