Diary of a Fan: What It Means to Be a Washington Redskins Fan
January 10, 2012
Ronald Martinez/Getty Images
Why am I a Redskins fan?
Since I go to school in Chicago, I hear this question a lot from the proud Bears fans who grace the Second City's streets. 
"Why are you a Redskins fan?"
"What's it like rooting for such an awful team?"
I go to a bar every weekend to watch my Redskins play on Sunday, and I have to face the same questions over and over again from people who can't seem to understand why I continually root for a team that has been nothing short of pitiful for over two decades.
And I tell them, "What kind of fan would I be if I gave up?"
Redskins fans are some of the toughest people I know.  We face ridicule day in and day out.  Everywhere you turn, something is wrong with the Redskins.  
The owner is incompetent.  It seems like there's a new quarterback nearly every year.  Every player who comes to Washington is a bust.  The list goes on and on.  Add that with the fact the the Redskins have made the playoffs only four times in the last 20 seasons and you have a recipe for fan depression.
But there's something about Redskins fans.  We don't give up.  We don't know the meaning of the phrase "give up."
Unfortunately, 2011 was another bad year for the Redskins.  It was their fourth-straight year without a winning record or a playoff appearance.  It was the fourth-straight year where the offense failed to crack the top 25 in the NFL in scoring.  It was another single-digit win season, the sixth in a row.  To get an idea of how bad it's been, consider that the Green Bay Packers won the same amount of games this season (15) as the Redskins have won in the last three.  It was another year that started off with promise and ended in failure.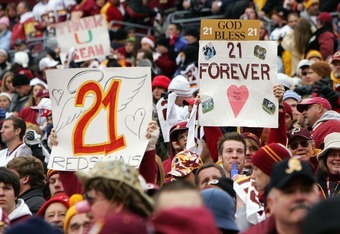 Jim McIsaac/Getty Images
But looking at the somber stats doesn't tell the story of what it means to be a Redskins fan.  Go to a game.  Yeah, there are empty seats.  So what?  The stadium still fills more seats for a five-win team than many stadiums can even hold, period.  
We still watch the games on TV.  We still tune in to the pregame and postgame shows on the radio.  We still love hearing what LaVar Arrington and Chad Dukes have to say on their radio show the day after.
We still follow our team, no matter how hard it is.  We bleed burgundy and gold.  And while it's frustrating to lose year after year—oh, boy, is it frustrating—we always hope.  We are optimists.
Being a Redskins fan is about more than the final score.  It's about the passion that drives a team and keeps it going through tough times.  It's about following every little detail about your favorite players, even after the final game.  It's about being part of something beautiful.  
As corny as that sounds, Redskins fans will never forget how a community came together during the hardest time of all—the death of Sean Taylor.  I have never been so proud to be a Redskins fan as I was during that time.  I'll admit, I shed tears after No. 21 passed.  So did thousands of Redskins fans around the country, who all came together to support a member of the Redskins family.  I will never forget how amazing it was to be a part of a fanbase so caring, and so strong.
What does it mean to be a Redskins fan?
It means loving your team beyond football—bleeding burgundy and gold from the first day of the year to the last, staying strong and always believing, no matter how hard things get.
Hail to the Redskins.