Chicago Cubs: How Jeff Samardzija Made Andrew Cashner Expendable
January 7, 2012
Denis Poroy/Getty Images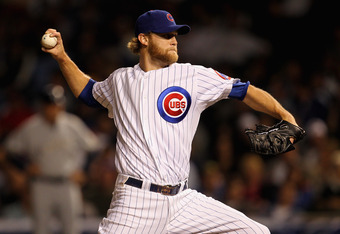 Jonathan Daniel/Getty Images
Just one day after finalizing the terms of their trade with the Miami Marlins that sent Carlos Zambrano and cash for Chris Volstad, the Cubs pulled off another major trade.
They sent young right-hander Andrew Cashner and minor-league outfielder Kyung-Min Na to the San Diego Padres for top first-base prospect Anthony Rizzo and minor-league starter Zach Cates.
On the surface, the trade seems fairly balanced. In Rizzo, the Cubs get the top-ranked first-base prospect in baseball. In Cashner, the Padres get a major-league-ready starter who can slot either into their rotation or as a late-inning reliever.
Add in players who had moderate success at the same level, and are within a year of each other, and it seems to be a rather balanced trade: each side getting a position player, and a pitcher.
However, there's much more than this to these trades.
Cashner is already 25 and has only logged two MLB seasons after being drafted in the first round in 2008. The former TCU closer struggled as a reliever in 2010, but was named the fifth starter in 2011, a role which he filled once.
While his lone start was strong, he went down with an injury to his throwing shoulder, was out for five months and came back as a reliever.
During that extended DL trip, the Cubs saw two things happen.
First, the rotation seemingly fell apart, as guys like Doug Davis and Rodrigo Lopez were asked to fill the void.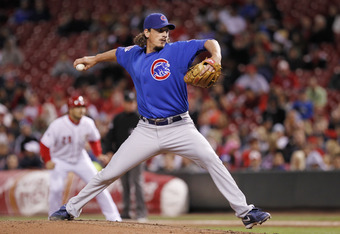 Joe Robbins/Getty Images
Second, Jeff Samardzija, who was out of options and seemingly on his last legs in Chicago, finally put everything together and had a great campaign.
Initially a long/middle reliever, Samardzija finished the season throwing in high-leverage, late-inning spots—and succeeding. Samardzija finished the 2011 season at 8-4 with a 2.97 ERA in 75 games, logging 88 innings.
Samardzija has never hidden his desire to start, though his numbers as a starter were awful when he was given his handful of chances in 2009 and 2010. However, his ERA those seasons was 7.53 and 8.38, respectively, so he was pretty bad whenever he stepped on the mound.
The former top-flight Notre Dame wide receiver seemingly put everything together last season.
Whether it was a combination of maturity, seasoning (he didn't start pitching until college, and even then it was more an offseason hobby while football was out) or now-former pitching coach Mark Riggins, Samardzija finally established himself as a true MLB pitcher.
The ability to make Cashner expendable is mirrored on San Diego's side, as Rizzo became a trade chip when the Reds got Yonder Alonso and others for Mat Latos.
While the Reds did try Alonso at third base and the outfield, it was obvious he was a major-league-ready first baseman, and would be entrenched there for years to come.
Zach Cates, the 22-year-old starter acquired by the Cubs, went 4-10 with a 4.73 ERA, logging 118 innings over 25 starts in 2011 at A-ball. Cates, a third-round draft pick of the Padres in 2010, signed well over slot for $765,00, while the MLB recommended slot bonus for the third round was $380,700 that year.
His stock did take a dip with his poor showing in 2011, but the potential is all still there. The pitcher-turned-catcher-turned-pitcher still has a quality fastball and will look to hone in his control—53 walks over 118 innings doesn't bode well.
Going to the Padres is South Korean outfielder Kyung-Min Na. The 20-year-old Na has played all three outfield positions in the Cubs minor-league system.
Despite having issues hitting for average, his career on-base percentage sits nearly 100 points higher than his batting average (.244 batting average, .335 on-base percentage), which bodes well. Both Na and Cates may or may not ever see their new organization's 40-man roster.
GM Jed Hoyer has now acquired Rizzo twice, and President of Baseball Operations Theo Epstein has now done deals involving Rizzo twice.
The team likes his combination of skills: hitting for contact, hitting for power, getting on base and solid defense. There's an obvious familiarity. Hoyer said to MLB.com's Carrie Muskat that Rizzo will "most likely" start the year as the everyday first baseman for the AAA Iowa Cubs, and that Bryan LaHair will still be the Cubs' starting first baseman.
Furthermore, this once and for all will kill the rumors of Prince Fielder to the Cubs. The front office is happy with LaHair at first until Rizzo can step up. There would be no point in signing Fielder now.
While this deal likely would have been thought about long and hard had Samardzija not had his breakout 2011 campaign, his success surely made it easier to deal Cashner.