Chicago Cubs: Chris Volstad and the 2012 Pitching Staff
January 5, 2012
Brian Kersey/Getty Images
The news is out: Carlos Zambrano and roughly $15 million are headed to the Miami Marlins for Chris Volstad.
The trade of Chicago's would-be ace to Miami started once the Marlins snagged Ozzie Guillen from the White Sox for two of their top prospects. Yet another piece of the Hendry regime has been sent packing, with a large chunk of cash, for young starter Chris Volstad.
The trade closes a question mark for the rotation after the 2012 season. Unless Matt Garza is traded, the only projected member of the Cubs' rotation that will be a free agent this time next year is Ryan Dempster. Garza is set to hit free agency after 2013, Travis Wood after 2016, Randy Wells after 2014, Andrew Cashner after 2016, Jeff Samardzija after 2015 and now Volstad, who shouldn't hit free agency until after 2014. Suddenly, what was a position of long-term weakness is now a position of potential long-term depth.
In Garza, the Cubs have an established, top-of-the-rotation pitcher. Cashner and Samardzija are seemingly in the same boat: unproven as starters, amazing relievers and both want a shot to start. Both offer the potential of top-end power pitcher stuff. Wood, acquired from Cincy with two prospects for Sean Marshall, looks to be a mid-rotation lefty. Randy Wells is a back-end starter with a bit of upside, though, he'll most likely never ascend past a fourth starter's role.
Volstad provides the Cubs with a durable, young starter with three full seasons of team control. A ground-ball pitcher, the 25-year-old Volstad seemingly is the perfect change-of-scenery player. Volstad went 5-13 with a 4.89 ERA, logging 165.2 innings over 29 starts. The 2005 first-rounder never seemed to ascend past a back-end starter role, despite a stellar partial season in 2008 (6-4, 2.88 ERA, 14 starts and one relief appearance).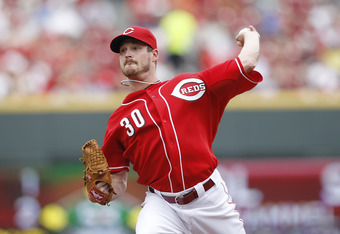 Joe Robbins/Getty Images
Sorting out the Cubs' rotation for 2012 now becomes a bit more of a challenge for new manager Dale Sveum, but in a good way. Garza and Dempster are sure locks for the top two rotation spots. Beyond them, it's anyone's guess. Cashner and Samardzija could both prove to be ready to handle a starter's workload and squeeze someone out, or both could wind up in the back of the Cubs' pen. Travis Wood may show signs of improvement or continue to struggle as he did last year and be optioned to Iowa. Volstad seems to be a lock somewhere between the No. 3 and No. 5 spots in the rotation, and Wells will most likely either get a rotation spot or be traded.
Of course, the Cubs could always wind up with a surprise in camp. Andy Sonnanstine may show the ability he demonstrated in 2008 when he went 13-9 with a 4.38 ERA over 32 starts for the American League champion Rays. Or a youngster like Casey Coleman, Jay Jackson or Robert Whitenack could pitch their way onto the roster.
For a team that was stuck plugging guys like Doug Davis into the rotation last season, the starting depth seems to have gotten a lot deeper this season.