Reports: Zambrano Trade to Miami Marlins Nearing Completion
January 5, 2012
Jared Wickerham/Getty Images
We all knew it was coming.
According to Ken Rosenthal of MSN Sports, the Cubs and Marlins are in the final stages of a deal which would send Carlos Zambrano to the Miami Marlins for Chris Volstad. According to reports from Rosenthal and ESPN Chicago's Bruce Levine on Twitter, the Cubs will eat roughly $15 million of Zambrano's $18 million salary for 2012.
Zambrano, in the last year of a massive five-year, $91.7 extension handed to him by former GM Jim Hendry, will move to the Miami Marlins. Full of fresh faces in manager Ozzie Guillen, shortstop Jose Reyes and pitchers Mark Buehrle and Heath Bell, the Marlins will add Zambrano in hopes he can regain his pitching stride. At the cost of roughly $3 million and Chris Volstad, it's a worthwhile gamble.
Ozzie Guillen has stated for years that, if he were to manage Zambrano, a close personal friend of Guillen's, that Big Z would have his best season yet. Guillen made these comments when he was still the manager of the cross-town White Sox. Now in a new home, Ozzie will have his chance to see if he can fix the 30-year-old Zambrano.
Zambrano, as part of his extension, has a full no-trade clause. Presumably, he's waived this to join the Marlins. It'd make sense, as even after Theo Epstein's visit and talk with Zambrano this offseason, it seemed more and more likely the volatile would-be ace was on his way out the door in Chicago.
In exchange, the Cubs pick up Chris Volstad, in what is most likely a straight-up swap. The 25-year-old Volstad is in his first year of arbitration eligibility in 2012, should make just under $3 million in arbitration. The 6' 8" former first rounder has struggled with keeping runs off the board over the last three years, with a special weakness to the long ball. Volstad has given up 29, 17, and 23 home runs each of the last three years, respectively.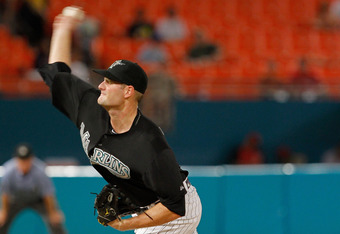 Mike Ehrmann/Getty Images
Volstad's appeal to the Cubs is twofold. First, he has obvious upside, not only because of his age, but from a very promising partial rookie campaign in 2008, in which Volstad went 6-4 with a 2.88 ERA; however, all of his numbers have ballooned since. Still, that early success is enough to draw interest. Second, Volstad won't become a free agent until after the 2014 season, so he's under team control for a while, something important to Theo, Jed and the rest of the Cubs' new front office brain trust.
In the end, this is a win-win deal for both clubs. The Marlins get a rotation upgrade, and the Cubs get another young, cost-controlled starter with upside. The deal is contingent upon approval from the Commissioner's Office, as it is with all deals in which more than $1 million changes hands. Also delaying the finalization of this is the passing of physicals on each end. However, this seems like a done deal.
So, what do you think? Good deal, bad deal, lopsided, or just neutral?