New York Giants Look to Begin Super Bowl Run Starting Sunday vs. Atlanta Falcons
January 7, 2012
Michael Heiman/Getty Images
The New York Giants enter Wild Card Weekend with one thing in mind: Defeat the Atlanta Falcons at home.
It is important the Giants do not try to look past the Falcons, they are a dangerous team that is capable of going in to MetLife Stadium and claiming the victory.
The dynamic duo of Eli Manning and Victor Cruz will be on display on Sunday.
Manning is one of the most impactful players in the league. Eli either rises to the challenge and puts up great numbers or implodes when the Giants lose.
In New York's nine wins this season, Eli has thrown for 2,660 yards, 18 touchdowns and only four interceptions. Remarkable numbers, especially when you compare his turnover ratio in New York's losses. In seven Giants losses, he has 2,273 yards, 11 touchdowns and a whopping 12 interceptions! 
If the erratic Manning shows up, it will be a long day for the G-Men.
For Cruz, it is important he keeps his emotions in check and look at this game as he would any other. If Cruz and Manning continue to abuse defenses, then the Giants will force Atlanta to keep up with them on offense.
New York has scored at least 29 points in four of their last five games (31, 29, 37, 35). They are 3-1 in those high-scoring games.
The wild cards in this game are Brandon Jacobs and Ahmad Bradshaw.
If the two running backs for the Giants show up to play, then the Giants will have a better chance to win. They need to maintain balance within the offense and they have two guys who are capable of helping with that.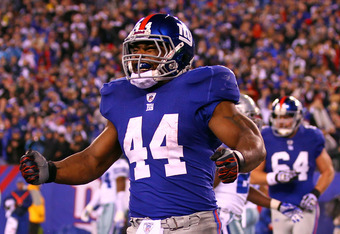 Al Bello/Getty Images
Bradshaw and Jacobs need to prove that they can help Manning to balance the attack and produce positive numbers. A bad game from the two running backs will result in Manning trying to win the game with no help from the backfield. 
If New York can take an early lead, then it will limit the amount of rushes Atlanta is able to execute. The Giants allow 121 yards per game on the ground. Atlanta's Michael Turner will test New York. The Giants defense will focus on neutralizing Turner, who is third in the NFL with 1,340 yards. 
The Giants can look at a positive rushing defense last week and try to build on it. They allowed only 49 yards rushing to the Dallas Cowboys in Week 17, although the Cowboys were playing catch up the whole game. A positive outcome like this can give the Giants confidence when they enter the game on Sunday. 
While limiting Turner's damage, they must keep up with Roddy White and Julio Jones. New York allows 255 yards per game through the air and they will have their hands full with White and Jones. They are strong, physical receivers that battle for every ball thrown their way.
If the Giants want to make it deep in the playoffs this season it will be pivotal that they can stop explosive passing attacks, especially with Green Bay and New Orleans looming in the NFC. It all starts this week with a reputable couple of receivers.
When the clock ticks down to zero, however, I believe the Giants will be victorious against the Falcons. The receiving duo of Hakeem Nicks and Cruz will prove to be too much this weekend for Atlanta. New York is the hot team right now and will start this game off quick and full of energy.
Look for a lot of points to be scored, but the Giants to have more when it is all over.
For more on Victor Cruz, visit here.
For five reasons on how the Giants can get to the Super Bowl, visit here.