Ring of Honor Wrestling Presents Homecoming 2012
January 5, 2012
Ring of Honor Wrestling, the one true home for pure professional wrestling in North America, presents The Homecoming 2012. Taking place on January 20th in the city of the Indies, Philadelphia, PA, Ring of Honor will put on one hell of a show.
RoH has strong roots in Philadelphia and the Pennsylvania National Guard Armory will no doubt be packed with the most hardcore of wrestling fans.
Only two matches have been announced for the upcoming card with more TBA.
The first is a champion versus champion match, as Ring of Honor world champion Davey Richards is set to take on Ring of Honor television champion Jay Lethal. Will Richards' American Strong Style be too much for Lethal or will the high-flying star be able to pull an upset?
The second match announced will feature the current Ring of Honor tag team champs, the Briscoe Brothers, challenging the Chikara roster to MAN UP and send two of their best to accept the challenge. The team representing Chikara is unknown as of now, but with their talented roster of tag teams, any team will certainly be able to hold their own against one of the best tag teams in professional wrestling.
Kevin Steen is also scheduled to appear. Mr. Wrestling is coming off a brutal win over Steve Corino at Final Battle 2011 and made a promise to Davey Richards that he will be Ring of Honor's world champion in 2012.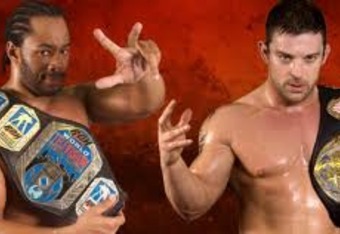 The event will definitely be full of great tag action as The World's Greatest Tag Team (Charlie Haas and Shelton Benjamin), The All Night Express (Kenny King and Rhett Titus) and Future Shock (Adam Cole and Kyle O' Reilly) are all set to appear. All three teams lost at Final Battle and our looking to start strong in this new year.
"Die Hard" Eddie Edwards couldn't take the world title from former partner Davey Richards at Final Battle. What will his role be at Homecoming?
Other great RoH wrestlers like Roderick Strong and recent WWE hopeful Chris Hero are also set to appear and more details and matches will be announced in the upcoming week.
click here for more info on the event.
Feedback, comments and questions are all welcomed.
I'm trying to find more fans of Roh, Chikara and the Indie scene, so spread the word.