Oakland Raiders Trounced by Chargers 38-26; Hue Jackson Blames Players
January 2, 2012
Otto Greule Jr/Getty Images
The atmosphere was bigger than ever at the O.co Coliseum and the Oakland Raiders failed to respond to the electrifying vibe by falling to the San Diego Chargers 38-26.
Raiders head coach Hue Jackson's frustrations reached a high point and he was no longer willing to be a shield for the disappointing performances by the players, coaches and organization.
He made it crystal clear that he was "pissed" and vowed to assume a "stronger hand" in all the team's decisions going forward.
"To say I'm pissed is an understatement! Obviously we got beat here at home and didn't look like a football team that was hungry enough to go out and win an AFC West title," Jackson said.
"We had every opportunity…. we just didn't play well," he added.
The Raiders had a chance to get in the playoffs after the Denver Broncos lost to the Kansas City Chiefs 7-3, but failed to capitalize.
The Raiders battled all day, but they weren't able stop Chargers quarterback Philip Rivers from carving up the defense and making touchdown throws to Antonio Gates, Vincent Jackson and Malcom Floyd.
Their defense allowed Rivers to pass for 310 yards and the defensive unit were never were able to put any pressure on him the entire game. The game-changing play came when Richard Goodman returned a kickoff for a 105-yard touchdown to give the Chargers a 21-10 lead with 6:06 remaining in the second quarter.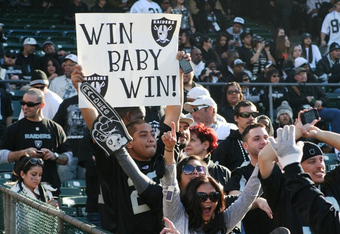 The Raiders had a golden opportunity to gain back momentum after Carson Palmer found tight end Kevin Boss for a 22 yard touchdown and cut the lead to 31-26 with 9:36 left to play in the game.
There was a bizarre momentum-changing moment when return man Goodman misplayed the kickoff and recovered the ball in the end zone and appeared to be tackled for a safety by special teams player Quentin Jones. Officials ruled that Goodman was able to get out of the end zone and spotted the ball at the 1-yard line.
Rivers was in perfect form by quieting the crowd with a 19-yard completion to Floyd, a 5-yard pass out the backfield to Mike Tolbert - who picked up 40-yards after the catch - and a 43 yard touchdown strike to Floyd.  Just like that, the Chargers had a 99-yard four play drive for a commanding 38-26 lead and eventually the final outcome.
"I'm pissed at my team and at some point in time as a group of men you go in the game and you can say whatever you want about coaches but you go win the game," Jackson said.  "Here's your time to make some plays."
Palmer performed well by completing 28-43 passes for 417 yards and two touchdowns but it wasn't enough to slow down Rivers. He played like it was his opportunity to go to the playoffs, and the Raiders defense was nonexistent.
"Can't play like that, guys, you can't," Jackson said. "We've been hanging on for dear life defensively all year, and you get exploited by a really good quarterback… it was my biggest nightmare."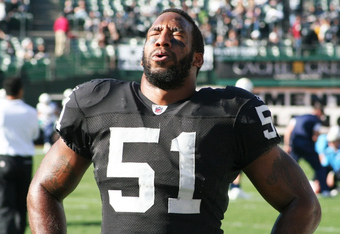 The team will be making personnel changes going forward and Jackson wants to have a stronger hand in choosing players he feels will have the heart to be Raiders and the desire to win by any means necessary.
"Let me tell you something I'm going to take a stronger hand in this whole team, this whole organization and there ain't no way I'm going to feel like I did today a year from now."  Jackson vowed. "I promise you that, there's no question, defensively, offensively and special teams, I ain't feeling like this no more! This is a joke."
Jackson recognized that it's time to produce a winner in the city of Oakland.
"Sorry! They've done their part, our fans have done their part... c'mon we have a sellout... that crowd was electric," Jackson offered. "Our fans were outstanding; they did everything they could to help will us to a victory and what we have to do [is] give back to these fans."
Jackson has work to do to get the Raiders back to winning form and continue to carry the winning tradition of the organization that Al Davis built over the years.
Mike Walker is a Correspondent for Bleacher Report. Unless otherwise noted, all quotes were obtained first-hand.