MLB Trade Scenarios: 10 Teams James Shields Could Get over the Top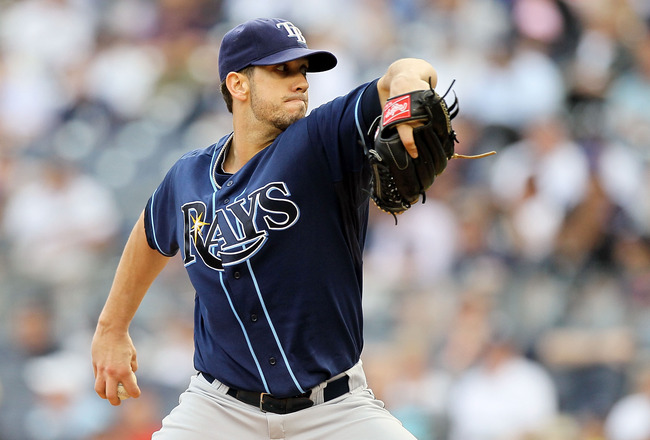 Jim McIsaac/Getty Images
The trade market has been a busy one thus far this offseason. With the rather sub-par crop of free agent pitchers this offseason, this doesn't come as much of a surprise.
Names already changing uniforms include Derek Lowe, Jonathan Sanchez, Trevor Cahill, Mat Latos, and Gio Gonzalez, but there's at least one more starter out there that most people expect could be on the move.
The Tampa Bay Rays need to trade James Shields.
They are really in a perfect situation right now to execute what would be a blockbuster swap. The Rays have a surplus of quality starting pitchers, and trading away Shields would have little to no effect on the performance of the club.
After Shields, Tampa has David Price, Jeremy Hellickson, Wade Davis, and Jeff Niemann from last year's rotation, along with rookies Matt Moore and Alex Cobb ready for the big leagues.
That's seven starting pitchers for five spots, so even if they were to trade Shields, the Rays would still have some wiggle room if one of the five guys they break camp with struggles during the season. And we haven't even discussed the rest of the talent down in the minors.
The Rays need some offense to back up the stellar pitching they have been producing. Trading Shields would definitely net them an impact bat or two to insert into their lineup. After a career year in 2011, he's at peak value this offseason and is even regarded as an "ace-type" starter.
Not trading him would be insane.
So, which teams could Shields put over the top and turn into potential World Series contenders?
I've found ten teams who would benefit from his presence more than the rest, and who should probably give the Rays a call sometime soon...
Arizona Diamondbacks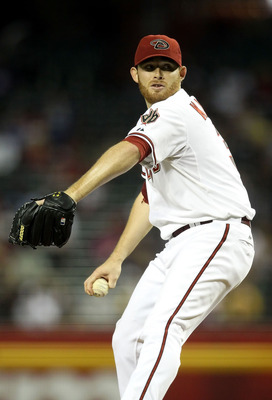 Christian Petersen/Getty Images
No one saw the Arizona Diamondbacks coming in 2011. They completed an impressive worst-to-first turnaround in the NL West this past season, dethroning the reigning world champion San Francisco Giants. The most surprising part about their season was that it was done with a bunch of young and inexperienced players who had never experienced much success apart from a few key players.
The most important factor to their success was their rotation, which consisted of Ian Kennedy, Daniel Hudson, Joe Saunders, and Josh Collmenter, with a mix of different fifth starters.
Kennedy came out of nowhere to put up Cy Young-caliber numbers (and finish 4th in the voting) and Hudson became a definite number two starter, while Saunders remained consistent and Collmenter experienced immediate success upon breaking into the majors.
Saunders is now gone, but the D-Backs have already added a new starter, acquiring Trevor Cahill from the Oakland A's.
The additions are probably over, but imagine if Arizona was to acquire James Shields to plug into their rotation. Adding someone like him might be all the Diamondbacks need to push them all the way to the World Series in 2012.
They would likely have to give up players like right-hander Trevor Bauer (#3 overall pick in '11 Draft) and outfielder Gerrardo Parra, but it would be well worth it.
Possible Rotation:
1. RHP Ian Kennedy
2. RHP James Shields
3. RHP Daniel Hudson
4. RHP Trevor Cahill
5. RHP Josh Collmenter
Texas Rangers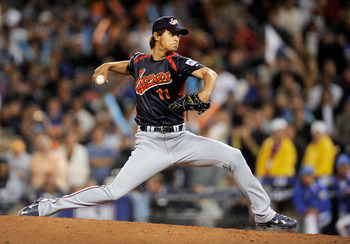 Kevork Djansezian/Getty Images
The Texas Rangers have had what it takes to win the World Series for two years now. Both times, they reached the final stage, and both times they walked away empty-handed.
In 2010, the Rangers lost to the better team, plain and simple. In 2011, the Rangers were the better team in every way but one. Their starting pitching failed them, and honestly, how many of us can say we didn't see it coming?
Despite holding the title, C.J. Wilson was not an "ace", and he proved as much in Games 1 and 5, as he was easily out-pitched by Cardinals ace Chris Carpenter. Had the Rangers had a guy like James Shields in their rotation, I believe the 2011 World Series would have ended a little differently.
The Rangers already have a rotation of Colby Lewis, Derek Holland, Alexi Ogando, Matt Harrison, and Neftali Feliz, and they are also currently negotiating with Japanese phenom Yu Darvish after winning the posting auction with a record $51.7 million bid.
For argument's sake, let's assume that Darvish is signed and doesn't wind up going back to Japan in 2012. Neftali Feliz should still be the closer, and if Shields was acquired, he likely would be, with newcomer Joe Nathan likely sliding into a setup role.
This still leaves one extra starter, but in order to acquire Shields, one of them would have to be included in a deal.
A potential package for Shields could include Harrison, along with either outfielder Craig Gentry or first baseman Mitch Moreland and a prospect or two.
Both Gentry and Moreland aren't necessary to the Rangers' success anyway, as Julio Borbon and David Murphy could easily start in the outfield and Mike Napoli could man first base.
Possible Rotation:
1. RHP Yu Darvish
2. RHP James Shields
3. LHP Derek Holland
4. RHP Alexi Ogando
5. RHP Colby Lewis
Washington Nationals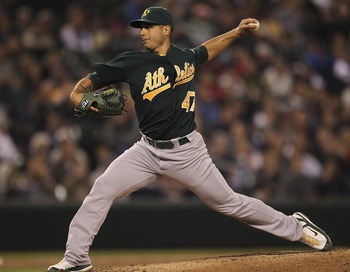 Otto Greule Jr/Getty Images
The Washington Nationals came one win away from a .500 season in 2011, and 2012 might finally be the year that they make the playoffs.
Over the past few seasons, Washington has been slowly but surely loading their farm system with some of the best young talent in the game today. Their first overall picks in both the 2009 and 2010 drafts netted them arguably the best pitching and position-playing prospects that the game has ever seen in Stephen Strasburg and Bryce Harper.
Along with guys like Ryan Zimmerman, Mike Morse, Jayson Werth, and Danny Espinosa, the Nationals have a core of players that have the potential to be very good for a long time.
On top of that, GM Mike Rizzo managed to swing a deal to land Oakland's 27-year-old ace Gio Gonzalez to form a formidable 1-2 punch at the top of the rotation. While a bunch of these players are still raw and inexperienced, there is a possibility that they could come together and shock the baseball world in 2012.
Adding James Shields would make Washington's rotation one of baseball's finest in 2012, and it could be just the addition they need to finally break into the postseason picture.
Inserting a third ace into their rotation would instantly make Washington a force in the toughest division in the NL.
A deal centered around the young infielder Anthony Rendon (who really doesn't have a place in D.C.), and possibly Ian Desmond, should be enough to pry Shields from the Rays, and if it is, Rizzo should pull the trigger.
Possible Rotation:
1. RHP Stephen Strasburg
2. RHP James Shields
3. LHP Gio Gonzalez
4. RHP Jordan Zimmermann
5. RHP John Lannan/Chien-Ming Wang
Los Angeles Angels of Anaheim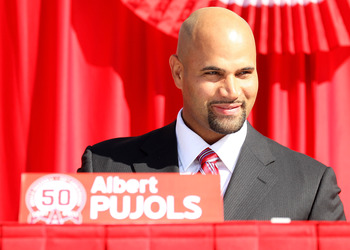 Stephen Dunn/Getty Images
The Angels shocked the world during this offseason's Winter Meetings, signing both C.J. Wilson and Albert Pujols to lucrative contracts. The Pujols signing was the big one, as it seemed all but sure that he would wind up re-signing with his longtime club, the St. Louis Cardinals.
But in the blink of an eye, the Angels transformed themselves from sure second-place finishers to division (and maybe AL) favorites.
Now do not misunderstand what I'm trying to say here: I absolutely do believe that the Angels should make the playoffs and could possibly win a championship with their current roster, but adding someone like James Shields would all but ensure them at least a place in the ALCS, and would make them the overwhelming World Series favorites in 2012.
Luckily for the Angels, they have an excess amount of talented offensive players at first base and the outfield. Pujols, Kendrys Morales, and Mark Trumbo create a logjam at first, and Vernon Wells, Torii Hunter, Peter Bourjos, and top prospect Mike Trout are crowding the outfield.
Sending Trumbo and Bourjos alone to Tampa Bay might even be enough to land Shields, and if it is, then the Angels would be foolish not to make the deal, as it wouldn't negatively affect their team whatsoever.
With Shields, the Angels would have one of the best rotations in MLB history, even better than last year's Phillies.
Possible Rotation:
1. RHP Jered Weaver
2. RHP Dan Haren
3. RHP James Shields
4. LHP C.J. Wilson
5. RHP Ervin Santana
Miami Marlins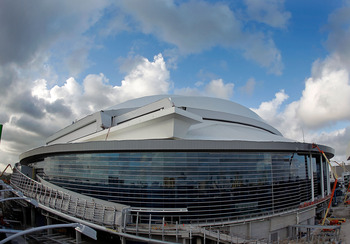 Mike Ehrmann/Getty Images
The new Miami Marlins have shown that they fully intend to make their new ballpark's inaugural season one to remember. If not for the Angels, they would have been known as this offseason's big spenders, as they have so far signed shortstop Jose Reyes, closer Heath Bell, and left-hander Mark Buehrle to lucrative contracts.
Just this week, they even took a chance and traded for the Cubs' Carlos Zambrano, one of baseball's most notorious hot-heads who was once considered an ace.
It's widely believed that the spending isn't even over, as their name continues to be linked to free agent slugger Prince Fielder, as well as starting pitcher Edwin Jackson. However, neither of these players should be on the Marlins' radar right now, as their price tags are far too steep, even if they have suddenly become free-spenders.
Miami should be targeting James Shields. Swinging a deal with Tampa Bay would likely be much easier than trying to acquire the Cubs' Matt Garza, and Shields is a much better pitcher anyways.
The only issue is the prospects that Miami has to give in a potential trade. Most of their talent resides in their young starting pitchers, an area in which the Marlins don't need any additional assistance.
Maybe a package of Emilio Bonifacio, Matt Dominguez, and another prospect could get it done, but that's unlikely to be enough to force Tampa's hand.
Still, imagine a Miami rotation with Shields.
Possible Rotation:
1. RHP Josh Johnson
2. RHP James Shields
3. LHP Mark Buehrle
4. RHP Carlos Zambrano
5. RHP Anibal Sanchez/Ricky Nolasco
Detroit Tigers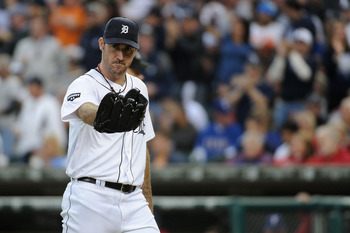 Harry How/Getty Images
The Tigers' 2011 season will be remembered for one thing, and that's the legendary performance of Justin Verlander. The young ace had a season for the ages, posting a 24-5 record with a 2.40 ERA and 250 strikeouts, unanimously winning the AL Cy Young Award while also bringing home the AL MVP Award.
So why would the Tigers need James Shields then, you ask? Well, after Verlander, Detroit's rotation isn't exactly the strongest.
Their second starter is Doug Fister, acquired at the trade deadline last year, and although he had a very strong second half with the Tigers, it's not likely he will be repeating that performance any time soon (8-1, 1.79 ERA). Maybe he can be a good number two starter, maybe not—it's still too early to tell.
After Fister, the rest of Detroit's rotation is a mess. Max Scherzer has been very inconsistent and had a bloated 4.43 ERA in 2011, and Rick Porcello hasn't been the same since his rookie campaign in 2009.
Top prospect Jacob Turner will either be inserted into the rotation this year or he will be traded for a starter like Shields.
Along with Turner, outfielder Andy Dirks could be part of a deal to land the Tampa Bay ace, although it might take a little more than that to force the Rays' hand, especially since they don't particularly need any top pitching prospects.
It's doubtful that the Tigers acquire Shields, but a pitcher of his caliber might be just what they need to reach the World Series in 2012 after finishing just short of a Fall Classic berth in 2011.
Possible Rotation:
1. RHP Justin Verlander
2. RHP James Shields
3. RHP Doug Fister
4. RHP Max Scherzer
5. RHP Rick Porcello
St. Louis Cardinals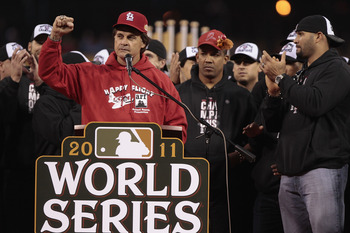 Whitney Curtis/Getty Images
The St. Louis Cardinals were the last team standing in 2011, hoisting the World Series trophy proudly after defeating the Rangers in one of the greatest Fall Classics of all-time.
However, it wasn't all happy joyous feelings in St. Louis in 2011. Beloved manager Tony La Russa decided to go out on top and retired days after Game 7, breaking the hearts of Cardinals fans everywhere. But that was far from the worst of it all.
On December 10, 2011, Albert Pujols, living Cardinal legend and the best player in the game today, signed a 10-year, $254 million deal ... with the Los Angeles Angels of Anaheim. After 11 wondrous seasons, the Pujols Era was over.
Although it's hard to believe, the departure of Pujols will not destroy the Cardinals' chances of defending their title. It doesn't help, but with Lance Berkman and Carlos Beltran on the roster, Pujols has already been replaced in maybe the best way possible.
The rotation will already receive a significant boost with the return of Adam Wainwright, so adding someone like James Shields wouldn't be a necessity, but a luxury.
The Cardinals have a very attractive trading chip in outfielder/first baseman Allen Craig, but the Rays might be wary of him due to his undergoing surgery on his knee this offseason.
If not, it would likely be easy constructing a deal around him that would please Tampa Bay enough to surrender Shields.
Possible Rotation:
1. RHP Adam Wainwright
2. RHP Chris Carpenter
3. RHP James Shields
4. LHP Jaime Garcia
5. RHP Kyle Lohse/Jake Westbrook
Boston Red Sox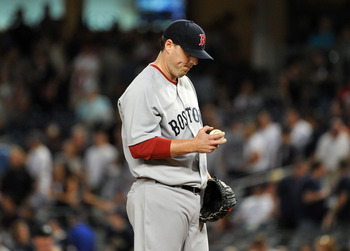 Christopher Pasatieri/Getty Images
The Red Sox had quite the disappointing season in 2011, suffering from the worst September collapse in MLB history, blowing a 9-game lead in the AL Wild Card standings to the Tampa Bay Rays. Now the Rays have something the Red Sox might want—but we'll get to that in a minute.
As if the collapse, and the subsequent firing of manager Terry Francona, wasn't enough to swallow, Boston's wonder—GM Theo Epstein—jumped ship and headed to Chicago to try to break another curse, leaving the stumbling Red Sox in the hands of rookie GM Ben Cherington.
The Red Sox also lost a few key players this offseason. Closer Jonathan Papelbon signed with the Phillies, J.D. Drew vacated right field, and right-hander John Lackey underwent Tommy John surgery, effectively ending his 2012 season before it began.
Oakland's Andrew Bailey was acquired to replace Papelbon, but at the cost of the assumed right field replacement, Josh Reddick.
As it stands, the Red Sox are without a true right fielder, and the rotation is filled with question marks. After Josh Beckett and Jon Lester, we can only guess as to who is going to take the mound in 2012.
Clay Buchholz is coming back from injury, so only time will tell if he can return to his 2010 form. Even if he does, two spots still remain vacant, with guys like Alfredo Aceves and Daniel Bard favorites to land starting gigs in 2012.
Adding James Shields would be just the fix the Red Sox need, but his current club being the Rays makes things tricky.
It would take more than what might be accepted from other clubs to convince Tampa to trade within the division, and it's unlikely that Boston has the prospects necessary to complete the deal.
A package would have to include third baseman Will Middlebrooks, outfielder Darnell McDonald, and catcher Ryan Lavarnway, and quite frankly I don't think it's worthwhile, and Cherington likely won't either.
But again, it's still fun to imagine the "what if" scenario.
Possible Rotation:
1. RHP Josh Beckett
2. LHP Jon Lester
3. RHP James Shields
4. RHP Clay Buchholz
5. RHP Alfredo Aceves
Philadelphia Phillies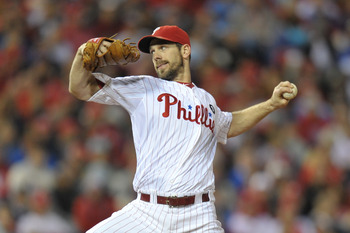 Drew Hallowell/Getty Images
I know what you're thinking. The Phillies? Again? Do they really need another ace in their rotation?
No, they don't, but that hasn't stopped them in the past. Remember Cliff Lee? He was either going to be a Yankee or Ranger, but then out of nowhere he took less money to sign with the Phillies.
What I'm trying to say is that recently, when it comes to Philadelphia, you can expect the unexpected, which is why you can't put it past them to try to acquire James Shields to finish off a new "Phab Phour" for 2012.
Adding another ace couldn't hurt, and with a second chance, the Phillies might be able to complete a remarkable 2012 with a World Series win.
Philadelphia would likely only try to acquire another pitcher if it wouldn't drain their farm system, so a Shields-to-the-Phillies scenario is extremely unlikely.
But for argument's sake, what would it cost the Phillies to do so? Domonic Brown and John Mayberry Jr. would probably intrigue the Rays, but even both of them might not be enough to pry Shields away.
Still, a Philadelphia rotation with James Shields...
Possible Rotation:
1. RHP Roy Halladay
2. LHP Cliff Lee
3. LHP Cole Hamels
4. RHP James Shields
5. RHP Vance Worley
New York Yankees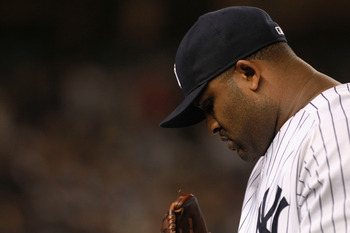 Nick Laham/Getty Images
"The Yankees need starting pitching."
How many times have we heard that sentence so far this offseason? Well, there's a reason people keep saying it: because it's true. The Yankees really do need a reliable pitcher to back up staff ace C.C. Sabathia in the pinstriped rotation.
To be fair, there is a chance that the Yankees already have that pitcher in the young Ivan Nova, but we've learned that you can't expect excellence after only one successful year. Phil Hughes was and still is the prime example of that.
However, if Nova and Hughes can perform like they did in 2011 and 2010, respectively, then the Yankees actually have a strong top three in their rotation. But since that obviously can't be assumed, acquiring a pitcher like James Shields would be a great move for the Bombers.
The Rays would certainly seek the young slugger Jesus Montero in return for Shields, and in an effort to bolster their offense they would likely also request shortstop Eduardo Nunez and maybe one of the Yankees' two top outfield prospects, Slade Heathcott and Mason Williams.
After watching Yankees GM Brian Cashman balk at deal after deal involving either Montero or Nunez, it isn't too difficult to imagine him doing the same to a deal involving both and more.
2011 was the first season in which James Shields showed "ace" potential, and the season prior had an ERA north of 5.00, so it's no stretch to say that he could falter in 2012.
Cashman would likely feel this way, meaning an inter-division blockbuster trade for Shields is probably out of the question. However, a rotation with the 2011 Shields might just be exactly what the Yankees need to win another World Series title.
Possible Rotation:
1. LHP CC Sabathia
2. RHP James Shields
3. RHP Ivan Nova
4. RHP Phil Hughes
5. RHP A.J. Burnett
Keep Reading

New York Yankees: Like this team?