Minnesota Vikings: An Ode to Retiring TE Jimmy Kleinsasser
December 30, 2011
Jamie Squire/Getty Images
While the Minnesota Vikings play their last game of the season on Sunday against the Chicago Bears, TE Jim Kleinsasser will be playing his last NFL game ever. After a 13-year career, all of them spent in a Vikings uniform, Kleinsasser will retire.
Kleinsasser was selected by the Vikings in the second round of the 1999 draft. He was selected out of the, then-Division II University of North Dakota. He didn't just choose UND on a whim either; he was born and raised there, which is probably the exact reason why he's been inducted into the North Dakota Sports Hall of Fame.
Amidst his 13-year career with the Vikings, Kleinsasser has always done what many others fail to do by merely keeping his nose down and doing his job. Though he hasn't ever been an impact player, he's always been one of the most reliable—perhaps the most reliable—guys in his locker room.
Even coach Leslie Frazier, who's in his first year as a head coach, had this to say about Kleinsasser: "He's someone you can always count on. You know that he's going to come to work prepared, ready to do his job. He's a tremendous example for any young player."
In 1999, Kleinsasser was drafted as a fullback, a position that he played for the early portion of his career. Eventually, after switching to tight end, Kleinsasser became one of the most versatile blockers on the team.
Some may argue that the Vikings should have cut ties with him long ago, because of his age and because of how the league has become so pass-happy. But parting ways with Kleinsasser prematurely wouldn't have allowed the Vikings to accomplish the seemingly few feats that the fans cling on to.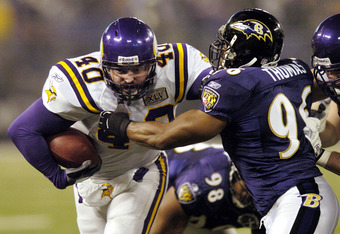 Nick Wass/Getty Images
Yes, I'm talking about running the ball. Adrian Peterson is, without question, the best running back in the NFL when healthy. He's broken many a rushing record and could eventually go down as one of the greatest of all time.
Many people would simply overlook the fact that Peterson hasn't done all of this by himself. He may be called "Purple Jesus," but he sure still needs blockers to help him part defenders.
Kleinsasser has been a lead blocker for Peterson many times in his career. I wouldn't hesitate to say that much of Peterson's success could be attributed to the player in front of him and out on the wings, setting up blocks so that he can break the big one.
Kleinsasser's number doesn't get called very often. In fact, he's only got one catch this season. He's not what you'd call an impact player. But he does have one thing that many of his current teammates do not: accountability.
Like I already said, Kleinsasser has always put his team above all else. He's one of the hardest working guys in Minnesota and is never afraid to put his nose to the grindstone for his teammates. He's unselfish and I don't think it's too much of a stretch to say that he's one of the last few of his kind, the last of the true Vikings.
On Sunday, Kleinsasser will suit up one last time in purple. The 34-year-old veteran has given his body and 13 years of his life to the great fans of the Minnesota Vikings. He's the kind of player that you wish you could build your franchise around, but sadly, players like him are hard to come by.
So here's to one of the greatest unsung heroes to ever wear a Vikings uniform. Here's to a guy who's always been an accountable teammate. Here's to one of the last of the true Vikings.
Jonathan Daniel/Getty Images
Here's to you Mr. Kleinsasser, from one of your longtime adoring fans. Thank you for giving it your all on every Sunday and every other day. I'll leave it at that.
Follow me on Twitter @MCNick92