Norris Cole's Late-Game Composure Shows He's Miami Heat PG of the Future
December 28, 2011
Mike Ehrmann/Getty Images
Norris Cole has only played two career NBA games, but he already has shown more ability to perform well in the fourth quarter than Miami Heat superstar forward LeBron James has in his entire nine-year career.
Cole was a big trending topic on Twitter Tuesday night, and so many people were impressed with his ability to hit clutch shots late in the game.
Even ESPN personality Skip Bayless was impressed, and it's not easy to impress him.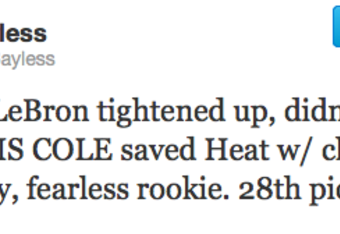 Cole's late-game heroics helped the Heat beat the Boston Celtics on Tuesday night after Miami blew a double-digit second half lead and allowed Boston to trim the lead to three.
One of the biggest weaknesses the Heat had last season was the lack of a scoring point guard who could make big shots and make defenses have to worry about another offensive weapon.
Not only did Cole make big shots against the Celtics with under two minutes to go in the game, he wanted the ball.
There was no fear in his game, you could tell Cole was embracing the moment on the big stage and wanted to sink the veteran Celtics even with star players Dwyane Wade and James on the floor with him.
Cole's 20 points off the bench were huge for Miami, who need to find out what they are going to get from their bench this year.
The Heat lacked consistent scoring off the bench last season, but Cole seems like a player who can provide an offensive spark with instant scoring each night off head coach Erik Spoelstra's bench.
Cole could start or be a sixth man for the Heat, but either way Miami has found a hidden gem with the 28th pick in the 2011 NBA Draft.
Cole was considered a prospect who could be a really good pro player, but he played at Cleveland State, a program that doesn't play elite college teams too often.
We're only two games into the season, but the Heat have found their point guard of the future.
With Cole giving the Heat even more athleticism than they already had, Miami will be incredibly tough to beat this season with their ability to dominate in transition.
With defenses having to pay so much attention to Wade, James and Chris Bosh, Cole will have plenty of opportunities to punish defenses like he did Tuesday.
Making matters worse for Cleveland fans who still hate LeBron James for his terrible exit from the Cavaliers last summer is that one of their stars might help Akron's hometown hero win his first ever NBA championship this season.
Nicholas Goss is an NBA Featured Columnist, follow him on Twitter.