Baylor Athletics' Golden Year: 2011 is More than Just a Dream Team
December 26, 2011
Ronald Martinez/Getty Images
Baylor nation has permeated Central Texas and social media with new phrases of just how proud they are to be Baylor Bears, and for good reason too.
Baylor University, sitting along the Brazos River in Waco, Texas, has never been a recluse in terms of national spotlights. Consistently ranking in the top 100 universities nationally, Baylor has seen more recognition for its academic programs than for its athletics prowess, according to U.S. News & World Report.
The top three sports, football, men's basketball and women's basketball, have seen periods of success throughout the years; however, the Bears are known more for defeats and pathetic attempts than for wins. In fact, not too long ago Baylor was considered the ideal team to play on homecoming because the opponent was guaranteed a victory.
That image has changed for good with Baylor's golden year—2011.
With the football team ranking at No. 12 in the BCS poll, men's basketball coming in at No. 6 in the nation and the Lady Bears basketball squad placing in at the top spot in the AP poll, Baylor University has shown the collegiate world it is more than just the only private school in the Big 12.
Yet, how did this middle-sized school become such a threat in 2011? 
Waco was ready to declare the 2010 football season one of the best on the books. That is until the program collapsed in the second half of the season, losing its last four games including the Texas Bowl, Baylor's first bowl appearance in 16 years.
With 2011 upon them, the Bears put the 2010 failures behind them. They opened the season against then-No. 14-ranked TCU in a game that nobody gave the Bears any shot of winning.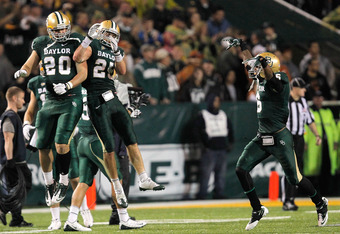 Sarah Glenn/Getty Images
In the end, led by Robert Griffin III's 359 passing yards and five touchdowns against one of the best defenses of the past year and Aaron Jones' game-winning field goal, Baylor pulled the 50-48 upset, putting Griffin's name down on the Heisman long list and showing the Big 12 Baylor was far from the pushover of seasons past.
The excitement died, though, when Baylor dropped three of its four games halfway through the season.
Students and fans alike feared they were going to be faced with another disappointing season. Yet the Bears rebounded, winning their last five games, including one of the best of the college football season versus Oklahoma. In the end, this football program earned a 9-3 record and is hoping for its first 10-win season since 1980. Nobody this preseason, Baylor fan or not, would have predicted such success for this underrated program.
Around the time Baylor football was attempting to recover from a midseason slump, the NCAA men's basketball preseason rankings were released, placing the Bears in at a school-best No. 12 ranking. As exciting as this was for the basketball team, it was hardly a shock due to the fact that success in the basketball field has been rather common for Baylor—who made it to the Elite Eight two years ago—recently. However, the Bears have exceeded all expectations with their play this season.
With an exciting offseason in which head coach Scott Drew recruited two of the nations top prospects in Deuce Bello and Quincy Miller (via Rivals.com), the Bears were ready to finally complete a deep run in March. So far this year, they have shown just how possible that championship might be.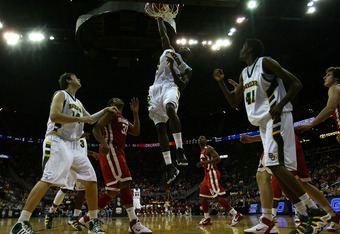 Jamie Squire/Getty Images
With only one game remaining in non-conference play, the Baylor men's basketball team finds itself matching a school-best 12-0 start and a No. 6 ranking in the nation. With memorable games against BYU and West Virginia, this squad is hoping to remain atop the Big 12 and make its mark on history.
Speaking of storied success, since Kim Mulkey took over as head coach of the Lady Bears women's basketball team in 2000, she has led Baylor to a consistent presence in the polls, the NCAA tournament 10 times and a national championship in 2005.
So, what is so different this year?
When the preseason rankings were released earlier this season, Baylor found itself at the top of the polls, coming in at an almost unanimous No. 1. On top of that, when the Lady Bears faced then-No. 2 Notre Dame earlier this season and current No. 2 Connecticut, they took care of business, proving exactly why they are the best team in the nation.
For a school not known for its athletic talent, it seems as though the pieces have just fallen into place this year.
With regards to star players, Baylor can claim three of the country's top players in Robert Griffin III, Perry Jones III and Brittney Griner, or as Baylor likes to call them, the "Big Three." In fact, this group is so elite they collectively share a Heisman Trophy (Griffin), Big 12 Preseason Player of the Year and potential NCAA Player of the Year (Jones) and the only collegiate player to be a part of the USA Basketball squad (Griner).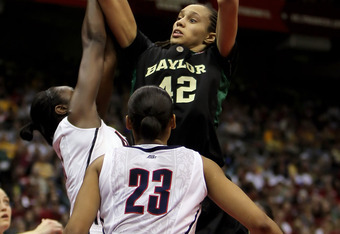 Jeff Gross/Getty Images
However, the real source of this success is the fact that all players on all three of these teams are finally playing for their teammates and for Baylor, and every coach is aiming for glory. This school is no longer in the shadow of scandals (via ESPN.com) or a lack of talent but rather basking in the glory of three dangerous and effective athletic programs. 
Since October 29, Baylor football, men's basketball and women's basketball are on a mutual 33-0 run, a stat that no other school can claim. Baylor fans finally have cause to celebrate. 
"I think this year has really set the bar high for Baylor athletics," sophomore David Campbell said. "It has been a great year to be a Baylor Bear."
2011 may be the year of the rabbit, but for those in Texas and Baylor alumni spread across the world, 2011 is the year of the bear.
"Everybody associated with Baylor University has reason to celebrate," Robert Griffin III noted in his Heisman speech (via The Baylor Lariat). "No pressure, no diamonds. We compete, we win. We are Baylor." 
Ryan Resch is a Contributor for Bleacher Report. Unless otherwise noted, all quotes were obtained first-hand.