Tony Romo Injury: Updates on Cowboys QB's Week 17 Status and Fantasy Value
December 26, 2011
Tom Pennington/Getty Images
The Dallas Cowboys and New York Giants get to start the playoffs one week early.
And the Cowboys, who are coming off a meaningless loss to the Philadelphia Eagles, will have their starting quarterback under center.
UPDATE: Friday, Dec. 30 at 1:30pm EST by Brandon Galvin
Tony Romo is expected to play Sunday vs. the New York Giants with the NFC East Division crown on the line. 
"He's going to be playing at full strength,' [Cowboys owner Jerry] Jones said on KRLD-FM Friday morning. 'It's just a very big-time feel-good to know that we're going to be going in with this kind of quarterbacking. He's had an outstanding year. He's a top, top quarterback and he's got a good team around him. In my belief, a very good team around him, so the stage is set for us to play well in a big game," said Jones according to ESPN's Todd Archer.
For those Cowboys and fantasy owners worrying about their QB, worry no longer. He'll be out there and will give it his all to get back to the postseason and silence his critics.
UPDATE, Thursday Dec. 29 by Michael Dixon
Will Brinson of CBSSports is reporting that Romo practiced with his hand wrapped. As part of the report, Brinson also said that Romo will play. 
Against New York's secondary, opportunities will be there. With the division championship on the line, Romo will be out there.
All signs, including ESPN Dallas' intel, point to Romo playing in the NFC East title game Sunday night: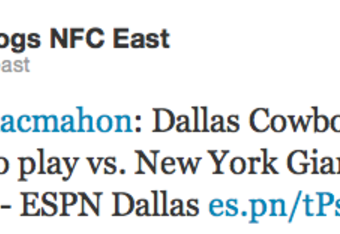 Sports Illustrated's Peter King backed up the notion in his "Monday Morning Quarterback" column writing:
Tony Romo almost certainly will be good to go Sunday night in New Jersey. His right hand ballooned after hitting it on Eagles defensive end Jason Babin's helmet early in the Dallas-Philly game Saturday. X-rays were negative, and there is no structural damage. Romo said afterward he'd have returned to the game if he had to play; the game wasn't meaningful after the Giants capped their victory over the Jets. I can tell you there's very little concern inside the Cowboys about his readiness for the NFC East championship game against the Giants.
This is hardly surprising news. Romo has played through injury and pain before, and we know damn well that he isn't going to miss an opportunity to play with the postseason on the line.
If you're still battling in Week 17 for a fantasy championship, Romo should be used in normal fashion.
The Giants' secondary can be beaten, and this game could be a shootout.
UPDATE: Wednesday, Dec. 28 at 12:35 p.m. EST
If there was any lingering doubt that Romo would not be able to, it was erased on Wednesday. The Cowboys QB is going to practice.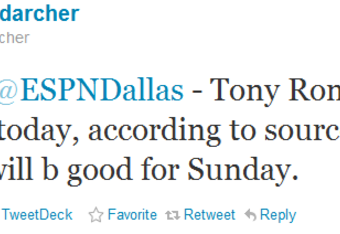 Unless Romo re-injures himself, or suffers a new injury, he will be on the field this Sunday. This is a great sign not only for his chances to play on Sunday, but for how well he will play.
Romo will have a full week of practice under his belt for this game, and he isn't likely to be suffering from any lingering effects of the hand injury.